A special thank you to Island Time and the Panama City CVB for this complimentary experience.
Last month my family vacationed in beautiful Panama City Beach, Florida. We stayed a full week and had plenty of time to relax on the sugar sand beach and explore the area. Wayne and I were thrilled to get a chance to leave the kids with my parents so we could have some much-needed couple time.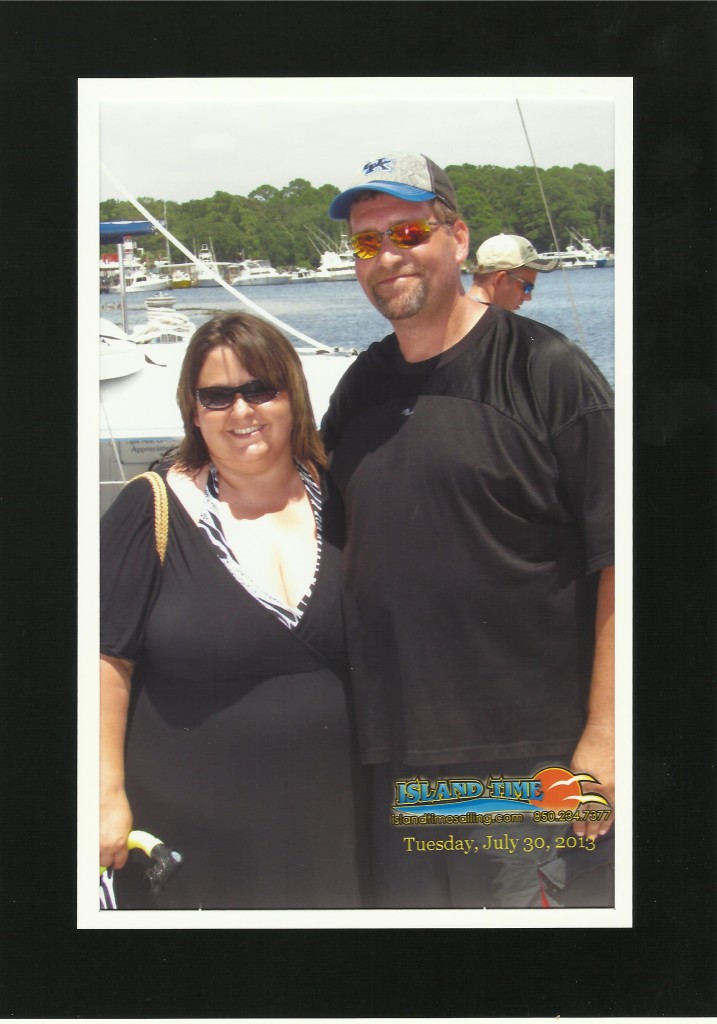 We spent a glorious afternoon on a 3 ½ hour dolphin swim and snorkel excursion with Island Time Sailing.  The Island Time is a large 50 ft. long x 30 ft. wide sailing catamaran.  It has bathroom facilities and a snack bar on board.  There were about 40 passengers on our trip, but there was ample room and plenty of seating available.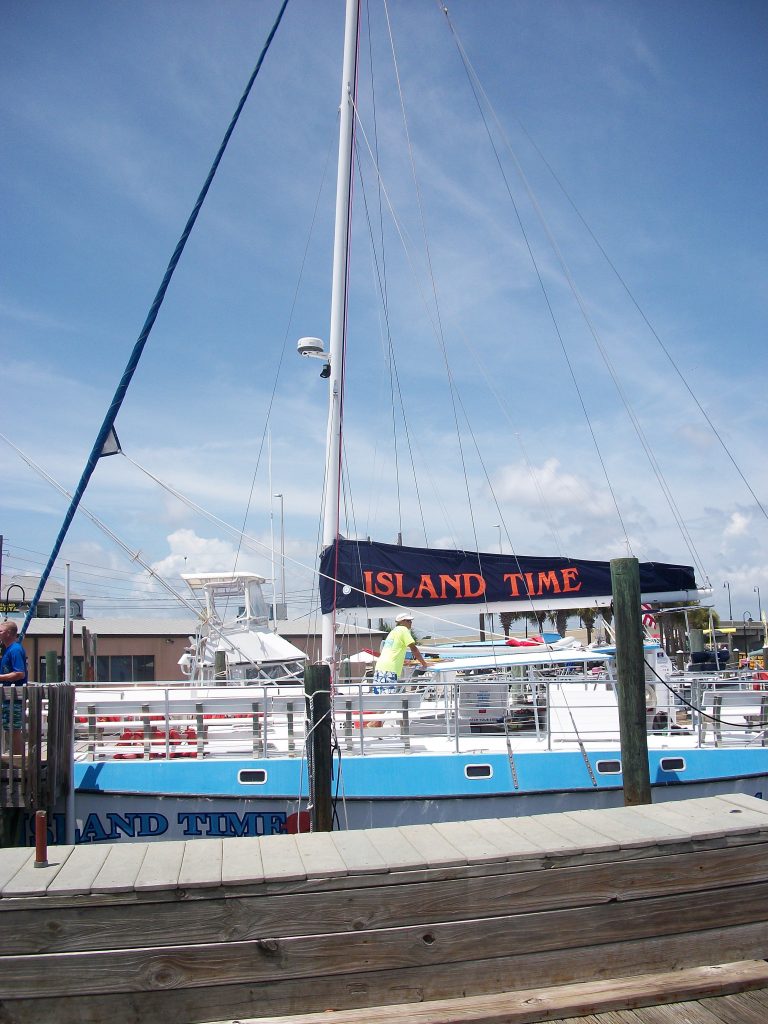 As the sails went up I couldn't help but get excited. I'd never sailed before, although I've ridden in other types of boats on lakes and rivers.  Once we were out in the open water the ride got a bit rocky, but I soon got used to it and I am proud to say I did not get seasick!
Our first stop was to scout the area for dolphins.  I saw two, but they moved pretty quickly and I wasn't fast enough to get a picture.  A few minutes later we arrived at our "dolphin swim" location.
I admit I was a little scared swimming in open water (it was over 20 ft. deep) even though the staff took great strides to assure our safety.  Somehow, though, I didn't have my mask adjusted properly and it fogged up and freaked me out a little.  I wasn't in the water long before I made my way back up the ladder.
It was just as well, none of our group had a close encounter.  That's the only negative part of these tours as far as I can see.  They can't guarantee you will get close to a dolphin even though they do their best to find the most likely spots to encounter them.  I didn't know beforehand, but the area boasts one of the largest bottle-nose dolphin populations in the world!
At that point the boat sailed on to Shell Island where we stopped for about 1 ½ hours to enjoy some snorkeling.  I figured out the proper fit for my mask and was ready to go!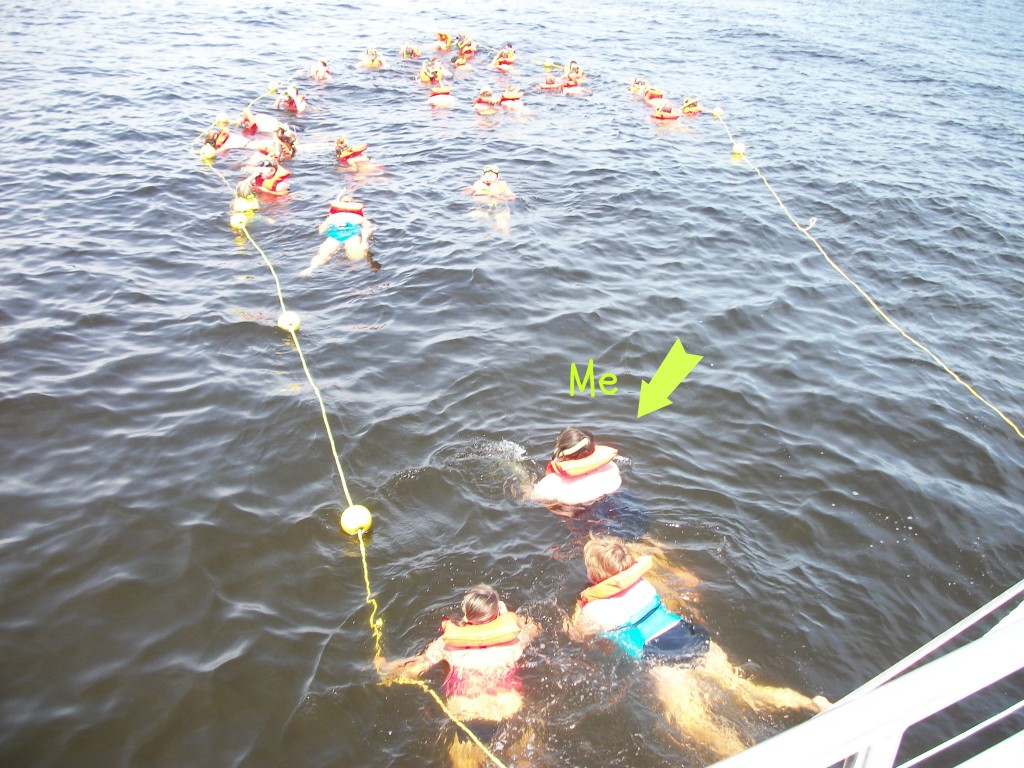 Snorkeling was amazing!  I did not realize how peaceful and serene it would be.  I loved the feel of combing thru the sand, looking for sand dollars and shells.  We also saw crabs scooting along and entire schools of fish darting all around us.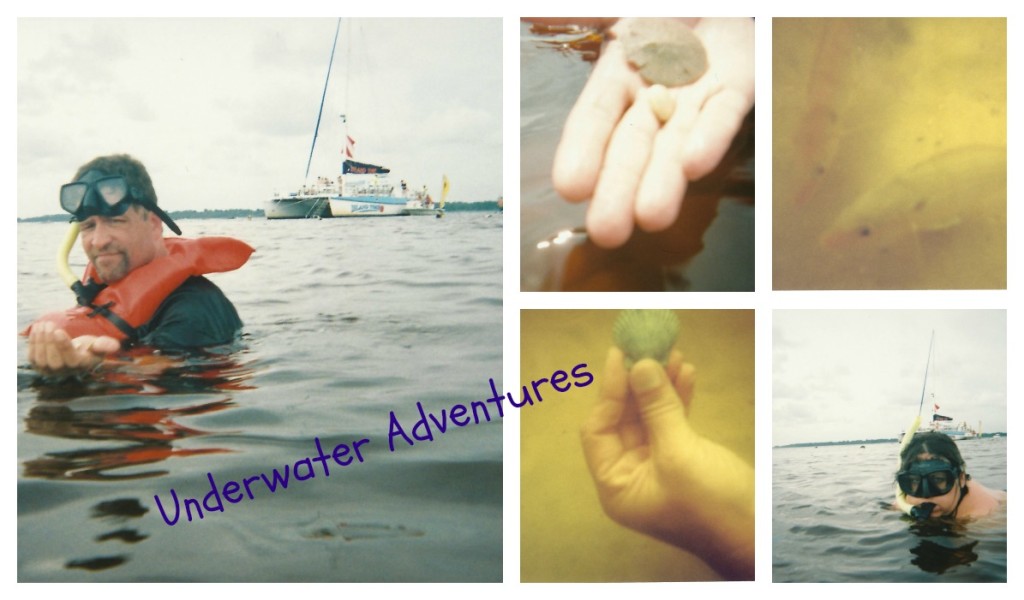 The time flew by incredibly fast.  We were tired and hungry after swimming back to re-board.  An ice cream boat (it was so cute, just like an ice cream truck complete with music!) had tied up to the Island Time, so we enjoyed some icy cold treats.
The cruise back to the marina was just as much fun as the first leg of the trip.  The deck hands led the group in funny games.  There was even a hula hoop contest for the kids.  Party music was played and people were even dancing!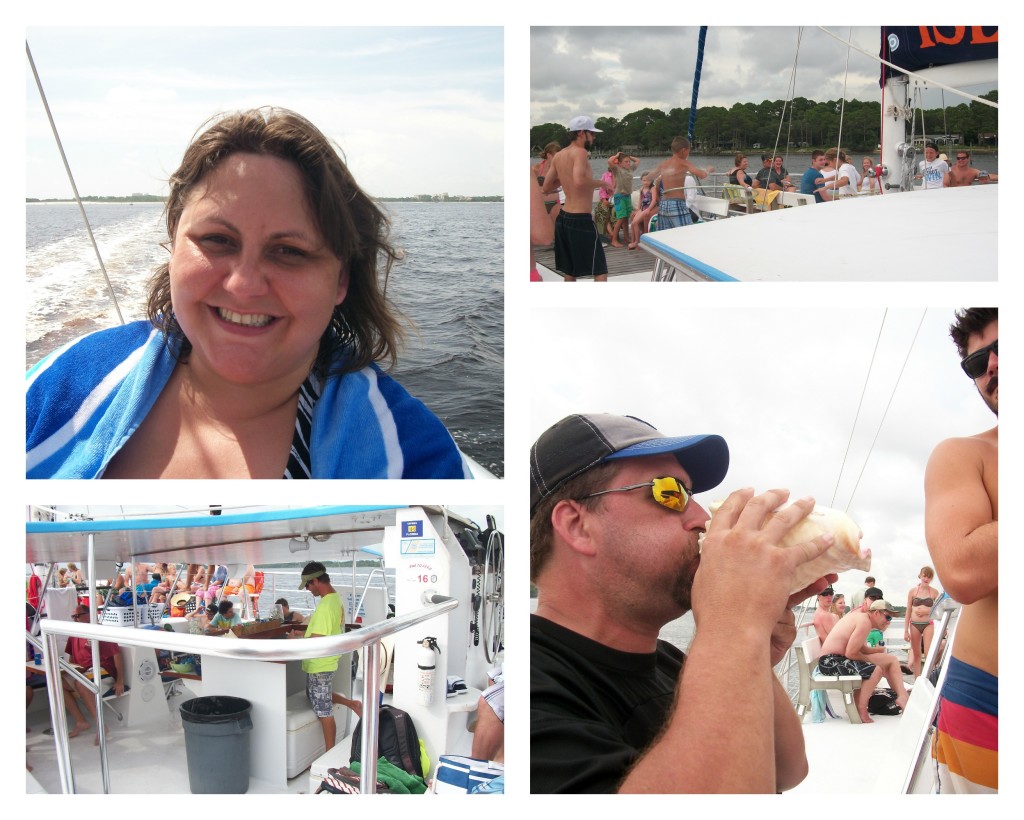 We loved every minute of it.  The picturesque views alone were well worth the trip, but add all the other exciting elements and it was truly an awesome experience.  I can't wait to try it again someday!
Island Time Sailing offers several options for exploring the Gulf of Mexico, including the dolphin and snorkeling adventure, a sunset cruise and private charters.  Visit www.islandtimesailing.com for more info!
Location:
3605 Thomas Drive, Slip #22
Panama City Beach, FL, 32408
Prices:
$39 for adults
$29 for children 3 and under
Have you ever had a dolphin encounter or went snorkeling?