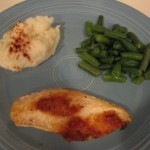 First off, I'm sorry for the poor picture quality.  The battery was low on my camera and I didn't want Ryan's dinner to get cold waiting on me to change the batteries.
We had boneless, skinless chicken breast, green beans and mashed cauliflower.
When I cook boneless, skinless chicken breast, I always cut them in half so they are not as thick.  They cook quicker which is essential for  me.  Plus you can eat two pieces but really only one chicken breast.  You feel like your eating more than you actually are.  I think its a mental thing for me.  I put a small amount of Extra Virgin Olive Oil in the pan.  Let it heat up just a little over medium heat.  Place your chicken in the pan and sprinkle with just a dash of salt and pepper.  Let the chicken cook and turn once you can see that it has cooked halfway.  You will see the where the pink turns white.  Flip the chicken and then let cook the remainder of the way.
While your chicken is cooking boil a pan of water for your cauliflower.  You can use salt in the water, but I do not.  Cut into florets.  Once your water has come to a boil, cook the cauliflower for about 8 minutes.  You don't want it mushy, so keep an eye on it.  In a food processor or blender, place 1/2 tsp of salt and pepper, a dash of hot sauce, 1 tbs of margarine (to keep it on the healthier side I use non-hydrogenated margarine), 1/4 cup 1% milk, 1/2 cup potato flakes and your cooked cauliflower.  Blend until its the consistency of mashed potatoes.  If you'd like to add a dash of color, sprinkle a bit of paprika over the top.  It's absolutely delicious and taste almost identical to mashed potatoes.
I'm pretty sure everyone knows how to cook green beans so I'll go ahead and wrap this up.
Cost:
Boneless Skinless Chicken Breast  $3.00
Head of Cauliflower $.50 (On sale for $1.50 at Target and used $1.00 coupon)
Frozen Green Beans $1.00
Total Cost: $4.50
This dinner is easy on the wallet and easy on your waistline.