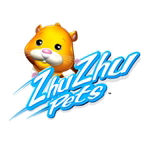 If you have little ones in the house, then I'm sure you have heard the buzz in the blogosphere surrounding one of the hottest toys this holiday season – Zhu Zhu Pets™! MomSelect and Zhu Zhu Pets are hosting a Twitter Party next week and you are invited to attend!!
Zhu Zhu Pets™/MomSelect Twitter Party
Date: Monday, November 9, 2009
Time: 7 p.m. – 8 p.m. EST
Location: #ZhuZhuPets
Host: @MomTalkRadio (Maria Bailey, Founder of MomSelect)
During the Zhu Zhu fest, they will be giving away over 25 Zhu Zhu Pets™ hamsters, as well as awesome habitrail pieces and accessories. You and your kids will have a great time chatting with other Zhu Zhu fans and just might win these coveted prizes!
If you plan on attending the Twitter Party, please RSVP here. Your registration will count as an additional entry to win a Zhu Zhu Pet™ hamster and fun accessory! Be sure to follow @ResourcefulMom throughout the evening for updates, prize information and contest details.
We have several Zhu Zhu Pets and well as the complete Habitrail and my children love it. These are the cutest little toys and provide hours of fun. Just make sure you stock up on batteries.