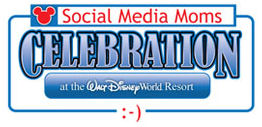 Yep, you read that right!  I'm taking the whole family on a 15 hour journey to Orlando, Florida for the Social Media Moms Celebration! This event is the talk of the blogosphere and is already sold out.  A couple hours after I registered, I saw a tweet on Twitter that said it was sold out.  Talk about a deep sigh of relief.  If I had waited any longer, we wouldn't have been able to attend.
Here is a small tidbit about the event:
The Walt Disney World Resort near beautiful Orlando, Florida is the setting for this first ever, family-friendly social media conference for moms. You'll experience special events, conference sessions and private parties taking place across the 40-square mile entertainment complex. You'll have a chance to experience the fun and fantasy of Walt Disney World while hearing from captivating speakers such as Guy Kawasaki, Maxine Clark, MaryEllen Hooper, and more.
I'm so excited for so many reasons! Just a few days ago before I really knew anything about the event, I commented on Lorie's blog about how I wanted to be able to take the children to Disney soon. I had no idea it would be this soon!  I'm so excited for Taylor to see all the princesses that she has adored for so many years.  Rylan is going to flip out when he is able to see Mickey Mouse.  He watches Mickey  Mouse Clubhouse and is such a huge fan of Mickey!  Since Peyton is pretty young I don't think he will quite understand, but I still think he is going to have a blast.
I'm also excited to meet some of the mommy bloggers and their families that I've met online over the past 10 months!  There are so  many women that I talk to online and it will be really awesome to actually see them and talk face-to-face.  If you are going to the event, I would love to meet up. In addition, I'm super excited to learn more about social media.  I can't wait to hear all the wonderful speakers that are lined up.
I want to the thank everyone involved for making this a family-friendly event!  I can't wait for February!
Sponsorship Opportunities Available
The focus of this trip is to grow my knowledge of social media to make me more effective as a blogger and to enjoy the experience of Disney with my entire family! If you have a product that is related to family travel, please contact me for sponsorship opportunities.