As a mommy of three children 9 years old and younger, the subject of underage drinking has not come up in our home.  To be totally honest with you, I'm not even sure my three children know what alcohol is.  My husband and I don't consume alcoholic beverages so I'd be really surprised if my children knew what it was and what it could do.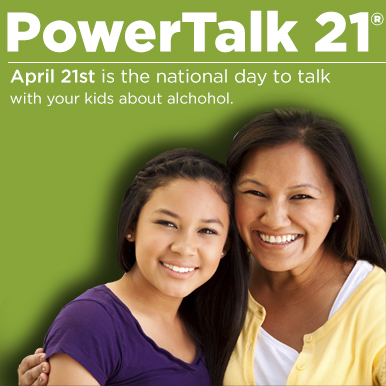 Even though the topic hasn't been brought up yet, I'm preparing myself for "the talk."  I haven't brought it up to my children because in their innocence they wouldn't really understand.  But as a parent I have to prepare myself and the resources from MADD help make that possible.
After attending a webinar with a MADD representative, my eyes were opened to the heartbreaking statistics of underage drinking.  Did you know that teen alcohol use kills 6,000 people each year? Or that one in three 8th grade students have tried alcohol? Or that one in five teens binge drink?
Why?
I don't get it.  Why are these teens drinking and how are they getting access to alcohol.  Reports show that three in four teens say their parents are the leading influence about drinking.
I'm not one to criticize any parent for their parenting decisions, but when it involves not only a life of a child but the lives of innocent bystanders, I have a hard time not saying something.
We have to be diligent with our children and teach them right from wrong.  There are rules in place for a reason and we must be a positive example to our children.  They are the next generation.  They are our future.  We have to protect the future.
April 21st is PowerTalk 21 Day which is the national day for parents to talk to their children about underage drinking.  If you don't know how to approach the subject (like me), there are resources online to help you.
Resources:
Once my oldest is a little older, I will be using these resources to open up a line of communication about underage drinking.  Reports show that there is a 30% reduction in drinking when parents implemented the MADD handbook.  The handbook is free so there really isn't any reason why you shouldn't at least just check it out.  You can also feel free to reach out to your local MADD office for additional resources.
Twitter Party Details:
Tomorrow, April 19th, I will be co-hosting a Twitter Party and you are invited to attend.
Hashtag: #PowerTalk21
Date/Time: Friday, April 19th @ 2pm EDT (1pm CDT)
Prizes: Ten $25 Visa Gift Cards and the MADD Parent Handbook
Hosts/Co-Hosts:
I hope you'll join me for tomorrows Twitter Party.  Can't wait to see you there. For more information about Power of Parents, please visit madd.org/powerofparents.
This is a sponsored conversation written by me on behalf of MADD Texas. The opinions and text are all mine.