I was invited to California and received a travel and lodging expense paid trip, however all opinions are my own.
I've been keeping a secret for 10 long months about an experience I had last April. Clearly I like to write about all the exciting things I get the opportunity to participate in and keeping quiet has been no easy task. But, I finally get to spill the beans about this secret I've had to keep under lock and key.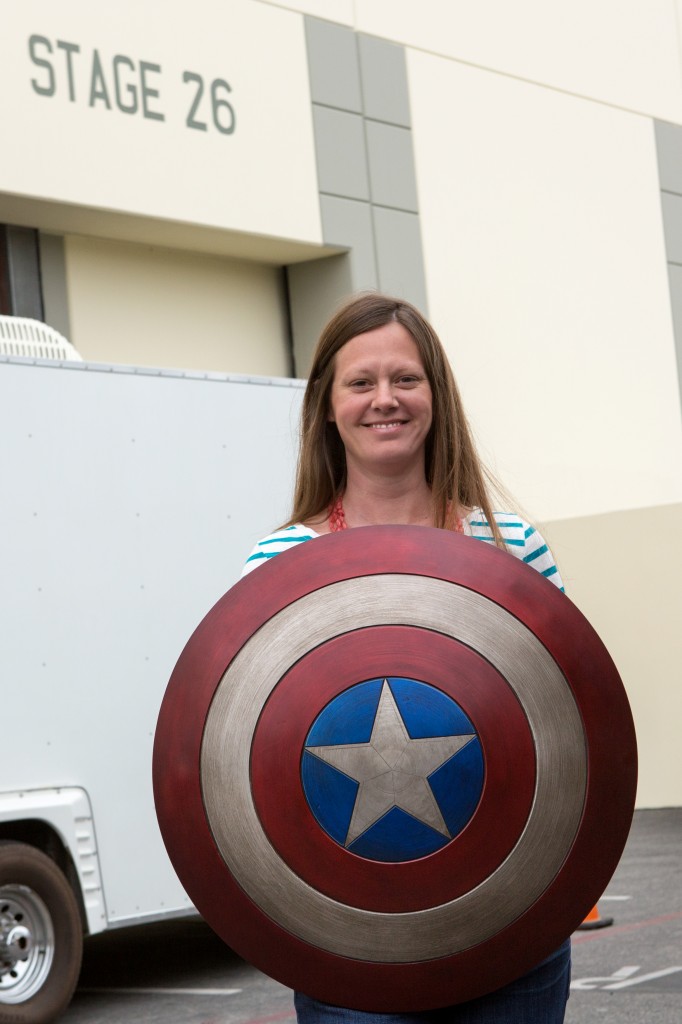 Yes, that is the SHIELD, y'all! And that is me holding the SHIELD, cheesy grin and all.
I gave you a little hint back in October when I wrote about going on the set of Captain America: The Winter Soldier while it was being filmed, but there is still more to come!
When we arrived at the studio we had the opportunity to talk with Property Master Russell Bobbitt, who actually designed the shield. He talked about how he had to make 50 different shields, out of different materials (hard rubber, soft rubber, fiberglass, metal) to accommodate all the different scenarios within the  movie.  The shield that I actually got to touch, hold and play with is the shield made from hard rubber which is "next to the best" according to Russell. And the reason I was given this one is because it is lighter than the heavy metal one.
It was interesting hearing Russell talk about Captain America's SHIELD.  There is more that goes into making the shield than one might imagine. Because different scenes throughout the movie require Chris to do certain things, it would be impractical to have him carry and use the heavy metal shield at all times. In actions scenes where he is battling with the shield, he is using one of the more lightweight shields so that he doesn't wear out too quickly.
Being able to hold Captain America's shield is an experience that I'll never forget. It was such a fun, once in a lifetime opportunity.  And my kids think I'm the coolest thing ever, so that is just an added bonus.
Captain America: The Winter Soldier will arrive in theaters on April 4, 2014! You can like Captain America on Facebook and follow on Twitter to stay up to date.