This post was created as part of the #MushroomMakeover 30 Day Weight Loss Challenge in which I am a financially compensated blogger ambassador for the Mushroom Council.  The opinions are my own and based on my own experience.
Two weeks into the Mushroom Makeover 30-Day Challenge for the Mushroom Council, and I'm learning so much about eating healthy, real food.  Yet, an equally important thing I'm learning is how I can make this a permanent life switch.
When it comes to your health, what are you doing best?  One recent piece of advice shared by the Mushroom Makeover's registered dietician Corinne Dobbas was to record what we do well.  One thing that I feel good about is eating three, relatively healthy meals a day.
But eating the kids' remnants or handfuls of whatever falls out of the cupboard when I open it was letting me down. This week I've been focusing on pre-planning healthy snacks for myself.  Here are some low calorie snack suggestions from our meal plan:
string cheese & a piece of fruit
3 tablespoons & veggies
1/4 c. of nuts & a piece of fruit
1 oz of chocolate
The chocolate was listed in our "treat" section, and should be used sparingly.  I know that there are days when I just NEED something sweet.  I included it because I was surprised at how much chocolate it allowed me.  The entire Hershey bar was 1.55 ounces, so I was able to have more than half.
My Mushroom Makeover Meals
This week I've been looking at my regular meals and how I could alter them to make them even better for me.  My husband loves to barbecue, but, as a vegetarian, I thought there weren't a lot of options for me.  Veggie burger after veggie burger gets really old.
By increasing low-calorie and higher density foods like mushrooms, you can fill up without feeling down.  Here are some of my swaps this week:
What do you get when you combine a little balsamic vinegar and a portobello mushroom? A scrumptious portobello burger that will rival any traditional burger.
Since we celebrated St. Patrick's Day this past week, I made

R

a

i

n

b

o

w

Veggie Kabobs to try to up my veggie count.
Another favorite in our house is pasta. But pasta is full of carbs, you might say.  All in moderation! I decreased the amount of whole wheat pasta to 1/2 cup, and again went for an abundance of veggies in the Mushroom & Arugula Pasta with Pesto.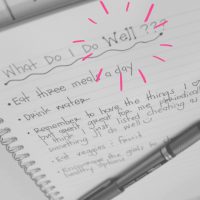 Mushroom & White Bean Tostada
This easy and tasty mushroom meal is featured on the Mushroom Channel's website. I put my own spin on it by adding avocado, and you too can tailor it to your tastes, too!
Ingredients
For the tostada shells:
1/4 cup canola oil
4 flour tortillas (I found some fajita-sized tortillas in a low-carb version)
For the tostadas:
1 tbsp butter
1 tbsp olive oil
8 oz sliced mushrooms, cleaned & patted dry
2 cloves garlic, minced
1 pinch Kosher salt
1 15.5 can of Great Northern Beans, drained & rinsed
2 cups Romaine lettuce, chopped
1/2 cup cherry tomatoes, halved
1/4 cup Swiss cheese, shredded
1/2 avocado, diced
Optional: Add 3 oz of grilled chicken to make an even more filling, protein-packed meal.
Instructions
For the tostadas:
Heat a saucepan over medium heat. Add olive oil, butter, and mushrooms. Sauté for 5-10 minutes or until most of the liquid has evaporated.
Add minced garlic, Kosher salt, and Great Northern Beans. Stir and cook over medium heat until mixture is heated through.
For the tostada shells:
While mushrooms are cooking, heat vegetable oil over medium heat in a large skillet. Using tongs, place a tortilla in the oil. Fry for 30 seconds or until tortilla turns a light brown. Use tongs to flip the tortilla onto the other side, cooking for 15-30 seconds, until brown. Burst any bubbles that form.
Repeat with remaining tortillas, turning down the heat if the tortillas brown too fast. Using tongs, carefully remove each tortilla from the oil and place on a paper towel to drain.
To assemble each tostada:
Top each tostada shell with one spoonful of mushroom and bean mixture. Load up on lots of lettuce and tomatoes. Sprinkle with cheese and top with avocado.

My Weight Loss Update
If you haven't already, I encourage you to check out our exercise plan.  Week 2 brought in a new set of exercise circuits, and I was excited that this week targeted some areas of myself that could use a little attention.  Oh, that plank!  I had to remind myself not to hold my breath while doing it.  It did get easier to do with repetition.
This week hasn't had a significant pound loss, but I feel better about my ability to do the various exercises.  They have left me feeling stronger and enthused about my ability to change myself for the better.  That's the motivation I need to be ready for Week 3!
This post was created as part of the #MushroomMakeover 30 Day Weight Loss Challenge in which I am a financially compensated blogger ambassador for the Mushroom Council.  The opinions are my own and based on my own experience.