Mother's Day is just around the corner! The older I get, the more grateful I am for nearly forty years of unconditional love and encouragement, not to mention the occasional shoulder to cry on and all-around best friend a girl could ever have.
Traditional Mother's Day gifts include things like roses, chocolates, and baskets of bath soaps, which are lovely, but for those looking for more personal ways to honor and spoil mom there are more possibilities than ever.
After scouring the internet looking for unique and interesting ideas, I've narrowed it down to a few of my favorites. Some of these gifts may not be the most practical for every budget or family, but hopefully you will be inspired to find the perfect gift for your perfect mom!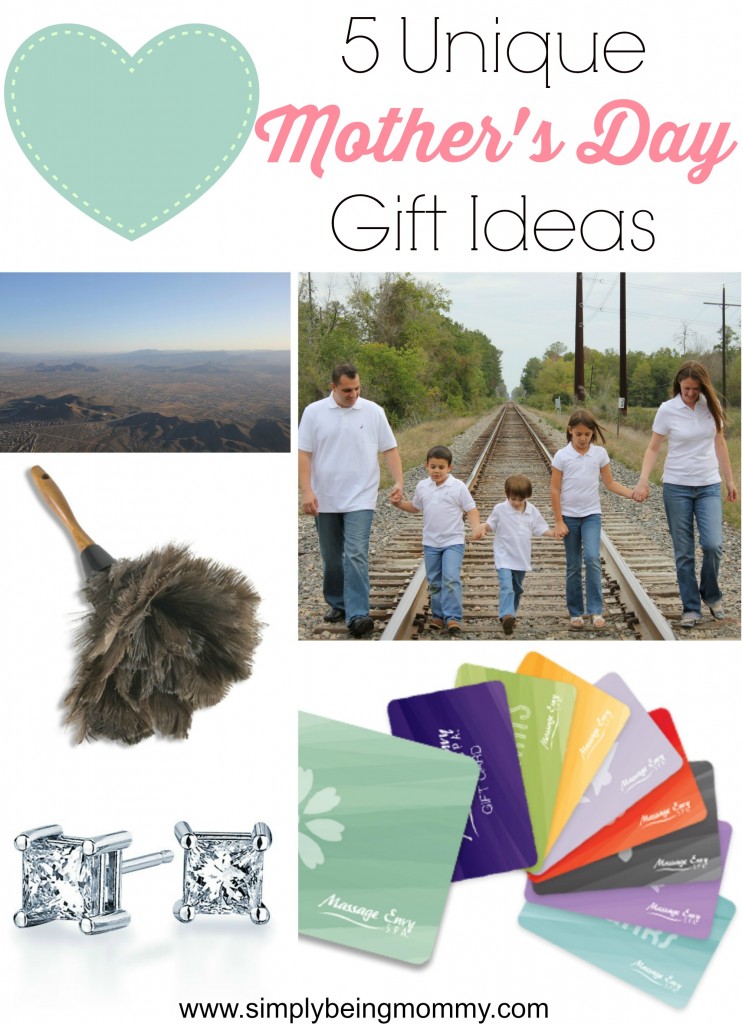 5 Unique Mother's Day Gift Ideas
Give the gift of indulgence. My own mother would never splurge for an entire day of beauty at a day spa or resort, but she (and practically any other woman I know) would love to be pampered lavishly for a few hours of sheer peaceful bliss. Many facilities offer fantastic specials this time of year, too!
Give the gift of adventure. Does mom love to take on new challenges or adventures? A hot-air balloon ride or a zip-line tour promises to deliver a memory mom won't soon forget and will love to brag to her friends about. Be inventive, you might be surprised how much fun Mom will have creating some adrenaline!
Give the gift of memories. Hire a good photographer and arrange for the entire family to come together for an amazing photo session. Today's family is often spread across the country and logistics can be tricky, but I promise you, it's one gift she is sure to treasure for a lifetime!
Give the gift of clean. Moms are so busy and work hard every day maintaining the household, even when the kids are grown. Let someone else do the heavy lifting for a day, week, or a month if you really want to wow her! There are national chains that provide in-home cleaning services or check your local ads. This is secretly #1 on my own wish list. I wonder if my husband and kids will read this and get the hint?
Give the gift of luxury. Has Mom been coveting that expensive designer handbag or beautiful diamond earrings? Pick something timeless and classic to show Mom exactly how much she means to you.
Most of all, don't forget to simply tell Mom you love her! No matter what the gift or how much it costs, she will surely love it if it comes from the heart!
What will you be getting Mom for Mother's Day?