My family was provided with a home for the purpose of this review. As always, all thoughts and opinions are my own.
Wow, that was a lot of home in the title and that is exactly how I feel when I stay with Global Resort Homes while vacationing in Florida. I've stayed with Global several times and I absolutely love that they offer affordable Orlando vacation homes in several communities that are just minutes from all the fun.
During our most recent stay with Global, we stayed in Champions Gate Resort, a gorgeous upscale community that is still under construction. Upon its completion, it's going to feature a lazy river, a resort-style pool with water slides and cabanas, splash park, a public 18-hole golf course with a driving range and putting green and more! Plus, each home within this gated community features a private pool with covered lanai. I kind of just want to live there year round. There is going to be so much to do within this community that you won't even need to leave.
We vacationed with three other families with a total of 14 people and we were all able to stay comfortably under one roof. The home we stayed at in Champions Gate Resort had a whopping eight bedrooms and five bathrooms! We even had a bedroom leftover y'all. That's how massive this home is.
We arrived extremely late (or I guess you could say early) and it was dark out. After sleeping a few hours, I woke up to take pictures, but as I'm sure you can imagine, things were already out of place when you have 14 people living in one house. When we arrived the house was immaculately clean and everything was in place. While the pictures will show things out of place, that is our doing and is not what we walked into at 4 o'clock in the morning. For professional pictures of the house, please feel free to view the online listing.
The home is located on a corner lot and has been professionally decorated throughout. Each bedroom is unique and has a theme all its own. There are a total of 12 beds in the home. There are two master bedrooms downstairs, one with a king and one with a queen, and the upstairs bedrooms are a mix of twins, doubles and queens. The two downstairs bedrooms each have an in-suite bathroom. The bathroom in the second master is also accessible outside of the bedroom. This makes it easy for others in the house to use a bathroom downstairs without the need to go upstairs. The bathroom in the main master is also accessible from the covered lanai so that people in the pool can use the restroom without tracking water throughout the house.
The kitchen is conveniently located downstairs and offers upgraded features such as granite counter tops, stainless steel appliances and upgraded cabinetry. There are several options available for gathering at meals including the spacious kitchen bar, large dining room table, and the poolside table. The kitchen is stocked with a coffee maker, place settings, cooking utensils, pots and pans, and more. All you need to do is bring the food.
In addition to the dining areas, the home also features plenty of areas to entertain and play. There is a downstairs living area with a flat screen television, and the upstairs features another living area with television and a game room with a pool table and Foosball table. In addition, each bedroom also features a television.
With a group as big as ours, it would have been impossible to hang out and enjoy the company of our family and friends if we had stayed in a hotel. The vacation home allowed us to enjoy the pool any time we wanted, we were able to utilize the kitchen to cook some meals at home to keep costs down, and we used the game room for friendly games of Foosball and pool. You simply can not get that at a hotel. And when you split the cost between four families, it's cheaper than a comparable hotel.
My kids enjoyed the pool every waking moment we were at the house. If there is one thing they remember about this vacation, it will be the endless amount of pool time. They jumped and splashed to their little hearts desire.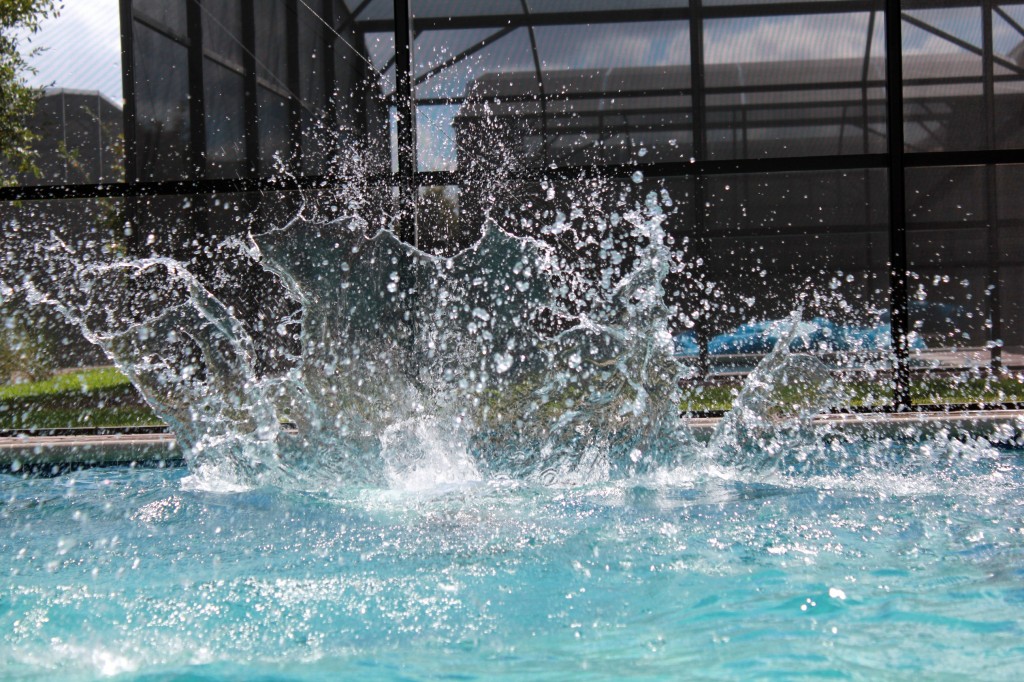 A couple of years ago I wrote a post titles, Five Reasons to Stay in a Global Resorts Home When Visiting Florida, and it still applies today. Check it out and consider a vacation home next time you visit the Orlando area. Also, during my stay at 1419 Wexford Way, Global filmed a short video of the home and my thoughts about the home. I'd love for you to check it out.
When you vacation, do you stay in a hotel or vacation home?