Chocolate Protein Iced Coffee is perfect for busy mornings.
Mornings in my house are rushed and chaotic. No matter how much I plan the night before, it's inevitable that something will go awry and the morning will quickly spin out of control.
I'm pretty sure that's normal for most of us. If it's not normal for you, please share your secrets with the rest of us.
As soon as my feet hit the ground in the morning, I'm constantly doing for everyone else…even the dogs. From preparing school lunches to consoling tired children who don't want to go to school, mornings just aren't my favorite.
And to be honest, some mornings I forget about breakfast. With all the things that I have to do, sometimes it just escapes me.
Does that ever happen to you?

But what if you could sneak in some protein in your morning coffee. Wouldn't that be nice? It's almost like killing two birds with one stone. I say almost because really, you still need more for breakfast, but it's nice for those times when it just isn't going to happen.
Chocolate Protein Iced Coffee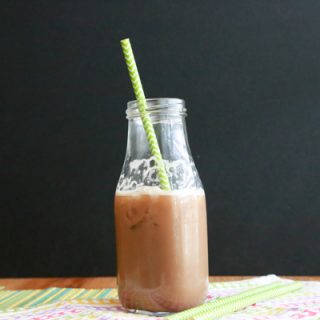 Chocolate Protein Iced Coffee
Get your dose of caffeine and protein all in one drink.
Ingredients
2/3 cup warm water
1 tsp Folgers Classic Roast Instant Coffee Crystals
1/3 scoop chocolate protein powder
1 tablespoon half-and-half
1/2 - 1 cup crushed ice
Instructions
In a glass or bottle combine water and coffee crystals. Stir or shake to dissolve.
Add chocolate protein powder and stir or shake until completely dissolved.
Add half-and-half and stir or shake until combined.
Pour in crushed ice and stir one last time. Enjoy!
Nutrition Information:
Yield:

1
Serving Size:

1
Amount Per Serving:
Calories:

313
Total Fat:

18g
Saturated Fat:

8g
Trans Fat:

0g
Unsaturated Fat:

8g
Cholesterol:

109mg
Sodium:

77mg
Carbohydrates:

1g
Net Carbohydrates:

1g
Fiber:

0g
Sugar:

1g
Protein:

34g
This Chocolate Protein Iced Coffee is super easy to make and shouldn't take much longer than making your regular morning coffee. You could even prepare most of it the night before (add ice when ready to drink) and have it ready for you in the refrigerator the next morning.
---
I'm a coffee cup junkie. I feel like I need to have ALL THE COFFEE CUPS! I'm sharing my favorite picks from Amazon, because I feel like you NEED them too! I just love the funny ones. It's nice to have a good laugh in the morning!
Mama Needs Some Coffee Cup

Best Mom Ever Ceramic Coffee Cup

I'm A Mom, What's Your Superpower?

World's Okayest Mom Coffee Cup

Best Mom Ever Coffee Cup

Mom Life is the Best Life Coffee Cup

Funny Size Matters Coffee Cup

Wife. Mom. Boss. Coffee Cup

---
I love that I can sneak in a few grams of protein while drinking my morning coffee. I'm going to drink coffee regardless, but with this easy drink, it helps me feel a little full until I can grab a quick breakfast.
After the kids get off to school, I like to get a few minutes of me time before I officially start my work day at home. Being able to make a super quick pick-me-up allows me to do just that. Me time is so important for us as we are busy raising our little families.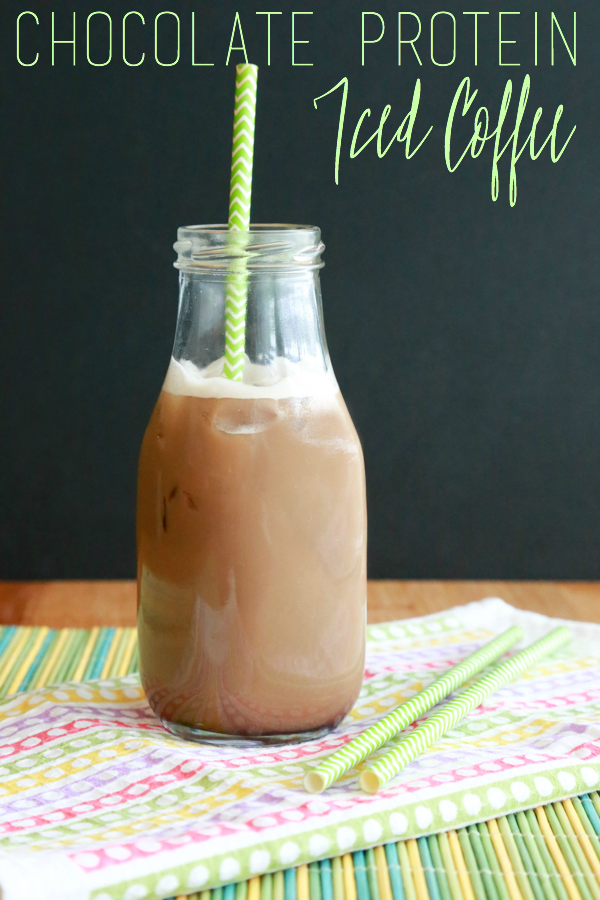 Never underestimate the power of me time. Even if it's just a couple minutes. It does a body good!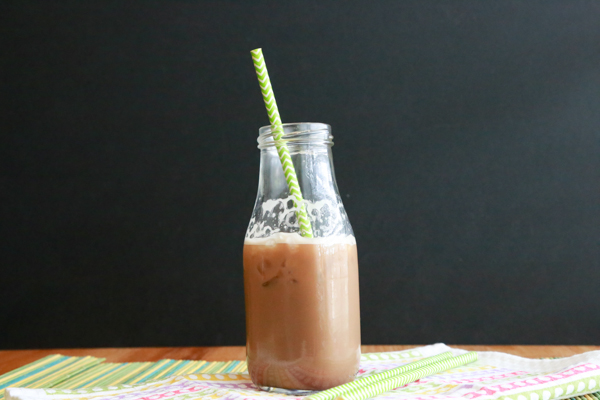 Instant coffee is a wonderful solution for me on busy mornings. I get the same coffee I know and love, in an easier and faster way.
Skip the coffee shop drive-thru, y'all. Make your coffee just the way you like it no matter where you are. Need a mid-day pick me up? Make half a serving for an afternoon boost. It helps when you're cooking dinner, helping with homework, ironing your husband's clothes, and bathing the dog — all at the same time.
Not really, but you get my point.
Whether your me time is 5 minutes, 10 minutes, or even longer, it's important that we take time for ourselves each and every day. Life is crazy. Take some time each day to slow down and simply relax. It'll be worth it. I promise!
If you're looking for another caffeinated recipe idea, check out this amazingly delicious Hot Fudge Frappe. Oh my word, it's delicious, y'all.