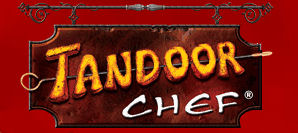 When I get a request for a food review, I hardly ever say no. I'm a big fan of eating and I like trying new and different things. I was recently contacted by the folks over at Tandoor Chef and they sent me 4 Naan Bread pizzas to review. Now when I think of pizza, I think of cheese and pepperoni on a nice, thick crust. Tandoor Chef Naan Pizza is quite different and unlike any other pizza I've tried before.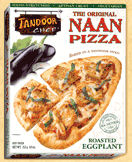 The Tandoor Chef Naan Pizza comes in 4 different varieties which include:
Roasted Eggplant
Cilantro Pesto
Margherita
Spinach & Paneer Cheese
When I first received our Tandoor Chef Naan Pizza I have to admit that I was a bit nervous about testing it out.  It looked nothing like the pizza I was used to eating – it wasn't round and it had unique toppings I wasn't used to.  But, we tried them anyway.
My husband really loved the Naan bread and he said the toppings "tasted real and natural" and it was something that he would buy again.  My experience was a little different because while I really liked the Naan bread crust, I wasn't a big fan of the toppings.  I'm thinking it was probably the cheese I didn't like but the unusual toppings were a bit different and I'm not sure they belong on a pizza.  My husband and I have differing opinions on the pizza but I'm not a big fan of pizza anyway.  I'd totally love to try just cheese and pepperoni on a naan bread crust.
A little about Tandoor Chef:
Tandoor Chef is so much more than great tasting frozen entrées. We're a family–owned brand that prides itself on presenting a meal sensation that's rich in Indian culture and flavor, and is all–natural and sensational to experience.
Buy:
Tandoor Chef's authentic frozen Indian products can be found at many major retailers across the United States.
The views and opinions expressed on this blog are purely that of the blog owners. Any product claim, statistic, quote or other representation about a product or service should be verified with the manufacturer or provider. I have received a free product in order to facilitate an honest review.