Traveling alone is fantastic, but being able to travel with my family is even more enjoyable. Family destinations, like Seadust Cancun Family Resort, make traveling as a family enjoyable for everyone.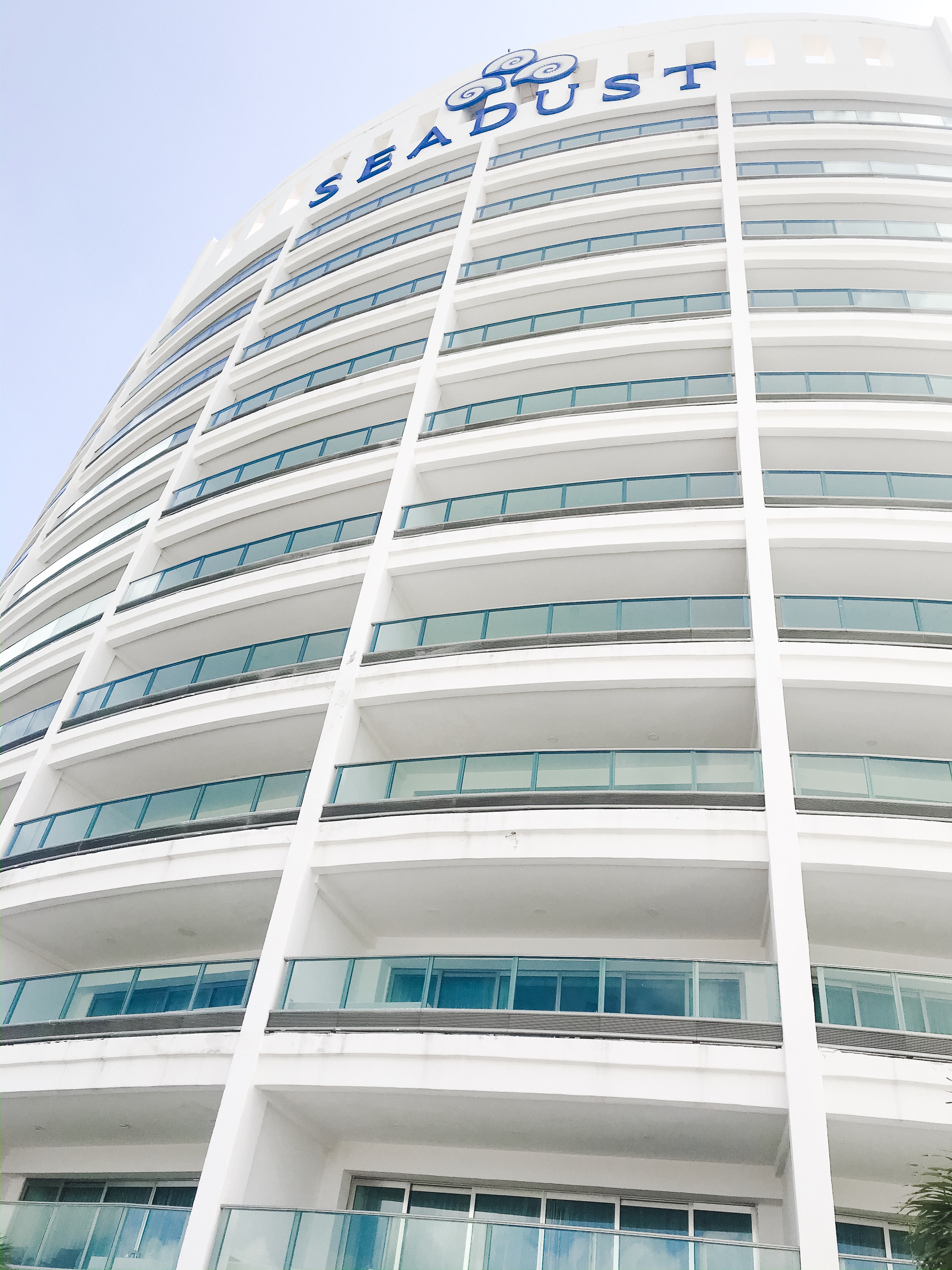 Seadust Cancun Family Resort
Located on the beautiful white sandy beaches of the Cancun hotel zone, the Seadust Cancun Family Resort offers impressive views of the Caribbean Sea and the Nichupté lagoon creating the allusion of sailing on a cruise ship.
The unique design allows all guests water views of either the sea or the lagoon with many rooms offering a view of both. This makes it easy to watch the sun rise over the sea and set over the lagoon.
The interior of the resort resembles the interior of a cruise ship. With 12 floors and over 500+ rooms, you can enjoy the views of a cruise without the motion sickness.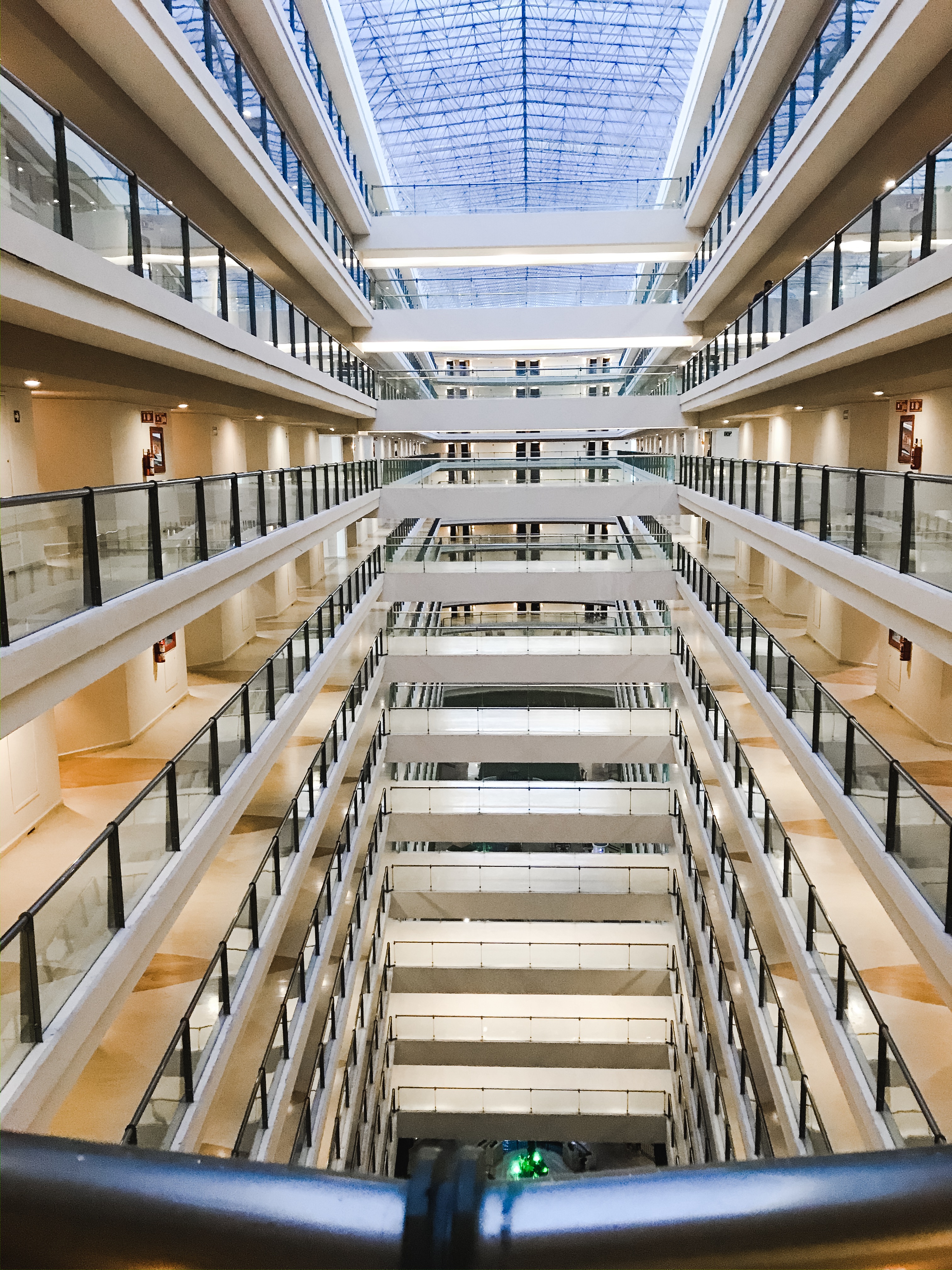 This charming resort in Cancun also offers an All-Inclusive program for children and adults. The complete program includes: 10 incredible restaurants and 9 bars, many fun-filled activities for adults and children such as swimming pools, water park, tennis and multi-functional courts, baby club, kids club, minigolf, zip line, climbing wall and theater plays.
Resort Rooms
There are several types of rooms to choose from depending on your family size. Many rooms fit up to four while some offer an option for five.
For the convenience of all guests, the resort offers a family section along with an adult-only section. All rooms feature an original contemporary design style and have been updated with accents and touches of the Mexican Caribbean.
Adult Only
Club Suite – located in a privileged section of the resort, this suite will allow you to enjoy the beauty of the Caribbean Sea in its entirety. The room also includes a bottle of champagne and a fruit platter upon arrival. In addition, this suite includes a private jacuzzi inside of the room and a balcony with an unbeatable view of the Caribbean Sea.
Sunset Suite – located in the adults-only section, this suite offers spectacular views of the Nichupté Lagoon and the lush Mayan jungle. The room also includes a bottle of champagne and a fruit platter upon arrival. In addition, this suite includes a private jacuzzi on the balcony.
Ocean Front Suite – located in the adults-only section and offering the best views of the sea, this suite features a private outdoor jacuzzi on the balcony. The room also includes a bottle of champagne and a fruit platter upon arrival.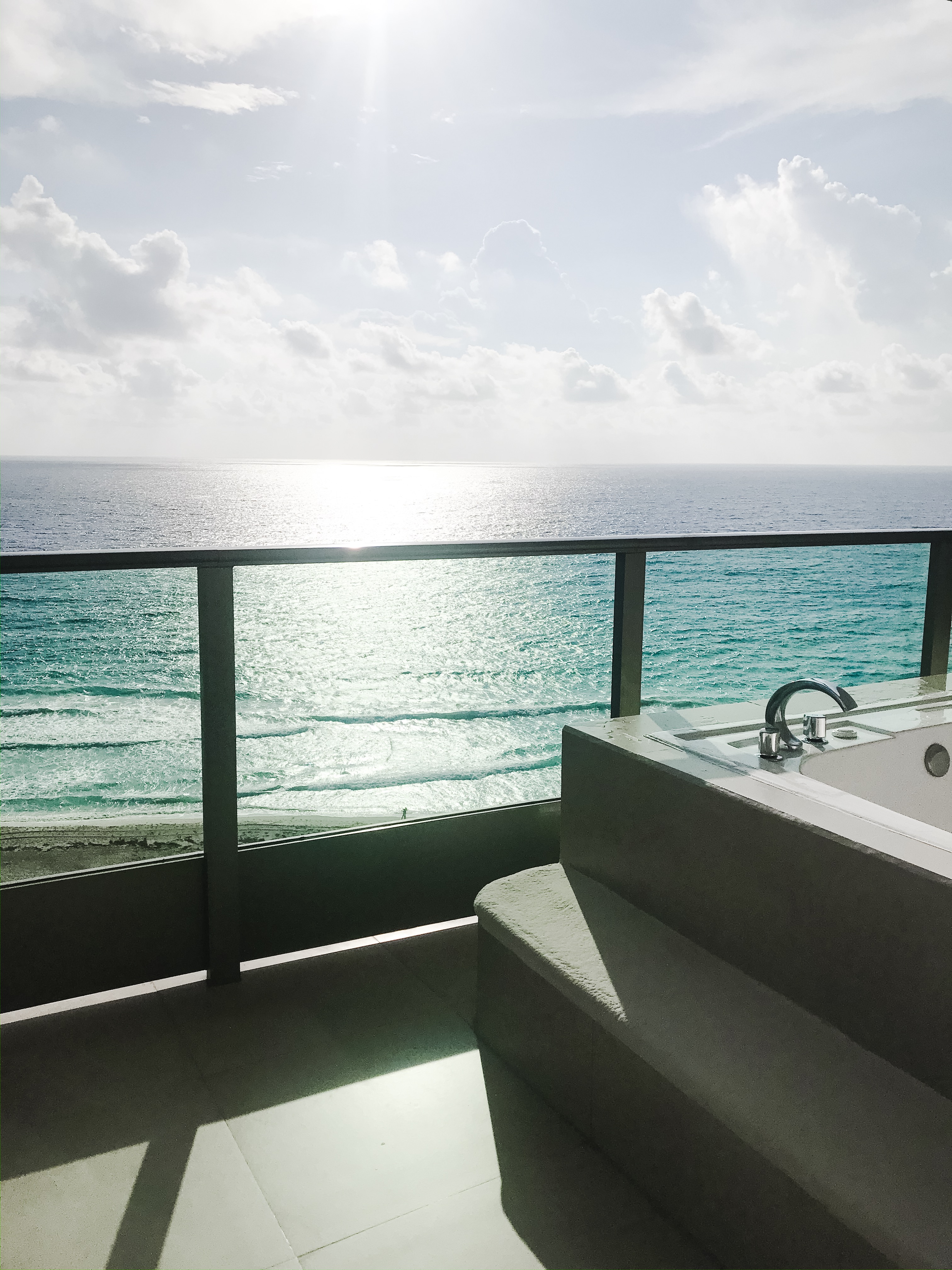 Family
Luxury Suite – enjoy partial ocean views and let yourself be lulled by the sound of the waves from your private balcony. You can choose a king size bed or two double beds, a sofa bed, a bathroom with a shower and double sinks, and a wide range of amenities.
Family Suite – features a king size bed or two double beds in the main space, and a separate bunk bed area with three single beds.
Resort Dining
With 10 different restaurants throughout the resort, there is something for every palate. Unlike some resorts I've visited in the past, you do not need to make reservations at any of the restaurants. Each one is a first come, first serve environment which I think makes vacationing even better. I hate schedules during vacation.
Each restaurant is decorated in a way that is consistent with its theme. Whether you just want a little snack by the pool, a light lunch, or an endless buffet, each specialty restaurant uses fresh seasonal ingredients where you will find a piece of heaven in every bite.
Restaurants
Food Gallery – inspired by different cuisines around the world, the Food Gallery offers eleven interactive stations in an open kitchen concept. With breakfast, lunch and dinner service you'll be able to enjoy your favorites in an all you can eat buffet setting.
Le Maison de Michelle – enjoy a night out without the kids at this adults-only restaurant. This French gourmet restaurant features French specialties such as magret of duck in raspberry sauce, beef stew "bourguignon", and escargots with wild mushrooms and bacon (these were so good).
Deli Manhattan – at this restaurant you'll find New York favorites such as bagels, hamburgers and club sandwiches. Other original specialties include smoked salmon, quail liver pâté, and mushrooms stuffed with crab meat and hollandaise sauce.
Samurai – indulge in an authentic Japanese meal with sushi prepared for you and dishes made on the Teppanyaki tables. You can choose between a variety of meats, shrimp, and a selection of vegetables.
Big Ben Steakhouse – enjoy the finest cuts of meat, such as rib eye, New York, arrachera, and pork ribs. Due to the popularity of the meats served in this restaurant, it has a high demand.
El Maguey – take in the atmosphere as you enjoy chips with an assortment of salsas and guacamole. Finish the night off with delicious Mexican dishes made with the highest quality fresh ingredients.
Lighthouse – enjoy the lively Italian atmosphere and a creative menu of appetizers, salads, soups, chops and seafood, all crowned with a wide assortment of desserts. In addition to menu service, take part in the all you can enjoy buffet. If you're feeling extra fancy, ask about fresh lobster preparations (for an added fee).
Carousel – located near the water park and the kids club, enjoy a family buffet with hot dogs, nachos, chicken nuggets, French fries and more.
Waves – tucked away in the main pool area, you can quench your thirst and curb your hunger without ever leaving the fun.
La Creperie – if you're looking for decadence, this is it. Enjoy a mid-afternoon coffee and complement it with hand-decorated cakes, sweet crêpes and donuts. You can also find ice cream and freshly baked bread loaves.
Room Service – offered 24 hours a day, you can order from a selection of snacks, breakfasts, lunch or dinner.
Resort Entertainment
Seadust Cancun Family Resort offers fun and entertainment for the entire family. From the adults-only bar to the family-friendly karoake bar, there is enough to keep the family entertained when not enjoying the beach or the pools.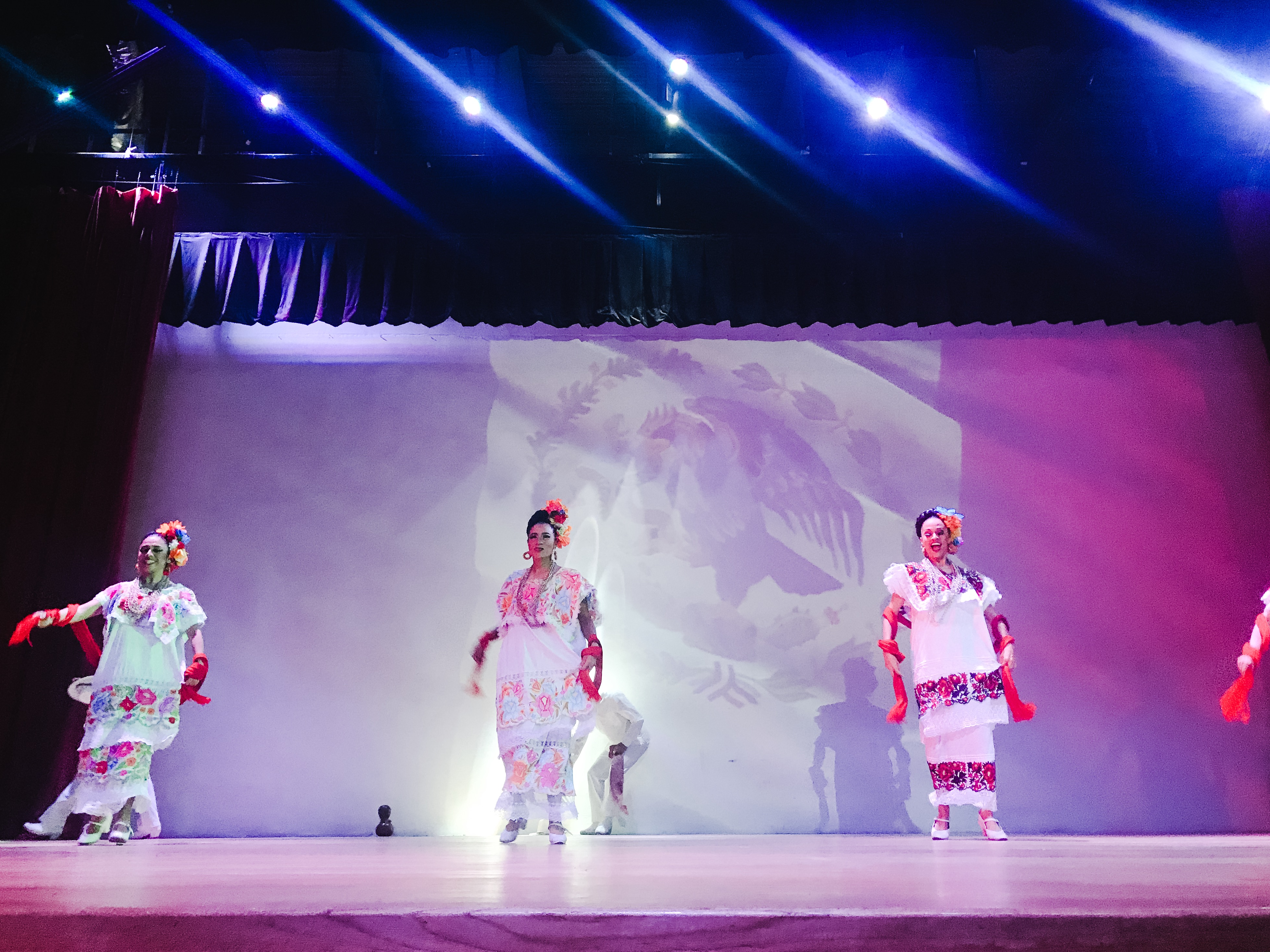 Enjoy some popcorn while watching the nightly shows in the resort's theater. Each night's show features a different theme with lively entertainment the entire family will enjoy.
Some of the most amazing memories are made when traveling. I often tell my family that traveling isn't optional, it's a necessity for my well-being.
Take vacations. Travel often. Live in the moment. Enjoy every single second.
Don't forget to pin this to your favorite travel board on Pinterest.