Before I had children I frequented the tanning salon quite regularly. I've always had pretty fair skin and the tanning bed was my solution for saying goodbye to white, pasty legs and hello to dark, tall and happy. I loved having a warm, brown tan.
I felt confident.
I felt in charge.
And I felt good.
After having my first child, I decided it was time to head back to the salon to get my tan back. I went a few times and starting noticing red, painful whelps that appeared after tanning. I had tanned for years prior and never experienced this before so I changed my tanning lotion thinking that was the culprit. The red whelps continued so I talked to the salon owner about the cleanser they used on the beds. We tried several different formulas and the red whelps continued. My last ditch effort was to try the stand up machines so that my body wasn't touching anything. You guessed it! I still got the red whelps.
To this day, I have no idea why I get the whelps after using a tanning bed. My guess would be that something changed in my body during pregnancy and that now I'm allergic to the rays. I've tried several times since and it's always the same outcome. I guess it's better for me anyway, but I sure do miss the days of pretty, tan skin.
Several years ago, I decided to try the spray-on tan at a local salon. It was my first (and only) time and I wasn't sure what to expect. I didn't exfoliate (I didn't know until I got there) but decided to give it a shot anyway. After a few short minutes in the spray booth, I was ready to go.
That night I was feeling sticky and decided to take a shower. No one advised me that it was best to wait a full 24 hours. What I saw as the water starting hitting my body sent me in to tears. The tan I had just applied that morning was being washed down the drain. But that wasn't the worst part. When I got out of the shower, instead of ALL of it washing off, only parts of it did so it left me streaked. If you need a visual, just think about a zebra…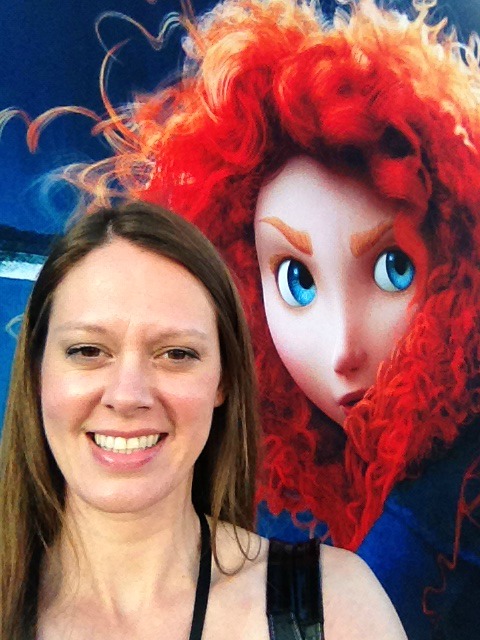 As you can see from this picture, I'm pretty pale. If you look really close at the picture, you can see a slight tan line by my purse straps. This picture was taken in September (I believe) so this was after months of summer sun.
I've pretty much come to terms that I'll always be pale, but it would be nice to have a little glow. I'll be trying the new Jergens Natural Glow Moisturizers over the next few months and updating with my progress. I hope that come summer I'll be less pale.
The new Jergens® Natural Glow Moisturizer provides the same natural-looking color but without the sunless tanner odor! Share your embarrassing tanning mishap for your chance to win a $250 Visa gift card.
This is a sponsored conversation written by me on behalf of Jergens Skincare®. The opinions and text are all mine.