I'm a big fan of sweet stuff and this Strawberry & Blueberry Napoleon is all about the sweet stuff! Scroll down to the bottom of the page for the easy recipe.
Have I mentioned lately how much I love the abundance of fresh fruit during the summer months? I love walking into the grocery store seeing rows and rows of bright, colorful fruits. Or better yet, going to the farmers market and buying directly from the person who put love and care into providing these bright and flavor-filled morsels of goodness.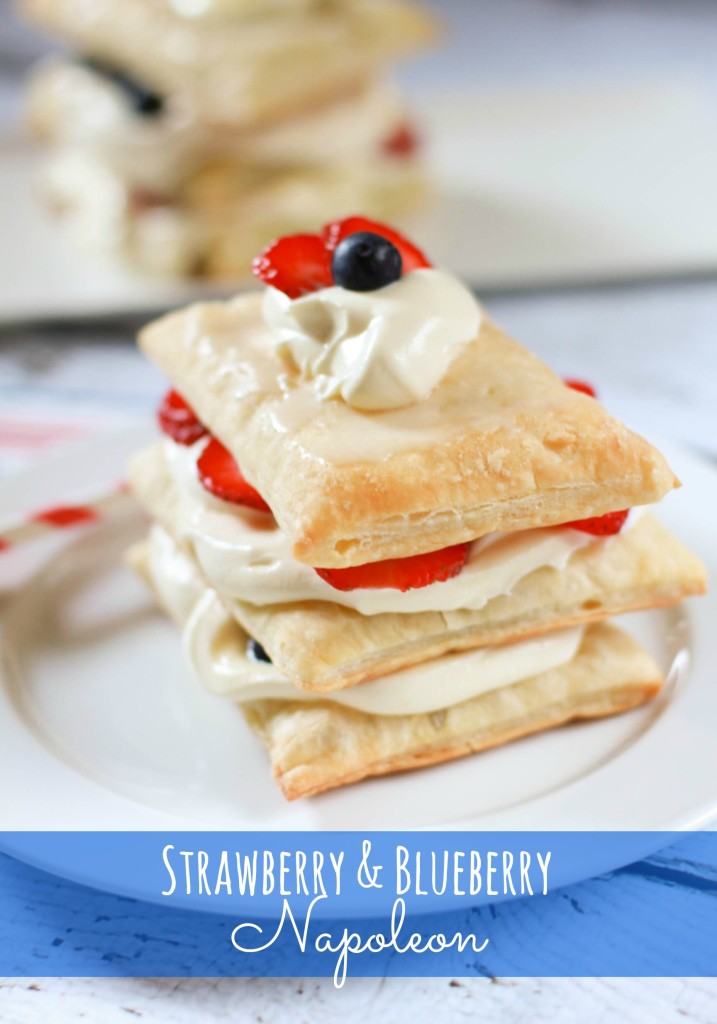 This summer I've been enjoying The Chew, a NEW kind of show devoted to food! With relatable, fun and energetic hosts to help viewers celebrate and explore food, I've been serving up some fun and flavorful food in my kitchen!
After watching an episode where Carla shares a Strawberry Napoleon recipe, I got inspired to whip up a Strawberry & Blueberry Napoleon in honor of Independence Day. Yum!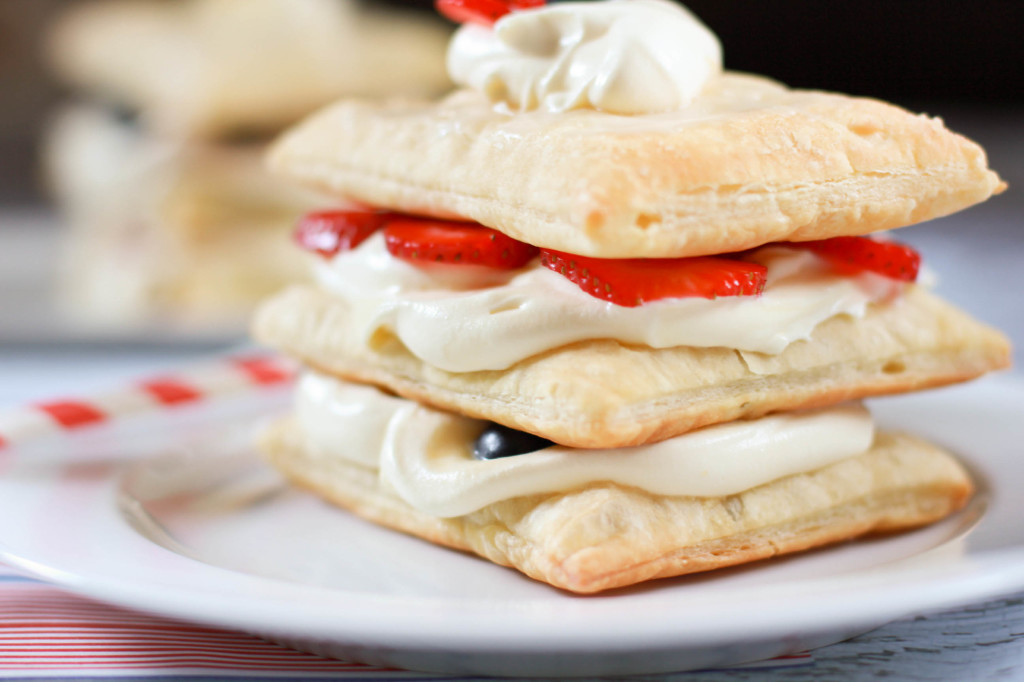 After making this dessert several times, I knew that I MUST share this Strawberry & Blueberry Napoleon recipe because it's totally awesome and messy and not very diet friendly. But it does have fruit, so that probably negates some of the other calories…
Maybe.
This is definitely a eat with your hands, face gets all messy kind of dessert! But y'all, I wouldn't have it any other way. It's such a fun dessert and who cares if it gets all over your hands and face?!? Dessert is made to be enjoyed. So enjoy it!
Strawberry & Blueberry Napoleon Recipe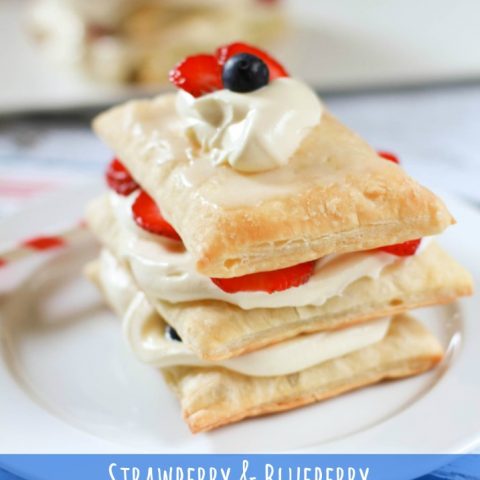 Strawberry & Blueberry Napoleon
It's all about the fresh fruit, whipped cream and puff pastry, y'all!
Ingredients
1 (2 sheets) package Puff Pastry, thawed
2 tablespoons melted salted butter
1 tub (8 oz) Cool Whip
1 package (5.1 oz) vanilla instant pudding and pie filling mix
1 1/2 cups powdered sugar
2 tablespoons water
the juice of one lemon (about 2 teaspoons)
1 cup of fresh blueberries
1 cup sliced fresh strawberries
Instructions
Preheat oven to 375 degrees. Place thawed puff pastry sheets on a lightly floured surface and roll out to about 1/8 of an inch. Cut into 24 rectangles. Poke pastry dough several times with a fork to ensure that it will not rise too high. Transfer to baking sheets and brush with melted butter. Bake about 12 minutes, or until golden brown and flaky. Remove from oven and allow to cool completely.
While the puff pastry is baking and cooling, in a large bowl, prepare pudding mix with 2 cups of milk, instead of the 3 cups on the package directions. Fold in the Cool Whip, cover and refrigerate until ready to use.
In a medium bowl, whisk powdered sugar to remove any lumps. Add water and lemon juice and whisk to make a smooth icing for the tops of the napoleons.
Once the puff pastry is cooled completely, top 8 with the powdered sugar icing.
Top the remaining 16 with the Cool Whip/pudding mixture. Top 8 with sliced strawberries and 8 with blueberries. Stack strawberry-topped layer onto blueberry-topped layer and finish it off by adding the icing topped layer on top of the other two layers.
Add a dollop of Cool Whip mixture on top and garnish with strawberries and blueberries, if desired.
Notes
You will probably have some Cool Whip mixture left over. I like to dip apples and other fresh fruit as a special treat after dinner. Just keep it covered and refrigerated and it should last a couple of days.
Nutrition Information:
Yield:

8
Serving Size:

1
Amount Per Serving:
Calories:

200
Total Fat:

6g
Saturated Fat:

3g
Trans Fat:

0g
Unsaturated Fat:

3g
Cholesterol:

9mg
Sodium:

115mg
Carbohydrates:

36g
Fiber:

1g
Sugar:

26g
Protein:

1g
Don't forget to pin this summer recipe to your favorite Pinterest board!