Oh my goodness, y'all. The weather here in Texas the last few days has been absolutely marvelous. We were able to go outside, enjoy the cool breeze, and relish in these limited fall days we get to experience in the hot state of Texas. And because the weather was so cool and breezy, I decided to pull out some soup and make some Rustic Bacon Grilled Cheese Sandwiches!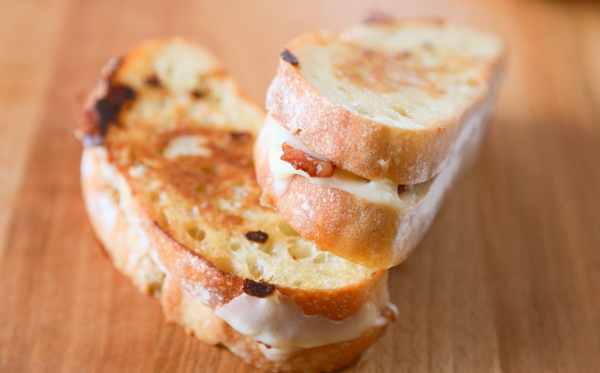 Seriously, you won't want another kind of grilled cheese after trying this Rustic Bacon Grilled Cheese. It's just the perfect amount of everything in one easy sandwich. I think it's incredibly tasty without being overly indulgent.
Rustic Bacon Grilled Cheese
Rustic Bacon Grilled Cheese
Creamy cheese with thick bacon pieces all sandwiched between two slices of ciabatta makes for a delicious Rustic Bacon Grilled Cheese.
Ingredients
4 slices bread from a ciabatta loaf
1 tbsp butter
4 slices deli white american cheese, cut in half
4 slices bacon, cooked and cut in half
Instructions
Heat pan to medium-low. Divide butter and apply evenly to one side of each slice of bread.
Since the ciabatta isn't a thick bread, cut each slice of cheese in half. Place two halves onto one slice of bread. Top with four halves bacon (or how ever many you need to cover the cheese -- I did two across and two down to make sure there was bacon in every bite) and place butter-side down on the heated pan. Top with the other slice of bread, butter-side up.
Continue to cook until the bread becomes golden brown. Flip and repeat. Once both sides are a pretty golden brown the the cheese is melted, carefully remove from pan and serve.
My mouth is watering right now just thinking about those Rustic Bacon Grilled Cheese Sandwiches. We paired them with a bowl of Vegetable Classics Tomato Basil Soup and it was a match made in heaven! Perfect for a cool, fall day.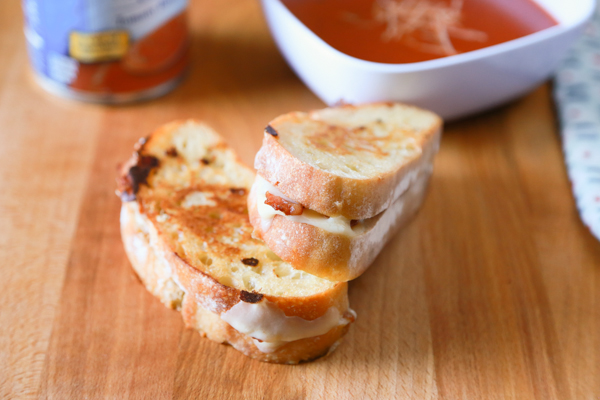 The Ready-to-Eat line of soups from Progresso offers a simple and delicious solution for turning everyday meals into restaurant-inspired pairings, like I did using the Vegetable Classics Tomato Basil soup and these Rustic Bacon Grilled Cheese sandwiches! With so many varieties available, you can make creative pairings to suite your mood or occasion.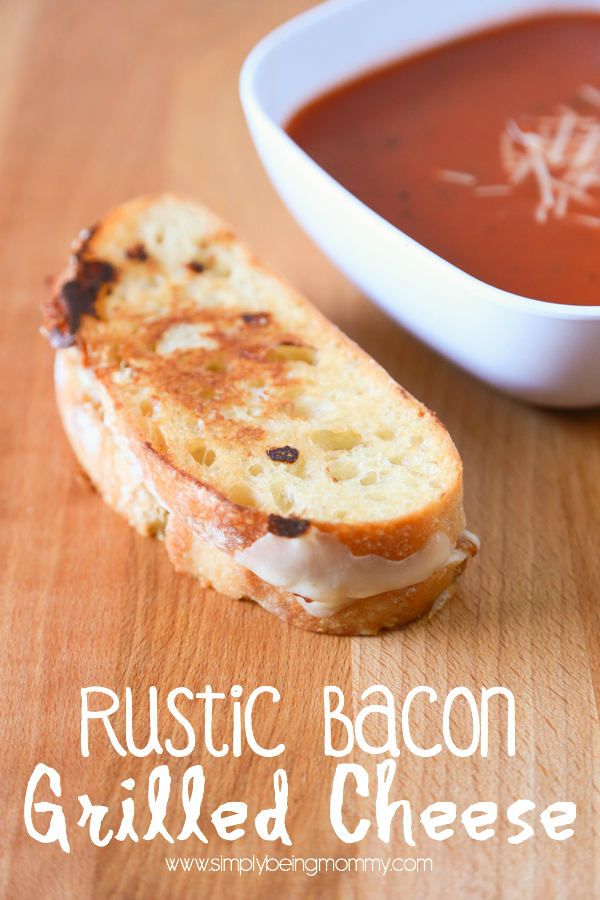 I love the ease of preparation of Progresso soups so that I can focus my attention elsewhere. I was able to make a delicious, hearty lunch for my daughter and I all in under 20 minutes. As a busy mom of three I don't always have a lot of time to prepare breakfast, lunch, or dinner. Being able to pair an easy soup with this delicious Rustic Bacon Grilled Cheese takes the stress out of, "What's for lunch?" Plus, knowing that Progresso is made with fresh ingredients, I feel good about serving it to my family.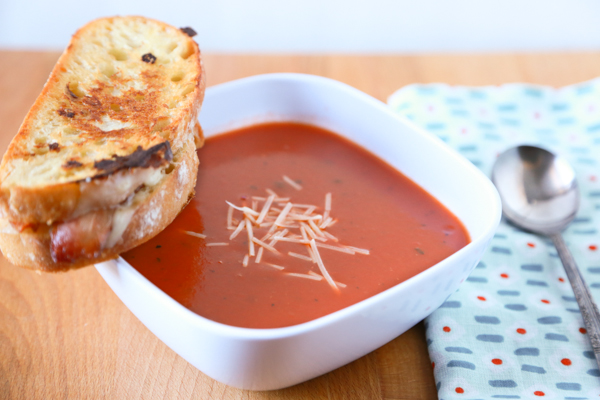 I'm having a hard time putting into words just how I feel about this pair up. Everything about it was just — perfect. My daughter said that she absolutely loved the sweetness of the Vegetable Classics Tomato Basil soup paired with the smokiness of the bacon in the Rustic Bacon Grilled Cheese. And I don't blame her, I loved it too!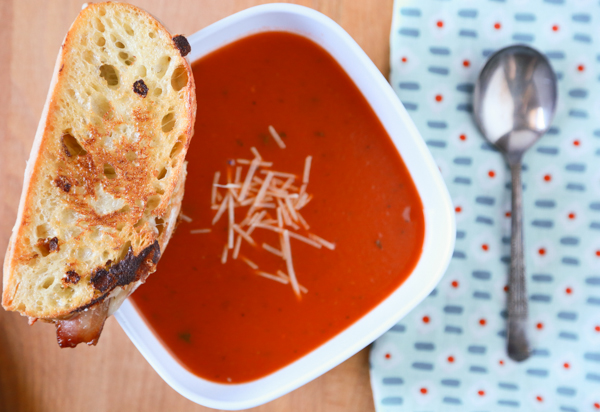 The possibilities are endless because there are so many different varieties of Progresso Ready-to-Eat soups. Whatever your mood is, there is a soup for you. Head to your local Walmart to pick up your favorite!
When you just can't figure out what to make for lunch or dinner, these Rustic Bacon Grilled Cheese sandwiches paired with Vegetable Classics Tomato Basil soup is a pretty fantastic choice, if I say so myself.
What soup fits your current mood?
This is a sponsored conversation written by me on behalf of General Mills. The opinions and text are all mine.