I received compensation from Bayer Consumer Health, makers of MiraLAX® to write this post. MiraLAX® is a laxative used to treat occasional constipation. All opinions are entirely my own. #ReliefMadeEasy #CollectiveBias
Smoothies are an easy way to get the nutrients your body needs in a way that is easily digestible. I love to make this Strawberry Mango Pineapple Smoothie recipe. And as a tip, when needed, I like to add in some MiraLAX® for relief when experiencing occasional constipation.
With the wicked weather that summer is throwing at us this year, I find that smoothie recipes are a great way to cool off. Not only are smoothies a cold treat, they provide my body with nutrients it needs anyway.
I just think of it as a double win – I get cooled off and I'm getting what my body needs.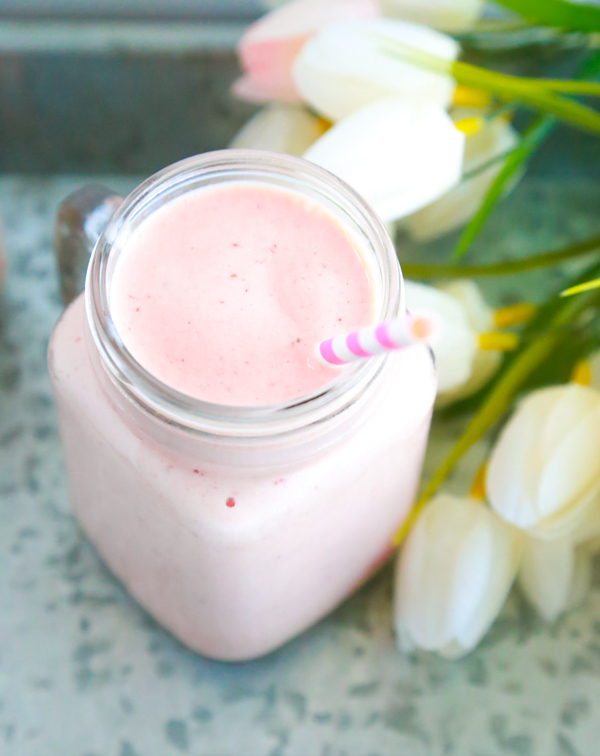 And have you ever noticed how EASY it is to hide things in your smoothie? Whoever thought that eating a green smoothie would be a thing? But it is because it is so easy to hide things you wouldn't normally care to eat within the sweetness of blended fresh or frozen fruits. YUM!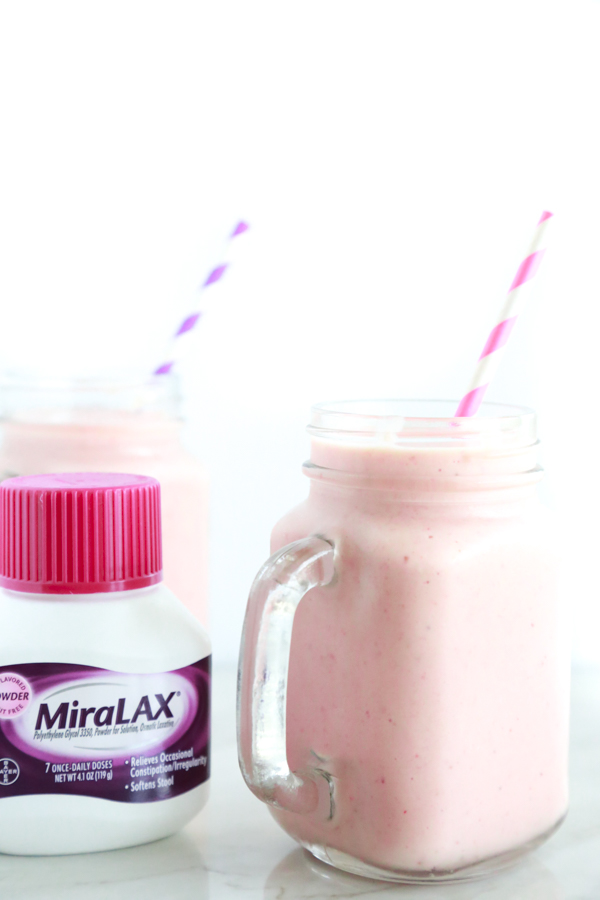 This Strawberry Pineapple Mango Smoothie is a quick, delicious way to boost your nutrient intake for the day. Filled with lots of good for you ingredients, it's the perfect breakfast, afternoon snack, or dessert after dinner.
Why I Enjoy Smoothies
Let's face it, some foods are hard to digest and leave us feeling a bit uncomfortable. My digestive system hasn't really ever worked the way I want it to, but I notice big differences in my gut when I consume foods that my body digests more easily.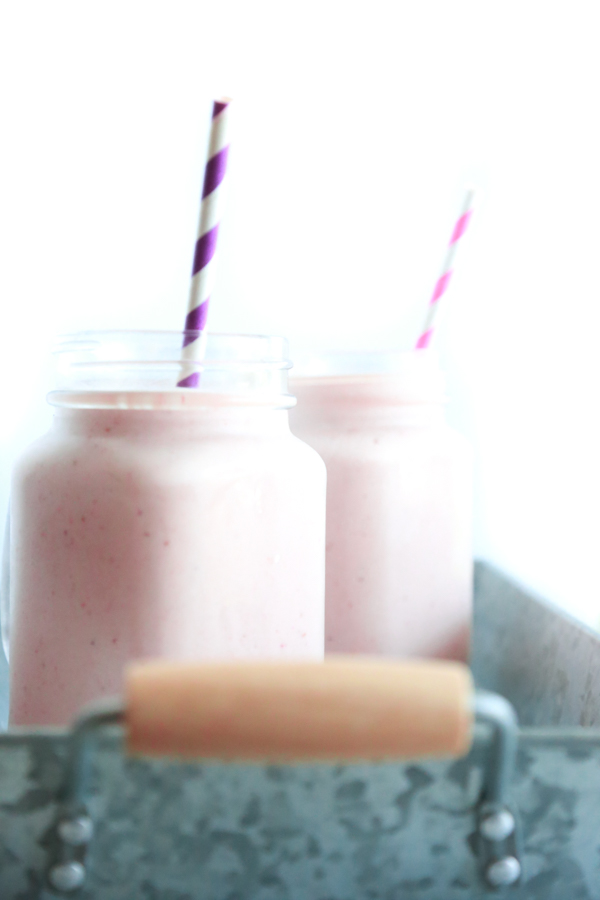 MiraLAX® works with your body's natural processes to provide effective relief from occasional constipation. And because it works with the body, MiraLAX® provides a gentle experience, and doesn't cause harsh side effects.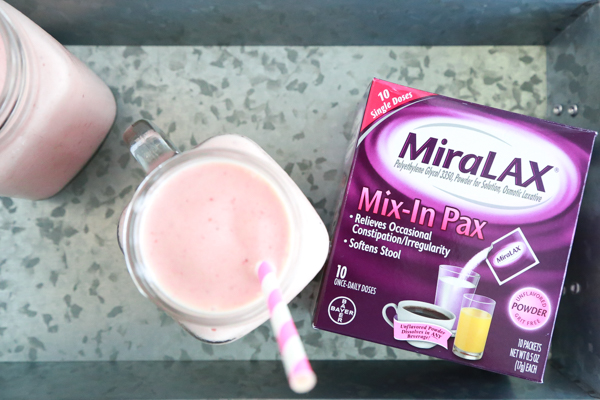 MiraLAX® is different from stimulant laxatives, stimulant laxatives make your body go by forcefully stimulating the nerves in your colon. MiraLAX® works with the water in your body to hydrate, soften, and ease, unblocking your system naturally.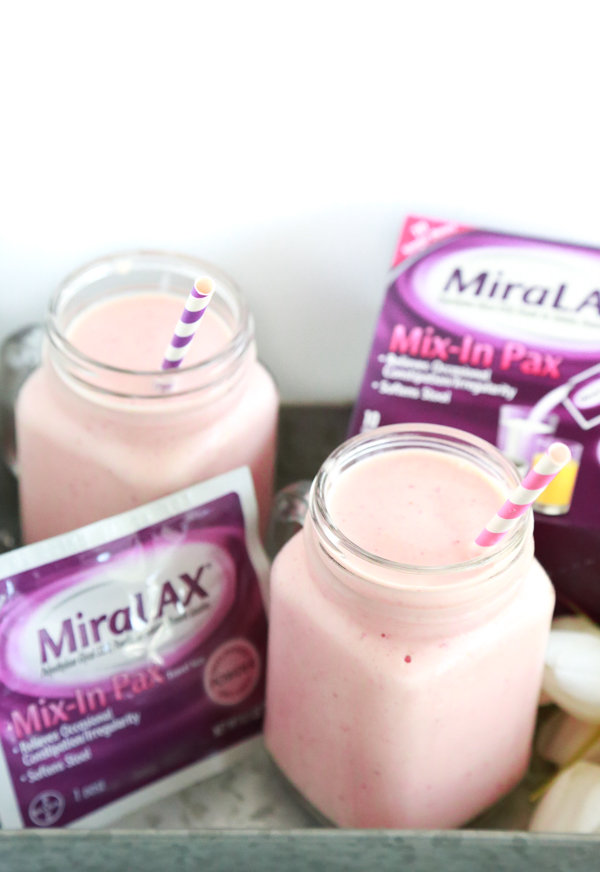 Remember to always use MiraLAX® as directed. Click here to print out a coupon to use on your next purchase.
How to Make a Strawberry Pineapple Mango Smoothie
I love using frozen fruit when making smoothies. By using frozen fruit I don't have to add any ice which can sometimes water down a smoothie. And since I like my smoothies on the thicker side anyway, using frozen fruit works perfectly for me.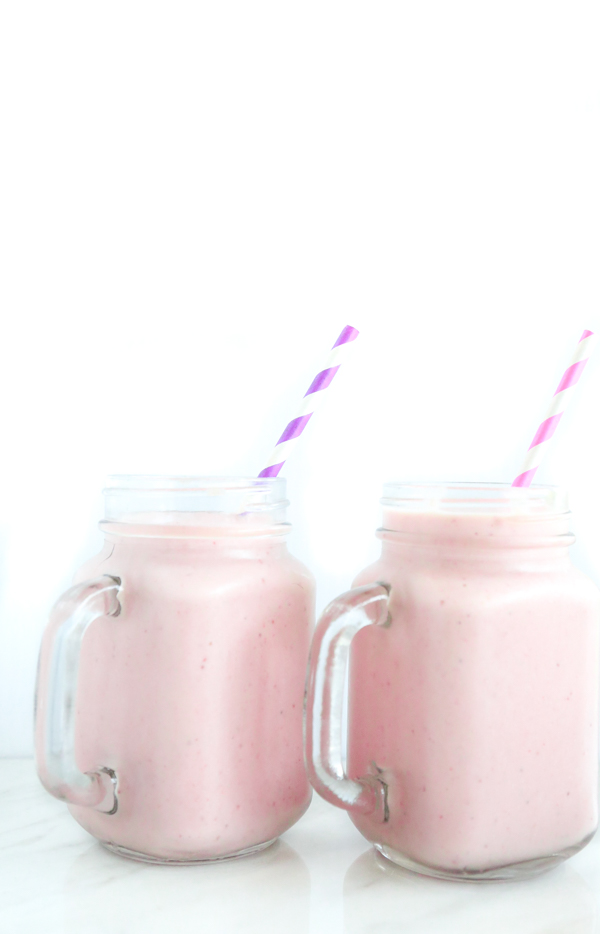 I'm not sure if there is any science to this, but I always put the liquid in the blender first and then top it with the frozen fruit. I have found in my experience that frozen fruit blends easier and quicker. It might just be my imagination, but it's worth a try.
Strawberry Pineapple Mango Smoothie Recipe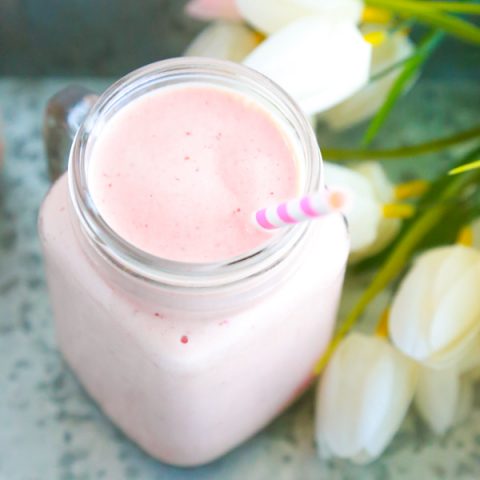 Strawberry Pineapple Mango Smoothie
A delicious, easy to make, easily digestible smoothie with frozen strawberries, pineapple, and mango.
Ingredients
1 cup low-fat greek yogurt
16 oz. or 3 cups frozen tropical fruit blend (with strawberries, pineapple, mango)
3/4 cup low-fat milk
Instructions
In a blender, combine all ingredients and puree until smooth.
Notes
I like my smoothies a little on the thicker side. If this smoothie turns out too thick for you, add an additional 1/4 cup milk.
Recommended Products
As an Amazon Associate and member of other affiliate programs, I earn from qualifying purchases.
Oh my gosh, y'all! This Strawberry Pineapple Mango Smoothie is SO good! I love that it has good for you ingredients and tastes so good. And if you're dealing with occasional constipation, head to your local Kroger store and pick up some MiraLAX®.