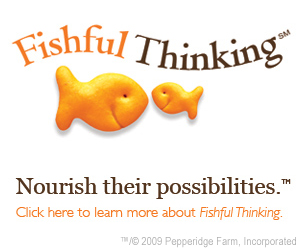 First off I'm sure your wondering, "What is FishfulThinking?" Here is a little bit a lot about FishfulThinking.com from their website:
All parents want their kids to be happy and successful. Kids should have the chance to achieve whatever they want in life. Unfortunately, only 42% of kids believe that they will be able to achieve their goals. The Goldfish® brand cares about kids and wants to help inspire them to become the successes they were born to be. Through the FishfulThinking program, Goldfish provides parents with tools to help teach their kids how to navigate obstacles, overcome failure and achieve what they want.
The Goldfish brand has been bringing smiles to kids for over forty years and is committed to promoting a healthy lifestyle to make a difference in children's lives. Goldfish crackers are made with real ingredients, without artificial preservatives and were the first major cracker brand to eliminate trans fat. Now Goldfish wants to play a part in helping children reach their full potential and become the successes they were born to be. Fishful Thinking is a program designed to educate parents and teachers about the power of Optimism and its role in childhood development. The program, sponsored by the Pepperidge Farm® Goldfish brand, was developed by Dr. Karen Reivich, the co-director of the Penn Resiliency Project and a research associate in the Positive Psychology Center at the University of Pennsylvania and also the mother of four.
Optimism is defined as the skill of seeing the positive aspects of a situation, the belief that things can change for the better and that one can control the direction of one's own life. Optimism is critical to kids today who face more challenges and stress than we did as children. Optimism enables children to achieve their goals, succeed in school, and stay resilient no matter what life throws in their path. Optimism also has long term, tangible benefits. Research shows that optimistic people perform better in school, are at lower risk for depression and have better overall physical health.2 Best of all, research has demonstrated that Optimism is a teachable skill that every child – including yours – can learn and benefit from.
The Fishful Thinking program provides the tools parents need to teach their kids how to think optimistically about themselves and how to use their Optimism to overcome life's obstacles, persist in the face of adversity, and transform setbacks into manageable challenges. By teaching kids Optimism today, we are equipping them with the skills and strategies they can rely on to shine in the face of adversity for the rest of their lives.
Now that you know more about FishfulThinking.com, click on the banner up top and see what you can do along with Pepperidge Farm to help our children succeed.