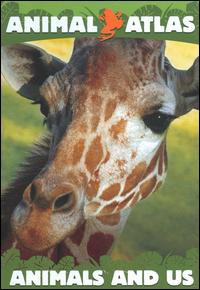 We were recently given the opportunity to watch Animal Atlas: Animals and Us.  Our oldest son is totally in love with animals, so he was extremely thrilled to watch this DVD.
Animal Atlas is a television program that is syndicated nationally and watched by more than 1.5 million viewers each week.  It is shot in high definition and broadcast in HD on the HD VOOM Network.  Animal Atlas takes you on a tour of the world visiting every continent and meeting Earth's animals from A to Zebra.
We popped the DVD into the player and as a parent I love that there were only 2 short screens before the movie starts.  Being able to skip to the main menu of a DVD and get the movie going right away is a parents dream.  What parent has time to sit around and wait for the movie to start?!?
The images are very vivid and captured the boys attention right away.  They both just sat there and stared at the television.  As I'm sitting there watching it with the boys, its almost like you could reach through the television and touch the animals.  It's really that great, especially on a big screen TV.
Since I have three children ranging from 11 months – 5 years old, I like that this video is appropriate for all of their age groups.  The sights and sounds of the video catch the younger ones attention immediately and the insight into the animal kingdom and the ways the animals live, eat, sleep, and survive in their habitat is very interesting to my oldest.
It's not a surprise that Animal Atlas is an award-winning series.  All in all the DVD had great production value, looked crisp with amazing animal shots, and captivated my children the whole way through.
The DVD is 70 minutes long and features 3 animal packed episodes.
Who Needs Our Help?
Who's at the Aquarium?
Who's at the Zoo
Buy It: You can purchase Animal Atlas: Animals and Us at Amazon.