Up until just last week, I had never used a whitening kit. There is no particular reason why, I just hadn't done it. But I was given the opportunity to try the Rembrandt 2 Hour Whitening Kit last week and I have to say I am incredibly happy with the results. It is kinda intimidating if you've never done something like this before. When I opened the package and saw the instruction book, I almost changed my mind. I thought that surely this was way too complicated and I would end up messing something up. I'm happy to report that I succeeded and my teeth are whiter!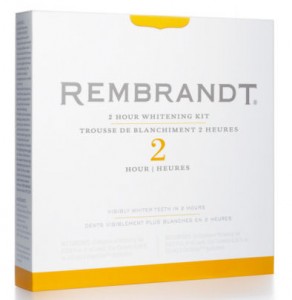 The road to whiter teeth could not get any easier. Rembrandt offers the only at-home whitening kit on the market that visibly whitens teeth in  just 2 hours.
The first step to whiter teeth is customizing your ComfyTray applicators. To do so all you need to do is get a hot glass of water and place the applicators in the water for about 5 seconds or so. You will see that the applicators will begin to lose their shape.  Just put the applicator your mouth. You want the ComfyTray to mold to your teeth.  You can do so by pressing with your tongue, finger, etc. Do that for both the top and bottom arch.
Next you will want to apply the whitening gel from one ampule to each ComfyTray. Each ampule contains enough gel for one application. Use one ampule for the bottom and one for the top.
Position the ComfyTray applicator in your mouth so that the front teeth are in contact with the gel. If there is any excess gel on your gums, make sure to remove it right away. Remove the gel by gently wiping away with a tissue or cotton swab moistened with water. I didn't do a good enough job and my gums were sensitive for about 36 hours afterward.
After you have positioned your Comfy Tray applicators, let the whitening begin.  Each 2-hour session consists of four 20-minute gel treatments with a 10-minute break in between.  Your regimen should go like this:
Wear each ComfyTray applicator for 20 minutes.
Remove the trays.
Gently rinse your mouth and trays with water and wait 10 minutes.
After 10 minutes, place the whitening gel in each ComfyTray applicator as before.
Re-insert the trays into your mouth and wear for another 20 minutes.
Repeat the 20-minute wear, 10 minute break method two more times for a total of two hours.
After only two hours you will notice a visibly whiter smile. If you would like to purchase Rembrandt 2 Hour Whitening Kit, don't forget to print this $5.00 coupon.

To maintain those pearly whites, use Rembrandt Intense Stain Toothpaste. I've been using it since I did the Rembrandt 2-Hour Whitening Kit, and its great! I drink a ton of coffee so I need something that is going to restore the enamel and fight those tough coffee stains. And that is exactly what Rembrandt Intense Stain Toothpaste does! It contains micro-polishing particles and fluoride that help whiten and protect your teeth with each use.
I'm very happy with my experience with these two Rembrandt products. If you need a quick whitening solution the Rembrandt 2-Hour Whitening Kit is the way to go! Like I said earlier in the review, my only negative experience was the gum sensitivity afterwards. Be extra careful and make sure you wipe off any extra gel immediately.
The views and opinions expressed on this blog are purely that of the blog owners. Any product claim, statistic, quote or other representation about a product or service should be verified with the manufacturer or provider.