Dr. Hippo Books was founded by Dr. Charlotte Cowan to educate both parents and children about illnesses. She is a board certified Pediatrician and mother of three and has worked with parents and children for many years. With all of her experience she knew children would cope better with their illnesses if they understood them.
There are five books in the Dr. Hippo Series:
The Moose with the Loose Poops
Katie Caught a Cold
The Little Elephant with the Big Earache
Peeper Has a Fever
Sadie's Sore Throat
We were blessed to be able to receive all 5 books in the series. Each book focuses on a different illness and makes it easier for both parents and children to understand.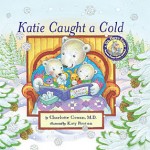 The first book that we read was Katie Caught a Cold. Katie is practicing for an upcoming Ice Show when she starts to sneeze. Her mother was a tad worried Katie was getting sick, but Katie thought she was just cold and shivery from skating. Katie's mother was right, Katie caught a cold. When Katie began blowing "green stuff" out of her nose, her mother called the pediatrician, Dr. Hippo. Dr. Hippo explains to Katie's mom that "green stuff" is fine and will go away without antibiotics. What Katie had was just a viral infection. Katie was very worried that she wouldn't be able to skate in the Ice Show. She sneezed for a few days while her mother was taking very good care of her and then the big day arrived. Katie was feeling better and she was able to skate at the Ice Show.
Once Katie's mom knew that all Katie had was cold, I'm sure she felt much more relaxed and was able to care for Katie properly. As a parent, I appreciate the parents guide that comes along with the book. I've always been confused with "green stuff", "clear stuff", etc.. I was never sure which color meant what. After reading this book, I will be more prepared next time one of my babies catches a cold.
The next book we read was The Moose with the Loose Poops. Miles, a four year old moose, doesn't feel well. He stomach isn't feeling well and he says it feels like "waves" in his stomach. And all of a sudden all the food that was in his stomach had splashed out all over the ground. Miles didn't know what had happened. His mama kindly explained that he had just thrown up and everyone does it. Miles went to bed and woke up feeling fine. He thought he was all better but his stomach starting hurting all over again. But this time it hurt lower than before. Papa knew what was about to happen, so he took Miles to the restroom. Miles had a "waterfall" coming out of his bottom. Papa explained to him that he had diarrhea and that he was flushing out all of the germs that had made him sick. Just to make sure Miles is okay, Mama calls Dr. Hippo. Dr. Hippo assures her that fluids is the best medicine for Miles.
This book offers a clear and child-friendly explanation of gastroenteritis. Dr. Cowan educates children and parents about the misery of tummy aches associated with vomiting and diarrhea.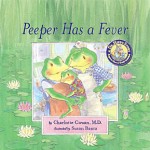 Peeper Has a Fever was our next read. Peeper is a frog who is suffering from a fever. His mom calls Dr. Hippo who says to keep Peeper comfortable and to just wait it out. To help keep Peeper comfortable, his mom gives him some medicine. Peeper really wants to go to the picnic but he can't because his mother doesn't want him to get any of his friends sick. As the rest of the family is leaving to go to the picnic, Peeper is upset and thinks its unfair that he doesn't get to to. When Peeper's mother put him to bed she told him what a great job he did by taking his medicine.
Peeper's fever lasted for a few days. One morning he woke up with spots. Just as Dr. Hippo thought, Peeper developed a rash. Within a couple of days Peeper was all better. On Saturday, Peeper and his father headed to the diving contest.
This book was really helpful for our family because with 3 children, we deal with a lot of fevers. When I was a new mom, I would totally freak out when my children had a fever. Now, I know it is just their bodies doing what it can to fight off an infection.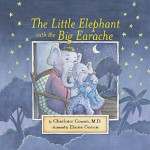 The Little Elephant with the Big Earache is a story about a little elephant, Eddie, who wakes up in the middle of the night with an earache. His mother gives him some medicine to help him feel better so that he can get some sleep. He drifts off to sleep in his mother's arms.
As soon as they finish breakfast, Eddie's mom calls Dr. Hippo and off they go. They arrive at Dr. Hippo's office and Eddie is very nervous. Dr. Hippo is giving Eddie his exam and notices that Eddie has an early ear infection. The ear infection should go away without antibiotics, and Eddie's mom is told to make sure he stays comfortable. If the fever comes back or if he feels worse, Eddie's mom should call Dr. Hippo back.
Eddie was feeling better by Saturday and he was able to enjoy his birthday party and win the blue ribbon for his wonderful mud castle.
Almost every time my sons get a cold an earache is soon to follow. I appreciate that the book suggests not using antibiotics at the first sign of an earache. I believe that a lot of the time. the body will naturally fight it off. I wish I had known this sooner because I probably would have refused antibiotics for my sons earaches on many occasions.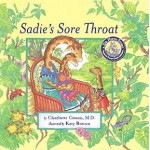 And the last book in the series is Sadie's Sore Throat. Sadie is getting a necklace ready for the fair and her mother notices she doesn't eat much of her snack, doesn't like her orange juice, her throat hurts and her tummy hurts. Sadie is running a fever! She is disappointed because she has to go see Dr. Hippo. While they are waiting on Dr. Hippo, Sadie's mom reads her the story of The Little Elephant with the Big Earache.
Dr. Hippo discovers that Sadie has Strep and recommends an antibiotic, pain medicine and popsicles. A few days and many popsicles later, Sadie felt better. She was so excited about the fair. She had made an award winning necklace.
All of the Dr. Hippo books are for children ages 2-7. Each book in the Dr. Hippo Series is 32 pages, hard cover, full color and includes a separate laminated Parent's Guide.
Buy It: Dr. Hippo Books retail for $17.95. You can purchase them at your local bookstore or through Amazon right now for about $14.00
The views and opinions expressed on this blog are purely that of the blog owners. Any product claim, statistic, quote or other representation about a product or service should be verified with the manufacturer or provider.