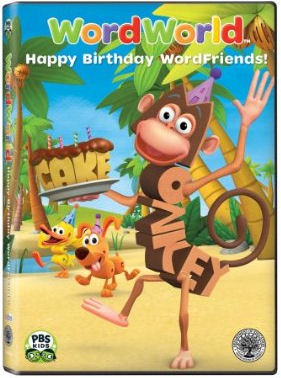 My daughter Taylor is in kindergarten and is doing really well at learning to read and spell. She really enjoys learning and asks her father and I all the time, "how do you spell this" or "how do you spell that". So when we received the WordWorld: Happy Birthday WordFriends DVD I was excited to see how she liked it.
The only time it seems I have all three of the children sitting down and content is during our time driving with a DVD playing. I've had this DVD for about a week now and it's been in our DVD player in the Odyssey since we received it. Not once have I been asked for "new mobie" (movie) as my 3 year old would say.
This movie engages all three of children. My youngest just turned one and the oldest is almost 6. All 3 just sit and stare at the screen. At times the two older children will sing along, which is really cute to hear.
WordWorld is an Emmy-winning PBS KIDS television series that is geared toward children aged 3 through 5. According to the U.S. Department of Education, WordWorld works as a critical early literacy tool. And according to the study, children who were exposed to WordWorld for six weeks were able to recognize and read words featured in WordWorld that they could not read before. This has been true in our experience. Taylor has learned many words from watching this DVD. Instead of spending her time staring out of the window, she is learning how to spell words. She can spell banana, jungle and cake just to name a few.
I love it when I can feel good about a DVD my children are watching that is fun and educational. Especially when they enjoy watching it too.
This DVD features 3 full WordWorld episodes and runs about 33 minutes. It has a SRP of $9.99.
There are 6 other DVD's available in the WordWorld series and I can't wait to get them all.
This review was sponsored by NCircle Entertainment.