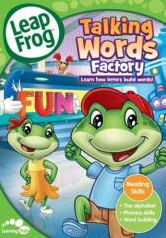 My daughter is just finishing up kindergarten and has really learned so much this past year. She has a love for learning and enjoys reading. She loves this DVD. She will sit there and watch it over and over.
Having three children I need to find DVD's that capture the attention of all of them. The LeapFrog Talking Words Factory DVD teaches the alphabet, phonics skills and word building. Rylan, my 3 year old is learning his ABC's and Taylor is working on phonics skills and word building. I really love that my children can watch this DVD and learn.  Although my youngest Peyton is not old enough to really understand the DVD, he enjoys the bright colors and sounds.
Your children will enjoy watching Leap, Lily and Tad while the go through the word factory learning how to take letters and make them into words.
LeapFrog Talking Words Factory has an approximate running time of 35 minutes and retails for 14.98.
LeapFrog is a brand that I have come to love and trust.  LeapFrog Enterprises is the #1 educational toy brand with products in over 16 million households nationwide.