I was recently given the opportunity to try out the Mutsy Grow Up! booster seat. After having it just over a week, I'm in love. I know, I know, but geniusness (is that even a word?) has won me over!  I'm not sure how I lived with out the Grow Up! all this time. In the short time that I've had my Grow Up! I have found a couple uses for it.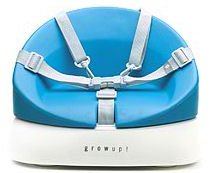 Since Peyton has taken over the high chair and being the frugal mommy that I am, I can't justify going and spending money on a high chair that will soon be outgrown. So poor Rylan, being the short little guy that he is, has been sitting at the table on his knees, on a box, on old phonebooks, pretty much anything we have laying around.
The Mutsy Grow Up! allows Rylan to sit at the table comfortably and safely. The Grow Up! has straps that wrap around the underside of the seat and around the back of the chair. The straps are adjustable and should fit most any chair. This feature keeps the seat placed securely on the chair keeping your little one safe from falling. There are also waist and shoulder straps to keep your child in the seat. These straps are also adjustable.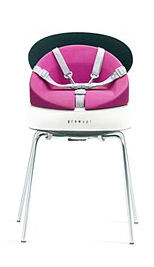 We have also used our Grow Up! when dining out at restaurants. I'm not sure about you, but I hate putting our littlest in those nasty high chairs. We have a cute little black and white toile cover we put over the high chair, but he has recently learned that he can pull it off leaving him exposed to the nastiness of the high chair. With the adjustable straps, it makes it very easy to use almost anywhere.
The Grow Up! has a nice sturdy plastic base, padded feet to avoid damage to your chair, and is topped with a thick, foam like seat. You can get it in a variety of mod, trendy colors including: apple, aqua (the one we got), blueberry, mandarin, nut and raspberry.
Some of my favorite features are that the Grow Up! is very easy to clean and easy to transport. Being a mommy of three, I have enough to tote around.
Both of my boys love using the Grow Up! Rylan uses it at home and Peyton uses it when we are dining out. I love when a product serves more than one purpose and the Mutsy Grow Up! does just that!
The Grow Up! retails for about $79.00. For me, it is worth that. I didn't have to go and buy another high chair since I have two little ones at home. This is perfect for Rylan now and will be for about another year or so. When Rylan is done with it, I'll pass it on down to Peyton. I'll get a good 4-5 years of use out of it from my boys alone.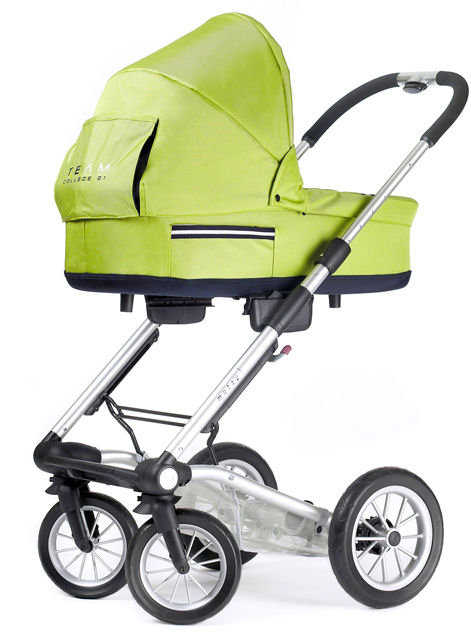 Mutsy is not only known for its great design but also for functionality. The Rider Stroller Range is unlike any stroller that I have seen. It is designed to meet every parents' need with a unique modular system that is very flexible. It is compact, lightweight and has a sleek, sophisticated look. Mutsy is sold in components so that parents can buy the frame only, the frame and seat only, frame and bassinet, etc. Your options are endless and you can customize the stroller to fit your lifestyle.