Being a parent means making a lot of decisions. One of those is what your children will eat. Read this Peter Rabbit Organics Review to see if they're right for your family.
Being a mommy of three children all under the age of 6, I am always looking for healthy snacks to offer them. When I heard about Peter Rabbit Organics, I knew I wanted my children to test it out. My children seem to love all the not good for you type snacks and really not like the natural and organic snacks we have tried.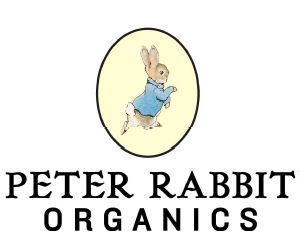 We received all three flavors of the Peter Rabbit Organics 100% Organic Fruit Pouches. The kid friendly varieties include: Apple and Grape, Strawberry and Banana, and Mango, Banana and Orange. Each flavor is made with no added sugar, no preservatives and no artificial ingredients.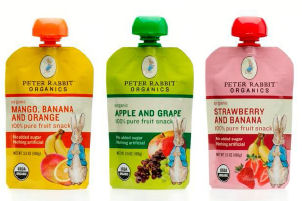 At first my children were a bit confused by the fruit snacks. They thought it was a juice box! Once I explained to them what it was they were ready to try it. All 3 of them LOVED it! Especially the baby (well he is not really a baby, but I still call him my baby). At first I didn't think my 5 year old liked it because she made this weird face. She just wasn't expecting a liquid type snack and once she adjusted to the texture she was begging for more. My 3 year old didn't care about the texture and just wanted the whole pouch to himself…go figure!
Each pouch offers a full serving of fruit and a natural boost of Vitamin C and fiber. There is nothing added to Peter Rabbit Organics pouches, just 100% organic fruit. It doesn't get any better than that.
What I like about the pouches are that they are perfect for a family that is always on the go like we are. Because the pouches don't have to be refrigerated until after they are opened, I just toss one into the diaper bag and head out. No need to grab a spoon or ice pack! It would also be easy to throw one of these in your child's lunch box. Once the pouches are opened, you will need to refrigerate the leftovers, but I haven't encountered that problem yet. It gets eaten by one or the other.
Another huge plus is the no-choke cap. With a one year old in the house, everything seems to make it in the mouth. I appreciate the extra thought and care that went into the design of this product. It just goes to show you how much this company really does care!
Peter Rabbit Organics is a small, privately owned company that is based in London with an office here in the US in Oregon.
Buy It:
You can purchase Peter Rabbit Organics at select Whole Foods stores and independent natural food stores throughout the country with an SRP of $1.79 each.
Peter Rabbit OrganicsBuy Now!
Peter Rabbit OrganicsBuy Now!
Peter Rabbit OrganicsBuy Now!
Peter Rabbit OrganicsBuy Now!
Peter Rabbit OrganicsBuy Now!