If you want a more natural cleaning product, check out this Dapple Cleaner review for another alternative.
Dapple is a line of natural based cleaning products for those with children. The women behind Dapple were on a mission to make a product that was natural and safe for their babies. Dapple offers a full line of cleaning products made for children and the many messes that children leave behind.
Dapple Cleaner Review
I was given the opportunity to review the Dapple Dish Liquid and Dapple Toy Cleaner Wipes. I have three children in the house so it is very important to me that I keep things clean and prevent the spreading of germs. My just turned one year old is constantly putting everything in his mouth.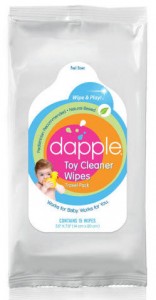 With Dapple Toy Cleaner Wipes, you can feel confident that you aren't harming your children when you're wiping down the toys or high chair. It is a phthalate-free, paraben-free, SLES-free, dye-free, natural based, biodegradable cleaner. It is perfect for cleaning everything around the house that your little one can touch. It is also certified to contain no detectable levels of dioxane.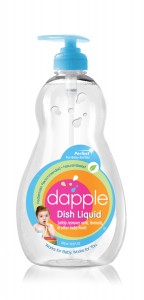 The Dapple Dish Liquid safely removes milk, formula and any other baby foods safely from your babies bottles, cups, etc… It rinses off fast and like the Dapple Toy Cleaner wipes, it is also phthalate-free, paraben-free, SLES-free, dye-free and is natural-based.
If you have read any of my other reviews, you know I smell everything. I love that Dapple products are fragranced with essentials oils! You can really smell the lavender.