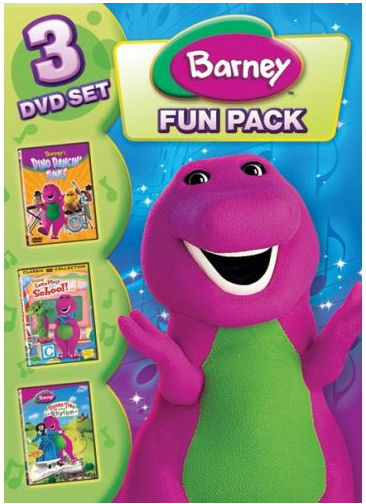 We recently received the Barney Fun Pack 3 DVD set to review and my kids were excited when I opened that package. The set includes Dino Dancin' Tunes, Rhyme Time Thythm and Let's Play School.
What I like about the Barney Fun Pack 3 DVD set is that each DVD offers my children something different. The Dino Dancin' Tunes is a great DVD to get them moving and dancing rather than just sitting on the floor staring at a TV screen. Let's Play School introduced my three year old to what it will be like when he heads off to school. And, Rhyme Time Rhythm introduces children to the loved Mother Goose rhymes.
Dino Dancin' Tunes Description:
Hey kids! Pick your feet up off the floor; it's time to dance with the dinosaur – Barney, that is, in this high-energy, song and dance revue. You can't help but twist and shout to these infectious grooves, a compliation of funky favorites and danceable debuts. So when you're r eady to get down to some serious singing and swinging, Barney's got the dino dancin' tunes you'll want to see again and again!
Rhyme Time Rhythm Description:
Ever wonder where Mother Goose lives? Barney, BJ and Baby Bop and the children embark on a whimsical journey to The Land of Mother Goose where all their favorite rhymes come to magical live.
Let's Play School Description:
With a little help from Barney and a big imagination, the children enjoy a fun-filled day at "Baby Bop's School" where every lesson includes unexpected surprises. Join Ashley, Hannah, Robert and Jeff as they sing an alphabet song, read in Baby Bop's book center, eat macaroni and cheese, and bounce into gym class. When the day is just about done, settle in with Baby Bop and her "blankey" for an afternoon nap. It's an unforgettable day of learning and laughter!
The Barney Fun Pack 3 DVD set offers so much fun, learning and laughter. You can feel confident that your children are watching a show that teaches values such as sharing and caring.
Buy It:
You can purchase the Barney Fun Pack 3 DVD set at many retail outlets nationwide for a suggested retail price of $19.98.