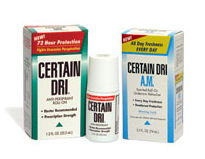 Looking for a different deodorant? Find an alternative in my Certain Dri Solid review.
I guess I'm a pretty lucky gal because most of the time I don't have to wear deodorant. In fact, on average I probably only use it once or twice a week at most. I'm not sure why, but I just don't have a problem with sweating and body odor.
However, I was recently asked to try out the new Certain Dri Solid and I like it a lot. When I do use deodorant I usually pick the fruity scents but I have to say that I like the fresh powder scent of Certain Dri. It just smells really clean.
I recently attended a work day at my church and knew I would be working pretty hard so I applied Certain Dri. In case you don't know, I live in Texas. During our work day at church the hubby and I were responsible for the outside landscaping duties. Did I mention I live in Texas? It was a whopping 104 degrees outside and here I am raking and pulling weeds and totally sweating my rear off. I fully expected to reek of nastiness, but much to my surprise, I still smelled nice and powdery, even after working all day.
Certain Dri Solid Anti-Perspirant is specially formulated for those with sensitive skin and provides all day dryness from excessive underarm perspiration. It contains 25% aluminum sesquichlorohydrate and is the only over-the-counter antiperspirant with this ingredient.
Buy It:
You can purchase Certain Dri Solid at mass market retailers, supermarkets and drug stores nationwide or via online retailers. The suggested retail price for the 1.7 ounce solid stick is $5.50 – $5.99.
The views and opinions expressed on this blog are purely that of the blog owners. Any product claim, statistic, quote or other representation about a product or service should be verified with the manufacturer or provider.