If you're looking for a "greener" cleaning product, check out Simple Green Naturals to see if they are a good fit for you.
In the last year or so, I've been really trying to live a "greener" lifestyle. But I have to admit, I'm finding it really difficult in some aspects and really easy in others. Simple Green has made cleaning "greener" so much easier. Look at all the goodies I got to try out.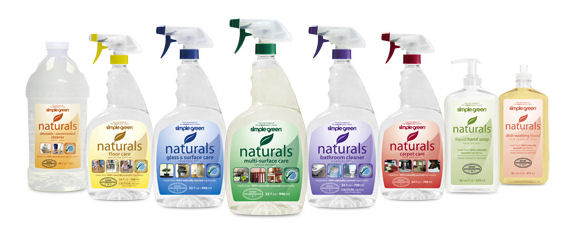 I had heard about Simple Green products prior to reviewing them, but I had never purchased them or used them. To be honest, I didn't know much about them so I just stuck with normal brands that I knew and trusted. Since I was reviewing the product, I thought I needed to know more about the product and how and where it all started.
Simple Green has been in business for over 30 years making "environmentally friendly" cleaning products before being "environmentally friendly" was cool! It took three years for them to perfect the biodegradable, non-toxic, non-flammable and non-abrasive formula. Since then, the company has grown and is in the homes of millions all around the world.
When my box of Simple Green came I was so excited to try them all out. You know those days when you actually feel like cleaning and being productive, well that happened to be one of those days. For me, they don't happen that often, so I took full advantage of my added energy and went to work.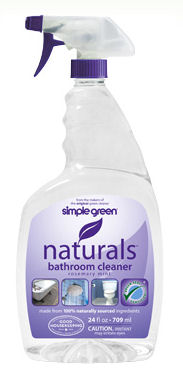 If you've been reading my blog long enough you know that I hate cleaning the bathroom!  I would rather do anything else, besides clean the bathrooms. But since I had all these environmentally friendly cleaners to review, with spray bottles in hand, I tackled the bathrooms.
Simple Green Naturals Bathroom Cleaner is a water-based, 100% naturally sourced cleaner that is very easy to use. It is designed to be used on water borne minerals and soap scum that is usually found in your tubs, toilets and sinks. The scent is unlike any bathroom cleaning product I have used before. The scent is derived from pure extracts and oils of rosemary, spearmint, grapefruit and orange.
I was impressed at how well the bathroom cleaner works considering it contains no harsh chemicals. It did as well of a job as those toxic cleaners I had been using. I used it to clean everything in my bathroom except for the mirror and the floor. I like when one product cleans multiple surfaces.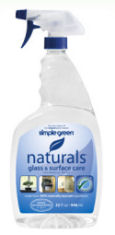 While still in the bathroom, I used the Simple Green Naturals Glass & Surface Care to clean my mirror. Just like the bathroom cleaner, it is water based and 100% naturally sourced.
Again, I was impressed. The instructions recommend using a lint free paper towel but since I didn't have any I just used a regular paper towel and I still ended up with a streak-free mirror. It easily removed my children's toothpaste splatter spots with ease. The scent is the same as the bathroom cleaner which makes it really nice because there isn't all these different scents competing against the other.
I won't say that I enjoyed cleaning the bathrooms, but Simple Green Naturals made it more enjoyable than before. I didn't have to fight the strong odors of other cleaners and I didn't have to worry about what chemicals were soaking into my skin while I was cleaning.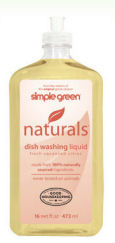 I also tried the Simple Green Naturals Dish Washing Liquid on some of my bigger pots and pans that don't fit into my dishwasher. Right away I noticed the lovely citrus scent of the liquid. It performed great at getting the caked on food off of the pots and pans and left my hands smelling great. I also noticed that when I was done washing my dishes, my hands didn't feel all dry and tight like with some other dish washing soaps.
Again, the dishing washing liquid is water based and 100% naturally sourced. Are you noticing a trend yet? Ha! It is naturally scented with extracts and oils of grapefruit and eucalyptus.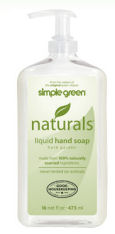 I absolutely love Simple Green Naturals Liquid Hand Soap! Really, I have never had a hand wash that smelled so unique. Most of the hand washes I normally buy are fruity or something but this is amazingly different. The scent is a blend of basil, sage, clary sage, rosemary and orange oils. I wish there were a way for me to let you experience the scent because I really like it. You know, like a scatch-n-sniff or something on the computer screen. That would be cool.  Just sayin'.
It is very gentle on your skin and will not strip your skin of the natural oils which makes it perfect for a every day hand wash.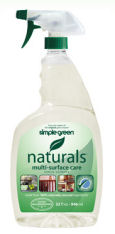 Simple Green Naturals Multi-Surface Care can be used on a variety of surfaces such as tables, countertops, walls, doors, appliances, etc. When trying it out for the first time, I used it in the kitchen. If you're as lucky as me, then you have white countertops. Do you sense the sarcasm? I hate having white countertops. I constantly have to wipe them down because every little thing shows up.
Simple Green Naturals Multi-Surface Care doesn't make me have to wipe the countertops off less, but it does make it more enjoyable. Rather than smelling a strong chemical smell in the kitchen, you smell a nice lemon scent when using Simple Green. Don't get me wrong. I like the smell of clean. However, I don't like the smell of chemicals.
I was happy with how well Simple Green worked at removing drink spills or food stains. Again, it didn't work better than my other products, but it did work just as well. If environmentally friendly cleaning products work so well, why do companies keep selling products that aren't good for families?  Just wondering here.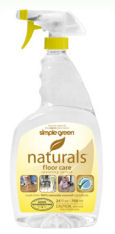 Simple Green Naturals Floor Care is safe for all types of flooring including laminate, porcelain tile, slate, linoleum, etc. I used it on my porcelain tile in the kitchen and it worked beautifully. The area around my kitchen table seems to always look dirty. Especially around where the two boys sit. Just now before I sat down to write, I cleaned up chocolate milk splatters and no telling what else was down there. I simply sprayed the areas and wiped it up with a cloth. The spots were easy to remove and didn't take much muscle from me.
The scent reminds me of a Pine-Sol type scent just not as strong. It is a blend of extracts and oils from fir, Valencia orange, patchouli, rosemary, amyris oils and oakmoss. Out of all the Simple Green Naturals products, this one has to have the strongest scent.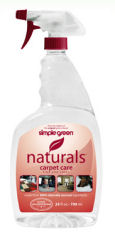 The last of the products that I got to try is Simple Green Naturals Carpet Care. We only have two rooms in our house that are carpet and I can't wait to get rid of it. I love having hardwoods and tile because I can clean them and know that they are clean. With carpet I can't do that.
We had a stain on our bedroom carpet and I'm not sure what it was. It was brown so it was more than likely dirt, mud or something along those lines. I sprayed Simple Green Naturals Carpet Care a few times on the area and I let it sit for a couple of minutes. I then used a white washcloth and rubbed the area until I could see that it was gone. I can't tell you that it will work on every stain, but I can say that it worked on mine. As I'm sure you know, it is best to treat the stain as soon as you notice it. The faster you start working on it, the better your chances at removing it.
Simple Green Naturals Carpet Care is "Free & Clear" and is 100% naturally sourced with no added scent or color.
Simple Green uses 100% recyclable bottles with 25% post consumer content. The labels on the bottles are printed with soy inks and there is an ingredient disclosure on all the labels. Simple Green does not use are beloved four-legged friends for testing.
The views and opinions expressed on this blog are purely that of the blog owners. Any product claim, statistic, quote or other representation about a product or service should be verified with the manufacturer or provider.