As a teen I had huge problems with acne.  I washed my face constantly, yet I always had problems.  It didn't matter if I wore makeup or not, I still had acne. My mom finally made me an appointment with a dermatologist and we tried oral medications, topical medications and although some of it worked to an extent, the medications did have other side effects that didn't make it worthwhile for me.
I remember as a teen I couldn't wait to "grow-up" so I didn't have to deal with all the acne.  Little did I know that even at the age of 28 I would still be battling acne. When I was asked if I wanted to try Proactiv there wasn't any thinking about it.  I couldn't wait to get that package in the mail.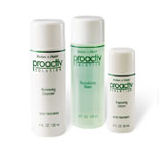 I received the
Proactiv 3-Step Acne Treatment System
that includes:
Renewing Cleanser
Revitalizing Toner
Repairing Lotion
The Renewing Cleanser is a unique, oil-free acne cleanser with smooth, tiny beads that exfoliate dead skin cells and other impurities. The prescription grade benzoyl peroxide solution deep cleans by penetrating pores and healing blemishes fast.
The Revitalizing Toner is an alcohol-free toner that removes excess oil for refreshed, clear skin and gently balances your skin tone. It also helps eliminate clogged pores.
The Repairing Lotion is a light, oil-free skin-clearing lotion with prescription grade benzoyl peroxide lotion that heals blemishes and helps to prevent new blemishes.
Proactiv Solution is different than other acne skin care. It's a revolutionary, dermatologist-developed, 3-step acne system that both helps clear existing acne and prevent future breakouts. Requiring less than 5 minutes a day, it's easy to make Proactiv part of your daily skin care regimen.
If you are a busy mommy like me, I'm sure right now you are thinking how in the world are you going to have time to use 3 different products every day. That is what I thought at first too! But I promise, it's very easy and doesn't take long at all.
You will start with the Proactiv Renewing Cleanser. Start with a dime-sized amount and massage it on your already damp face. Massage for about a minute or two, rinse well with warm water and pat dry. You will then use the Proactive Revitalizing Toner. Put some of the toner on a cotton ball or pad and apply it to the cleansed skin. Allow the skin to dry. Your final step is the Proactive Repairing Lotion. This really goes a long way so only use about a pea-sized amount. Apply a thin layer on the affected area.
It is recommended that you use Proactiv both in the morning and in the evening. If you notice any irritation, I would cut back to one application a day.
I've been using Proactiv now for about 4 weeks and I've seen great results. I've seen a huge difference in the amount of new acne and that makes me one happy mommy! I haven't exactly timed how long it takes me to do the whole routine, but I'm guessing about 3 minutes max. It is the most worthwhile 3 minutes that I spend on myself. When my face is full of acne, I don't feel pretty and I sure don't feel lovable. But after using Proactiv, I feel like a new person. I feel confident about myself and that to me is worth 3 minutes every day.
Buy It:
You can purchase a 30 day trial of Proactiv for about $33 on Amazon.
The views and opinions expressed on this blog are purely that of the blog owners. Any product claim, statistic, quote or other representation about a product or service should be verified with the manufacturer or provider. I have been given a product free of charge, but that does not impact my views or opinions.