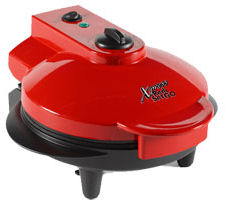 I recently received the Xpress Redi-Set-Go Electric Cooker
, you know, the one you've seen on TV. I was really excited to get this because I've seen the infomercials a few times and it looked like something that we could really use around here.
The Xpress Redi-Set-Go Electric Cooker
is a versatile indoor electric cooker that lets you make healthy food fast. You can cook, fry, bake, steam and grill on the non-stick surface which means no added fat from oils.
This compact kitchen gadget is great for busy mommies and just about anyone who likes to eat delicious, healthy meals but doesn't have the time or space. The dual cooking technology heats food from both the top and bottom to cut cooking time in half! You can make many healthy, quick meals in just 7 minutes or less.
I've used it a few times and as with most things, there are pros and cons! So, lets talk about what I didn't like first.
The first thing that I noticed was that the main tray is not removable which can make cleaning up very difficult. The other trays are removable and are super easy to clean. I like to be able to put dirty dishes in the sink in hot water but the Xpress Redi-Set-Go Electric Cooker
can't go in the sink. I also don't like that the surface on top gets very hot. With three very young children in the house I have to be extremely careful that the cooker is pushed far back on the counter.
With a family of 5, I do find the cooker to be somewhat small. I would prefer a bigger model but think that it's great for a single person or smaller family.
I tried the Crispy Baked Potatoes recipe that came in the recipe book and it didn't go so well. I think it was because I didn't quite understand the directions though. It was only supposed to take around 15 minutes, but it took me about double that for the desired results.
I decided to give it another try and I decided to make a breakfast taco type recipe that I thought would be good, made with flour tortilla, beaten egg, diced green bell pepper and cheese and it worked out well! I sprayed the divider tray with non-stick spray and placed half a tortilla on each side. In a separate bowl I combined the egg and diced green bell pepper and then poured a little of the mixture onto each of the tortillas. Let it cook for about 7 minutes, add some cheese and let cook for another 3 minutes or so. I loved it and most importantly, the children loved it! If it's good for us and the children like it, it gets a big thumbs up from me!
I also like the look of the cooker. It's bold, it's red and it's stylish! The built-in timer is also very user friendly and keeps busy mommies from burning good food. I also love the compact design because it makes storing it very easy.
The bottom line is I actually liked it after using it a few times. I've made grilled cheese, breakfast tacos, crispy baked potatoes and I'm dying to try one of the desserts! Although it is a little small and hard to cook dinner for the whole family, I use it during the day for breakfast and lunch for me and the boys and it works like a charm.
When you purchase the Xpress Redi-Set-Go Electric Cooker
you will also receive a Meals in Minutes recipe book, divider pan, mini food pan, a bonus recipe booklet, and a dual sided spatula.
Buy It:
The Xpress Redi-Set-Go Electric Cooker
is available for purchase for $39.90 plus shipping and handling charges. For a limited time you will receive a free upgrade to Express Shipping.