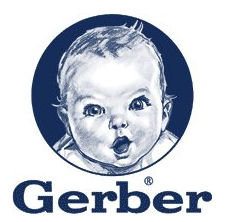 There are many companies out there that make products for infants and toddlers but there are only a couple that I trust and Gerber is one of them. In fact, Gerber Rice Cereal was the first non-liquid food my children ate. In addition to baby products, Gerber also has a line of products targeted for toddlers – Gerber Graduates!  We were recently sent some goodies to review and my two boys LOVED them!  If my boys could, I think they would make them a food group of their own.
Gerber Graduates for Preschoolers Fruit Twists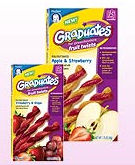 Fruit Twists are real fruit snacks that are perfect for on-the-go snacking.  They are made with 99% real concentrated fruit and juice and provide ½ of a preschooler serving of fruit per fruit twist as well as 25% of the daily preschooler amount of antioxidant vitamin C.   Fruit Twists can be pulled apart and eaten one flavor at a time by pulling them apart or they can be eaten together.  My children just preferred eating the two flavors together.
Gerber Graduates for Preschoolers Cereal Twists
Cereal Twists are made with whole grains and two flavored yogurt fillings. Each cereal bar is individually wrapped for convenient on-the-go snacking and comes in three delicious flavors: Strawberry Blueberry, Banana Peach and Raspberry Vanilla.
Gerber Graduates for Preschoolers Chewy Granola Bars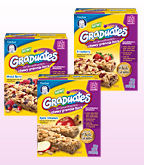 Chewy Granola bars are made with whole grain rolled oats and wheat flakes for a unique soft texture that preschoolers love and they are naturally flavored and provide 10% daily value for 4 vitamins and minerals. They have 6g of whole grains per bar and have no preservatives or artificial flavors.
When we received our samples to review in the mail, I immediately put them in the diaper bag as we headed out on our trip to Walmart.  Sometimes I have to give my children snacks while shopping because they get bored and snacks help keep them quiet.  I gave my oldest son Rylan one of the fruit twists and once he was done he asked for another. He liked each variety and would have eaten them all if I would have let him.
I love that I can give my children a snack and not feel guilty about what I'm giving them.  Gerber Graduates are a perfect snack for you little ones!
The views and opinions expressed on this blog are purely that of the blog owners. Any product claim, statistic, quote or other representation about a product or service should be verified with the manufacturer or provider. I was given free products to facilitate my review.