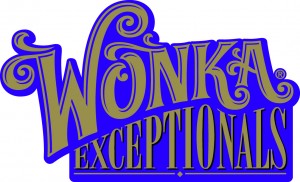 Okay, I know.  This is like the 3rd or 4th chocolate post I've written lately but who can turn down chocolate?  Not me…obviously.  I was recently sent a pretty big box filled with Wonka Exceptionals chocolate bars and fruit candies. Take a look at all the goodies!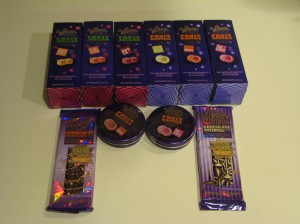 Well, actually there was another chocolate bar but I had already devoured it when the picture was taken.
Wonka, the beloved candy maker, has unveiled it's first-ever line of premium confections – Wonka Exceptionals! For the first time, iconic candy maker Wonka is introducing a collection of delicious and decadent chocolate and fruit-flavored premium confections inspired by the famous story we've all grown to love.
The new Wonka chocolates were developed with the same attention to the taste inside, to the presentation of the outside.  The Wonka chocolates are original pieces and there are non like it on store shelves. The chocolate collection includes three varieties, each available in full-sized bars and bags of individually wrapped minis. Varieties include:
Wonka Scrumdiddlyumptious Chocolate Bar
Wonka Chocolate Waterfall Bar
Wonka Domed Dark Chocolate Bar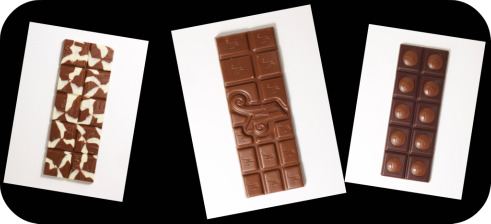 The Wonka Scrumdiddlyumptious Chocolate Bar – my favorite – is made with bits of scrumptious toffee pieces, crispy cookies and crunchy peanuts wrapped in milk chocolate while the Wonka Chocolate Waterfall Bar tempts the taste buds with a combination of creamy white chocolate swirled in milk chocolate. And finally, the Wonka Domed Dark Chocolate Bar is made of rich, velvety dark chocolate topped with smooth milk chocolate drops.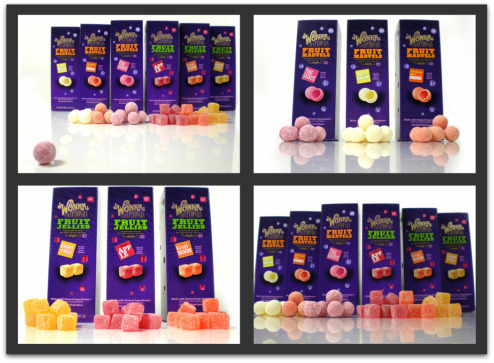 In addition to the chocolate bars, Wonka has also announced the Fruit Jellies and Fruit Marvels. These fruity morsels are made with natural ingredients, no artificial colors, and 25 percent real fruit juice. Soft, sugar-sprinkled Fruit Jellies are square in shape and come in a box in Wonka's familiar and vivid purple. A refreshing variety of mouth-watering flavors include:
Grapefruit
Red Apple
Goji Berry
The Fruit Marvels are hard candies with soft centers, delicately sugar dusted. Mouth-watering flavors include:
Clementine Orange
White Grape
Pomegranate
These Wonka candies are just like something out of the movie.  They are tasty, original, and a little bit quirky.  The chocolate bars are amazingly delicious and the fruit candies are full of sweet goodness.
You can keep up with the happenings of WONKAnation by following on Twitter and becoming a fan on Facebook.
Buy:
Wonka chocolates can be found in stores nationwide with a suggested retail price of $2.39 for each 3.5 oz. tablet bar and $4.29 for each 8.5 oz.-9.5 oz. bag of minis. Wonka Fruit Jellies and Fruit Marvels will be available exclusively nationwide at Wal-Mart stores beginning in April and Target stores beginning in June for a suggested retail price of $2.99 for each 5 oz. box, and $1.99 for each 1.9 oz. tin (Marvels only).
The views and opinions expressed on this blog are purely that of the blog owners. Any product claim, statistic, quote or other representation about a product or service should be verified with the manufacturer or provider. I have received free product, but that does not impact my views or opinions.