This summer has been crazy busy for us with two visits to SeaWorld San Antonio. During our visits to the park we've learned a few things and I wanted to give you 9 tips for how to maximize fun at SeaWorld San Antonio.
Maximize Fun at SeaWorld San Antonio
1. Purchase the Quick Queue. This is an absolute must if you don't want to wait in line. With 3 children 7 and under, it was an absolute life saver not to wait in lines. Ranging from only $15-$25, this is an expense you don't want to pass on!
2. Purchase the All Day Dining Pass. Food at the park is expensive. If you plan on staying all day (tip 3) you will definitely get your money's worth, probably just in drinks alone. The dining lines can get very long but if all you need is a drink, you don't have to wait in line. This alone is a huge time saver. An adult dining pass is $29.95 and $14.95 for children.
3. Plan on Staying All Day. There is so much to do at the park so plan on staying from the time the park opens to the time it closes.
4. Get a Schedule of Shows. If you plan on catching any of the shows, which I totally think you should, try to plan your day around the shows you want to watch. I highly recommend watching Azul.
5. Let Your Kids Be Kids. Don't expect your children to be perfect. Take away all expectations so that everyone will have a good time.
6. Feed the Dolphins at the First Feeding. The first feeding is at 10 am and since it is their first feeding of the day, you will get the most interaction out of the dolphins. This is a fun experience for children and parents.
7. Dress Accordingly. You will definitely want to dress comfortably, preferably in lightweight clothing. I would also suggest bringing a bathing suit and towels for everyone.
8. Visit the Water Park Early. The water park gets packed very quickly. They limit the amount of people in the park, so if you want to visit make sure you get there before the crowd.
9. Plan to walk…a lot. The park is huge and you will do a ton of walking. If you have young children, I think a stroller would make a better experience for everyone.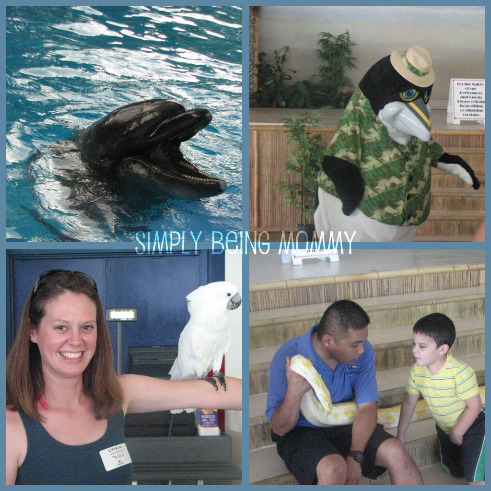 The park can be very overwhelming because there is so much to do but don't stress out about trying to fit everything in. Quite honestly, even if you can't fit everything in, you'll still have a blast. I know we did!
My family and I were provided with free park passes, quick queue and all day dining passes to enjoy our day at SeaWorld.