That's right!  You can shop in New York City and not empty the bank account!
I was one of 30 or so bloggers that was chosen by ShopAtHome.com to go on a $150 shopping spree while at BlogHer '10!  But this wasn't your normal, every day shopping trip.  It was a trip with The Elegant Tightwad.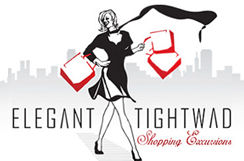 The Elegant Tightwad shopping excursions are a must if you are in New York and you love clothes. Pamela Parisi, The Elegant Tightwad, loves buying gorgeous designer clothes at the lowest possible prices and her shopping excursions allow you to do the same. The places Pamela takes you can not be accessed by the public and are only available to people who take these tours.
Now, these aren't your  normal everyday stores you shop in.  There are no dressing rooms and it is not merchandised like your normal clothing store. Don't expect a fancy building with mannequins…

Overall, I had a complete blast on this shopping excursion.  I have to give a huge thank you to the folks at ShopAtHome.com for the amazing opportunity. I love when I work with a company and they "get it" and ShopAtHome.com totally gets it!
Thanks to ShopAtHome.com and The Elegant Tightwad for the complimentary shopping spree.