I'm a big fan of quick and easy meals that my children like and are fun to eat. While doing my grocery shopping at H-E-B last week, I took advantage of one of their many in-store coupon deals which was buy 2 Hillshire Farm Deli Select Lunchmeats and get free Hellmann's Mayonnaise and Sara Lee Classic White Bread.  Since I already had green and black olives in the basket, I decided to do a kabob that I knew the children would love.
Kiddie Kabobs
Ingredients
Lunchmeat of your choice (we used turkey and salami)
Olives (green, black or both)
Cheese cut in cubes
Skewers
1. Arrange your lunchmeat, olives and cheese as you like on the skewer.  Since I was making these for the children, I made two kabobs from one skewer.
2. Cut off the sharp end of the skewer so that it can not be used as a weapon after dinner time.
As if you couldn't tell by now, I love to make quick, easy and fun meals.  I don't like spending hours in the kitchen but I still want to give my family something they like.  Since we took advantage of the in-store coupon and got the mayonnaise and bread free with our purchase of lunchmeats, I got the Panini Press down and made my hubby a quick sandwich using our free bread.  He was thrilled with his hot sandwich and I was thrilled I didn't have to clean up a messy kitchen.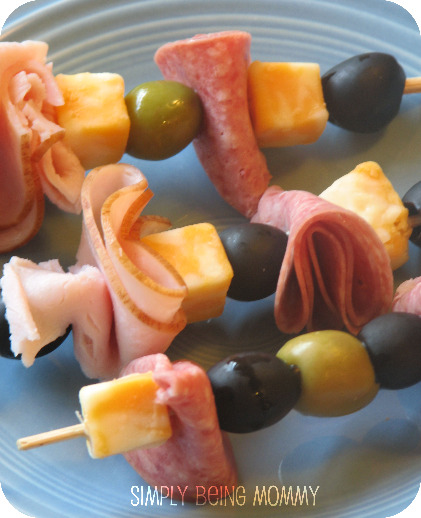 The kiddos had an absolute blast eating their Kiddie Kabobs.  You could serve them with apple slices and peanut butter and you have a meal that took all of 5 minutes to prepare.
Check out some of the other bloggers participating in the H-E-B Back to School Meal Maker Challenge.
This is one of a series of posts that I will be compensated for by participating in the H-E-B Back to School Meal Maker Challenge.