It's a good night at home when the stove and mommy gets a break.  Especially now that school is in session, my time to cook will be cut down dramatically by homework duty.  Here is a quick and easy no cooking required chicken salad that will please the whole family.
No Cooking Required Chicken Salad
Ingredients
Bag of H-E-B Veggie Delight Salad
1 cup of H-E-B Seasoned Croutons
1/2 can H-E-B Black Olives
1 can of fully cooked chunk chicken breast
H-E-B dressing of your choice
1. Empty contents of bagged salad into a large bowl.
2. Add your croutons and black olives to the bowl.
3. Add the chicken to the bowl by breaking it up into smaller pieces with your fingers.
4. Toss with your hands and enjoy with your favorite dressing.
Because I knew we would have some leftover, I decided not to put on the dressing until we put the salad in our individual bowls.  You can place the leftovers in a food storage container and have a quick, healthy meal for lunch the next day.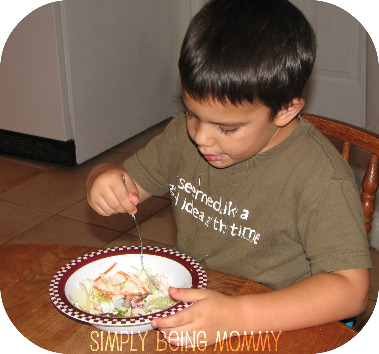 I've been doing more of my grocery shopping at H-E-B the last few weeks and I'm totally loving all the in-store coupons and Combo Loco deals.  This week when you buy selected H-E-B bagged salad, you get a free dressing and free croutons!   Talk about a cheap, easy and healthy meal for a busy weeknight.
Oh and while your at it, check out some of the other bloggers participating in the H-E-B Back to School Meal Maker Challenge. You'll find great recipes, tips from Phil and learn all about the Meal Maker Challenge.
This is one of a series of posts that I will be compensated for by participating in the H-E-B Back to School Meal Maker Challenge.