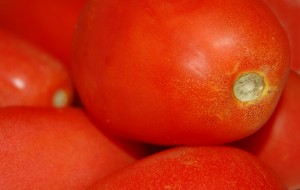 If you are a Mexican food lover like me, then you know how essential salsa is.  It's a staple in our house, just like milk and bread.  Every summer I grow rows of Roma tomatoes just to make salsa.  I have found that Romas are the best variety of tomato because they are not as juicy as most and have more "meat" in them.  It takes a lot less Roma tomatoes to get a good tomato flavor. If you decide to use regular tomatoes, you will need use double the tomatoes.
I'm going to share my base recipe for salsa.  I usually have to add a little of this or that to get it just right, but this is what I start with.  This is the recipe that our family likes; we do not like our salsa hot because of the kids and indigestion.  So, if you like yours hot, you will need to add more jalapenos and green chiles.
Homemade Salsa
(by ME!)
4 cups Roma tomatoes, peeled & cored
1 cup onion – I prefer the red onions for salsa
1 cup bell pepper or other sweet pepper
3 tsp canning salt
3 tsp cumin
2 1/2 Tbsp oil
2 1/2 Tbsp vinegar
1 1/2 Tbsp lemon juice – I'm sure you could use lime if you prefer
3 cloves garlic
healthy dash of oregano
4 jalapenos, boiled & seeded
1-2 cans green chiles
I always peel the tomatoes first.  It is the most time-consuming and difficult thing in the whole process.  Get a large pot and fill with water; bring to a boil.  Fill one side of your sink with cold water.  Drop tomatoes into boiling water.  When the skins start to split, pull them out and immerse in sink filled with cold water.  When tomatoes are cool enough to handle, pull the skins off and remove core.  (If you are using bigger tomatoes, you may want to cut them in half and drain in a colander to cut down on the juice.)  When all the tomatoes have been peeled and cored, start blending them up in the blender.  If you like chunky salsa, you don't have to puree.  We like ours pretty finely blended.  If you have room in the blender, you can start adding the other ingredients and blending as well.   Once I get everything blended, I usually pull out some tortilla chips and let everyone sample it.  You can usually tell what is missing.  If it's not salty enough, add some salt.  If you want it hotter, add some peppers.  A lot of times, I need to add garlic and/or peppers.
Once you have your salsa perfected, you need clean jars, lids, and rings ready.  Fill jars to within 1/2″ from the top.  Place lids and rings on; tighten.  Once all your jars are ready, you need a water bath canner
(or a stock pot deep enough to cover your jars with water).  Don't place the jars in the boiling water.  Put the jars in BEFORE it starts to boil.  (I learned this the hard way – the jars will bust and you will lose all that precious salsa!)  Once the water begins to boil, set the timer for 25 minutes.  When the timer goes off, pull them out (carefully, with tongs or jar lifter) and place on a towel or hot pad on the counter.  Allow them to cool.  You should hear the "ping" as the jars begin to cool and seal.  When they are completely cooled, press on the lid with your fingers.  If it moves, the jar did not seal and needs to be refrigerated.  If it doesn't move, the jar is sealed and can be stored at room temperature for about a year.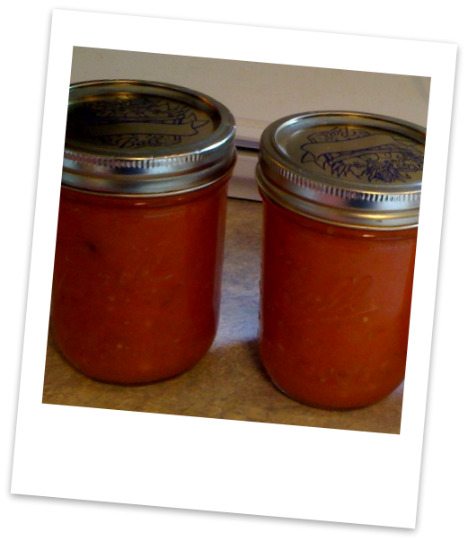 For more information about canning or to purchase canning tools and jars, you can visit www.freshpreserving.com.  If you are brand new at canning, I recommend a Ball Home Canning Kit
.  It has everything you need to get started: water bath canner, jars with lids & rings, jar lifter, and Ball Blue Book for Canning.  I have seen them at Sam's Club but couldn't find it online now.  It's the end of the canning season, so it might be hard to find in stores.  Once you get started canning, I think you will really enjoy it.  I look forward to canning each year with our fresh veggies from our garden.  If you don't have a garden, visit your local farmer's market or look for a local pick-it-yourself farm.