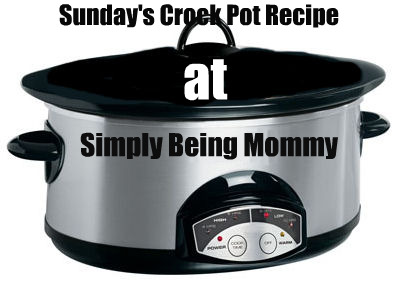 Crock Pot Layered Dinner – Steak, Potatoes, Corn on the Cob
(Adapted from the crockpot lady, Stephanie O'Dea's blog www.crockpot365.blogspot.com)
You can use whatever meat or vegetables you have in the house but the trick is to not use too much liquid when cooking the meat, so that the potatoes and the corn (or whatever ingredients you are using) isn't floating in juice.
Ingredients
steak, pork chops, or chicken
1 tbsp of your favorite seasoning rub (I used Smokey Mesquite seasoning –  it's a Grill Creations seasoning by Durkee)
1 tbsp dried onion flakes
2 tbsp Worcestershire sauce
1/4 cup apple juice
2-4 potatoes
2-4 ears of fresh corn
aluminum foil
Directions
– Put meat in the bottom of the crockpot. Rub with seasoning and onion, and flip over to get the other side. Add apple juice and Worcestershire sauce.
– Wash potatoes and cover with foil. Add to the pot.
– Shuck the corn, and wrap each ear in foil. Add to the crockpot.
– Cover and cook on high for 5-7 hours, or on low for about 8.

Alesha's thoughts:
I used (4) 1/2 inch boneless pork chops, 3 white potatoes, and 3 ears of yellow corn.  I love the idea of cooking a complete meal in the crock pot, and it isn't stew, casserole, or soup!  This went over very well.  My husband said the pork chops had a nice flavor.  Our dinner was ready in 4 hours cooking on High.  I'm not sure if my crock pot is hotter or just wasn't as full as Stephanie's (her recipe says 5-7 hours on high).  This was definitely a success!  I would love to hear your ideas on what other veggies could be foil-wrapped and cooked on top of the meat.  We love corn on the cob and potatoes, but it is a lot of starch!