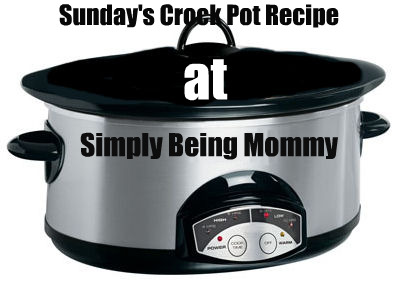 This is another two crock pot dinner!  I know most of you are probably thinking, "Roast?  Really?  Come on….anyone can cook a roast in the crock pot!"  This is just one more variation of what to top your roast with in the crock pot.  Different from the old water & spices.
Roast
Ingredients
1 can golden mushroom soup
1 can cheddar cheese soup
1/2 can water (use one of the empty soup cans)
Now I know this combination sounds really weird, but trust me, it's DELICIOUS!!  Just put your roast in the crock pot, smother it in the soups and water, and cook till it's done.  Depending on the size of the roast, usually HIGH for 4 hours or so and LOW for 6-8 hours.
Ranch Vegetables
(from the crock pot lady, crockpot365.blogspot.com)
5 cups fresh vegetables (I used broccoli, baby carrots, bell pepper, and onion)
1 pkg ranch dressing mix
1/4 cup water
Directions:
Wash and trim all the veggies and dump them into the crock. 5-6 cups of fresh vegetables will fit in a 3.5 qt or larger crockpot.
Sprinkle in the ranch dressing mix, toss gingerly with a large spoon to coat vegetables a bit.
Add 1/4 cup of water
Cover and cook on low for 2-4 hours. The vegetables are done when they reach desired tenderness for your family.

Alesha's thoughts:
The roast was delicious!  The combination of the soups makes a wonderful gravy that my husband was "sopping" his bread in.  The vegetables however were not so good.  I must have measured something wrong.  I was unsure if I had 5 cups of veggies or more, so I added a little more than one package of ranch mix.  The result was too strong!!  My husband and I choked them down, but the kids barely touched them.  I served the leftovers the next night, but rinsed them three or four times before warming.  It was a little better.  Also, I think 1/4 cup of water is too much.  Perhaps 1/8 cup would have been enough.  It doesn't take much, since you are essentially steaming them in the crock pot.