I'm a big fan of quick and easy recipes.  As I was browsing the recipes over at the Jimmy Dean website I came across this Zesty Sausage Cheese Balls recipe that I wanted to share with y'all!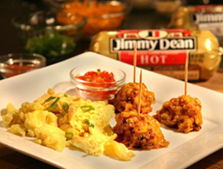 Zesty Sausage Cheese Balls Recipe
Ingredients
2 pkg. (16 oz. each) Hot Flavor Jimmy Dean® Pork Sausage
1-1/2 cups all-purpose baking mix
16 oz. (4 cups) shredded sharp Cheddar or Jalapeno Jack cheese
1/2 cup finely chopped seeded fresh jalapeno peppers
1/2 cup finely chopped onion
2 teaspoons minced garlic
1 teaspoon chili powder
1 teaspoon cayenne pepper (optional)
Directions
Preheat oven to 375 F. Combine all ingredients in a large mixing bowl; stir well. Form into 1″ balls. Place sausage cheese balls on ungreased baking sheet; bake 18-20 minutes or until golden brown. Remove sausage cheese balls from oven; cool 5 minutes before removing from pan. Serve with cocktail forks or toothpicks.
Note: Sausage cheese balls may be prepared ahead and frozen uncooked. To bake from frozen: thaw on baking sheet 15 minutes; bake in preheated oven 20-25 minutes or until golden brown. Variation: for firmer texture, add 3 cups baking mix and 2 cups shredded cheese to ingredients listed above. May replace fresh jalapenos with canned.
Yield:
about 6 dozen; variation – 9 dozen
Looks delicious, doesn't it?  Don't forget about the Jimmy Dean Crumble Rumble Contest where you have an amazing chance to win a trip to NYC!