During my recent trip to LA for the Red Carpet Premiere of Gnomeo & Juliet, the mommy bloggers who attended had the opportunity to interview some of the talent including James McAvoy and Emily Blunt.  Meeting these two amazing, down-to-earth people was such a treat and I'm so thankful to the folks at Disney for the opportunity.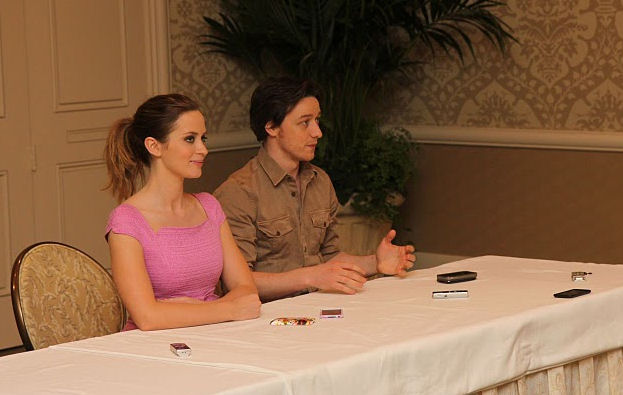 Question: When you got the phone call saying will you do Romeo and Juliet, but as gnomes, what was your reaction? You're like, uh, was there a pause or did you just jump in?
Emily Blunt: I laughed I think.
James McAvoy: Yeah, absolutely. It was a little bit like eh, what?
Emily Blunt: Baffling.
James McAvoy: And, uh, but the script then was so funny as well. But the thing, when you hear the title you kind of get it. You get the whole concept immediately.
Emily Blunt: Yeah.
James McAvoy: So you just kind of go, well that could really work if the script is very good. And the script was. It was really, really funny. Really charming and witty and I thought that, um, it had such a kind of mass appeal for so many different people, and, uh, and kids and adults and everything. Um, so then my initial confusion over doing Romeo and Juliet with garden gnomes, like one of the most romantic stories with one of the least romantic objects, you know, I just thought that's so extraordinary, and why not? I thought it was really cool.
Question: What's your favorite scene in the movie and why?
Emily Blunt: Um, I haven't seen the whole thing. I've only seen sections so I can only say from the sections that I've seen, but I really like when, uh, you come over to the garden and, and I'm trying to hide you from my father and Nanette is being so unhelpful. And then we're under water and the Ninja costumes just dissolve and we look at each other for the first time. And I really think that moment's great.
James McAvoy: Yeah, the whole Ninja sequence is my favorite, you were Crouching Tiger, Touching Gnome. And I really, really like that. It's always been my fantasy to be a gnome Ninja. Not joking though, I do like that scene.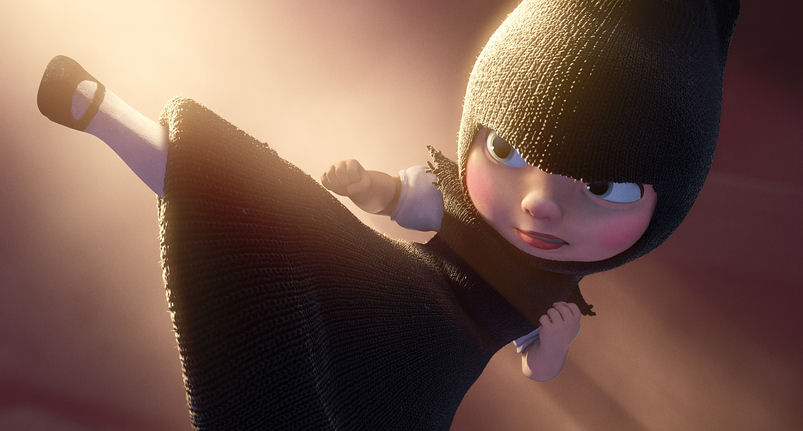 Question: Did you record together in the session or did you record by yourself?
Emily Blunt: By ourselves. We were separated.
James McAvoy: Yeah, I know, it was a shame really, because we really wanted to get together and do some stuff, and, and I don't know, it's just the way we're both used to working, because I don't think you've done an animation —
Emily Blunt: No, no.
James McAvoy: Have you?
Emily Blunt: No.
James McAvoy: It took me a couple of sessions to get used to doing it on my own.
Emily Blunt: Yeah.
James McAvoy: Um, and, uh, but after the first couple of sessions it kind of became more normal and our director Kelly Asbury is an amazing guy to work with. He's so enthusiastic, um, and it really rubs off on you.
Emily Blunt: And he would basically reads the lines in, so we were both effectively having to play our most romantic scenes with our director Kelly Asbury, which James really enjoyed.
James McAvoy: Yeah, I got a lot out of that.
Emily Blunt: More out of it than you would've done for me, anyway.
James McAvoy: Oh yeah.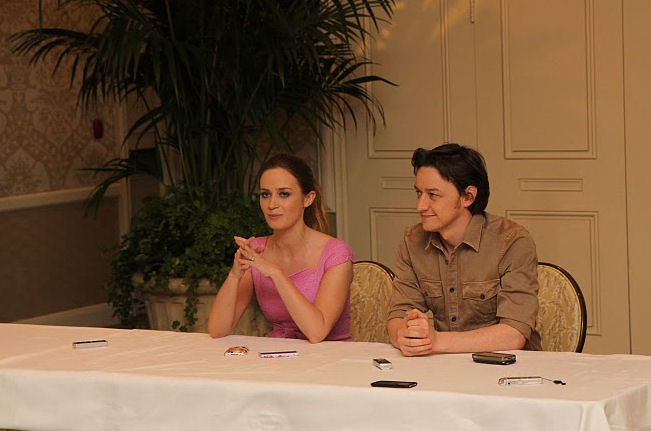 Question: Acting in an animated movie, how do you get kind of pumped up to do that?
Emily Blunt: I jumped around a lot. I felt like I was quite physical in there.
James McAvoy: Did you?
Emily Blunt: Um, yeah, because I think, because it is a bit surreal, you know, and, uh, the thing that I found hardest was doing all the reaction sounds. They were doing stuff where we were having to run through, through the gardens and jump on the fences and swing on there and then fall, and so you're kind of going [BREATHING HARD] and all that stuff is like, oh my God. It was — and by the end of it you feel like you're going to die, like you're so exhausted.
James McAvoy: You're hyperventilating quite a lot by the end of it. You're really lightheaded and you're like, whoa, let's do another take, you know? But it's quite weird as well, 'cause, um, 'cause you said it first, I thought you're totally right, it's quite easy for your voice to sound flat. You can be really in the moment, you can be really feeling all the emotions, or angry or sad or in love or whatever. Then you hear it back and it's just really flat, and it's like you said, you do have to sort of not overact but you've got to over-enunciate.
Emily Blunt: Yeah.
James McAvoy: And you've got to put a lot more energy into your voice than you usually would. Um, otherwise —
Emily Blunt: 'Cause it's interesting, it's like have you ever heard yourself on the phone, you think God, I sound so bored or I just sound terrible. And so they'd say to us, like smile when you're saying this line 'cause it actually lightens your voice and lively's up your voice. It's really interesting.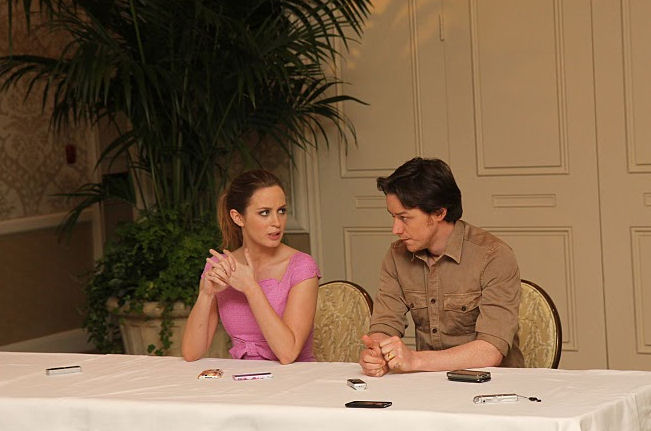 Question: Do we see any of your personality coming out in the characters?
Emily Blunt: I don't know. I think what they were wanting to do, they filmed us during the voice sessions that we do. They'd, they'd have a camera there, filming our, filming us do it, so of course you're quite animated as you're doing it and you're using your face and everything, so they, they try and steal your facial expressions and put them on the little gnome and so I think, uh, there were definitely a few in there. From the stuff that I saw, I was like oh God, I think I do do that, actually and it was nice.
Question: Did you think that the gnome looked like you?
Emily Blunt: I don't know if it looked like me. I don't know what — those eyebrows.
James McAvoy: He's got massive eyebrows.
Emily Blunt: Massive eyebrows.
James McAvoy: He looks like he's had —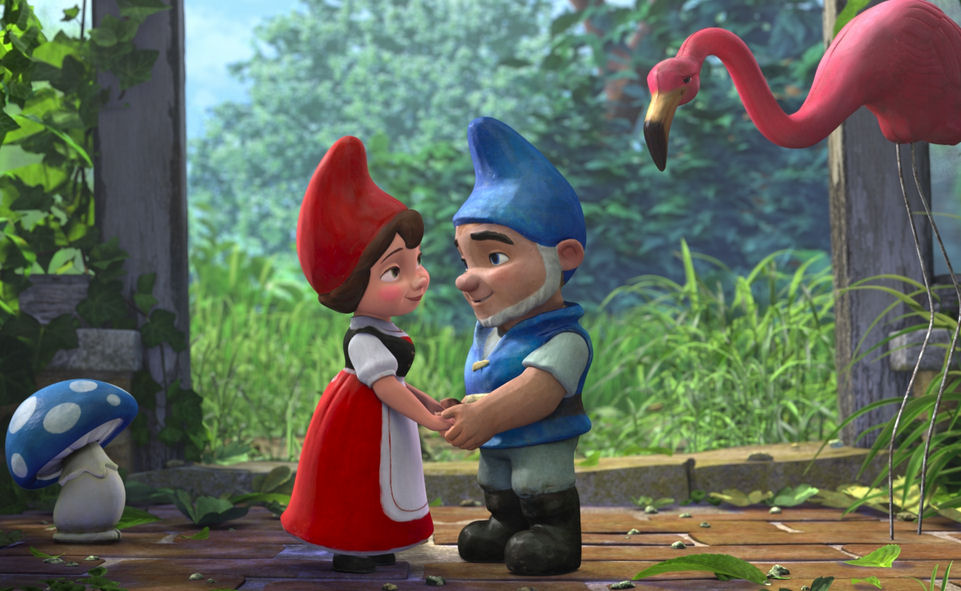 Question: There's been a lot of talk about princesses in film, both good and bad. Can you speak to playing such a strong, modern woman as Juliet in the movie?
Emily Blunt: Yeah, 'cause to be honest, even in the original Shakespearean version, I, I, uh, I have never been one to see her as this wilting, delicate flower. I mean, I think she — I don't think she's passive. I, I don't think she's just reactionary. I think she truly is the, the drive of that entire play and she's hot-tempered and she's forthright and independent and, and, uh, maybe recklessly so, but I think she very — she's a very modern girl for that time.
Even in the play when I read it, I thought wow, she's, she's not just, um, conforming to what her father wants her to do, and she's gonna fall in love with whoever she wants to fall in love with and, and suffer the consequences. But so I think that is quite a rebellious, modern way of being. And, um, and, uh, so the Juliet in this film, um, has, has those same qualities and that's what we wanted to do. When I met Kelly Asbury, I was like, you know, you should have her like, be a tough little Juliet and not have her be, um, so delicate and prissy and, and he loved that idea and that's kind of what we went for.
Just to keep these characters really lively and accessible for girls to look at Juliet and go, yeah, I'm kind of a tomboy, I'm kind of like that, and, um, and I, I enjoyed that aspect of the process, that Kelly was open to creating a character that wasn't kind of preconceived in some way.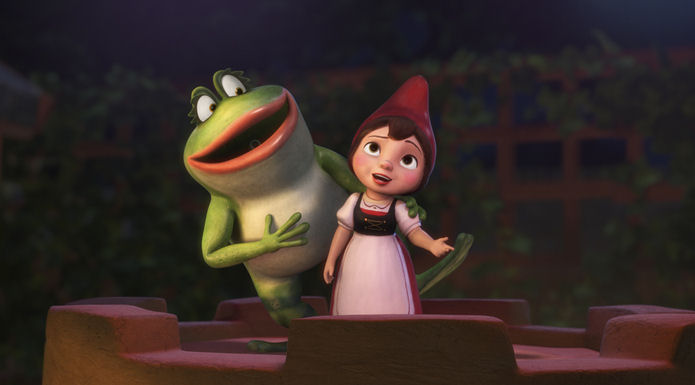 Question: What is your favorite movie and secondly, do you have any gnomes in your garden? Do you have any gnomes in your garden?
James McAvoy: I thought you said noms.
Emily Blunt: Yeah, noms, we're gonna get some Oscar noms for this, yeah.
James McAvoy: Oscar nominations and [UNINTELLIGIBLE]. Did you say what is our favorite movie?
Question: What is your favorite movie?
James McAvoy: One of ever, of film that we've done? You go first.
Emily Blunt: Jaws.
James McAvoy: Jaws?
Emily Blunt: Jaws. I've seen that movie 30 times and I could quote it like there's no tomorrow. It is embarrassing. It is, I think a perfect movie, genius movie, amazing performances. It's by far my favorite movie.
James McAvoy: Okay. And my favorite movie is The Goonies.
Emily Blunt: Nice.
James McAvoy: Yeah, great kids' film, kids watching it, please, fantastic.
Emily Blunt: I also like Kramer Vs. Kramer as well.
James McAvoy: Good kids' film, too.
Emily Blunt: Yeah, good kids' film. [LAUGH]
I haven't had the opportunity to meet many "celebs" and I totally didn't know what the heck to expect.  I sorta thought they may be stuck up with not much time to hang with us mommy bloggers, but much to my surprise, they were so friendly and easy to talk to.  When I was at the after party for Gnomeo & Juliet, James McAvoy talked to me like he'd known me forever.  It was definitely an experience I will never forget!
This was a fully sponsored trip thanks to the folks at Disney.