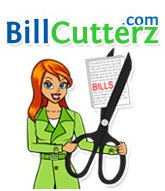 With these tough economic times, I'm sure the majority of us are trying to cut back on all our expenses.  There are services we cut out and/or downgraded but I've recently been introduced to a different approach on how to lower our monthly bills.
BillCutterz.com is a new business that was designed to help folks save money on their monthly bills.  There are tons of companies out there that tell you how to save money, but BillCutterz.com actually does the saving for you.  They do the work, not you!
If you're a busy mommy like I am, I need all the help I can get.
When I first learned about the company, my first thought was, how does BillCutterz.com make their money because I'm pretty certain they aren't working for free.  And I was correct, they don't work for free — unless they can't save you any money.  If BillCutterz.com is unsuccessful at saving you money, you don't pay a dime.  So really, you don't have anything to lose by giving it a shot.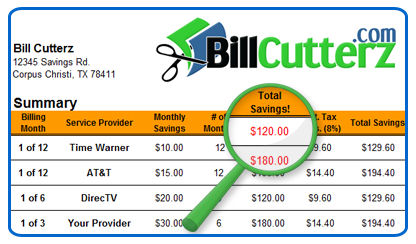 Getting BillCutterz.com to work for you is super simple.  The first step is to fill out the simple enrollment form.  It's seriously just asking for your contact information, no personal information like your drivers license or anything.  Once you fill out the enrollment form, a Savings Specialist will get in contact with you within 24 hours.
Once you speak to your Savings Specialist, you will be asked to send in all your monthly bills such as the cable bill, home phone bill, cell phone bill, electric bill and even your house payment.  You have the option of faxing recent copies of your bills or submitting your bills online.  Once your bills have been received, BillCutterz.com starts going to work for you to save you money on your monthly bills. You can feel comfortable sharing this information because all personally identifiable information submitted to BillCutterz.com is kept in strict confidence and shall not be sold, rented or disseminated to any third party. Information provided is protected by TrustedID, McAfee Secure, and endorsed by the privacy policies of the Better Business Bureau.
Once your Savings Specialists has secured your new lower monthly rates, your savings will be calculated over the span of the lower rate period and you will pay BillCutterz.com 50% of your savings.  If a new lower rate is secured for 6 months, you pay only the savings on the 6 months.  If a new lower rate is secured for 12 months, you pay the savings on 12 months.  For example, if BillCutterz.com saves you $10/month for 12 months on your cell phone bill which equals $120 in savings, BillCutterz.com will invoice you for $60.
While I'm sure you might be able to secure some discounts on your own, it will probably take a huge time commitment.  Sitting on the phone for hours talking to customer service reps is definitely not my idea of a good time.  I'd rather have the expertise from the BillCutterz.com staff doing the work for me.
What about you?  What are your thoughts on BillCutterz.com?
This is a paid post sponsored by BillCutterz.com.  All thoughts and opinions stated are mine and not that of BillCutterz.com.