Would you believe me if I told you that I just learned how to make hard boiled eggs about three months ago?  Well, it's true.  I've always loved hard boiled eggs, but someone else has always made them for me.  I finally asked my mom and she was more than happy to share but I've made a few changes that seem to work better for me.  I don't really think there is a wrong or right way to make hard boiled eggs, but this way has proven to be a family pleaser.
Place eggs in a pan that is large enough to hold all the eggs in a single layer and fill with water. Make sure you have enough water to cover the eggs by at least one inch.
Bring water to a boil, turn off the heat and cover the eggs. Let sit for about 14-15 minutes.
Drain eggs and add cold water to the eggs. Let eggs cool for about 10 minutes and drain.
Crack the eggs by rolling them on a hard surface and peel.
I've found that eggs that are too fresh are sometimes difficult to peel.  I have better results by letting eggs sit in the refrigerator a week or two before making hard boiled eggs.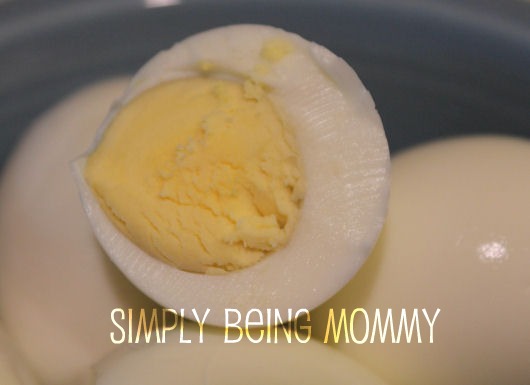 I enjoy them just like they are, but sometimes I'll sprinkle a little Tony Chachere's seasoning to give them a little kick.
Enjoy!