While I was making Easy Vegetable Pot Stickers a couple of weeks ago, I started thinking about doing something with the remaining wonton wrappers I had in the refrigerator. I knew I also had some strawberries in there, so I made these Fried Strawberry Wontons!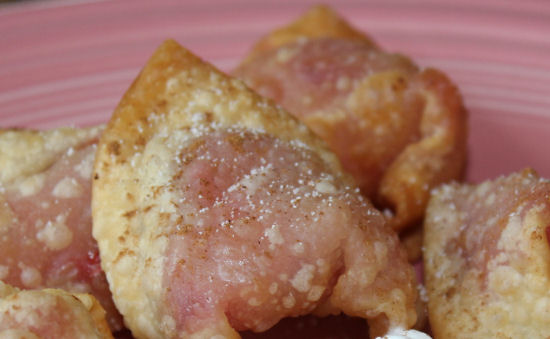 I think we will call them Fried Strawberry Wontons. I've found a new love with these little Wonton Wrappers and I'll probably be using these a ton in the near future.
These little wontons of goodness were incredibly easy to make and only requires a few ingredients with the most important being strawberries. You'll need to start by cutting the strawberries into small pieces so that you can easily wrap them with the wonton wrappers.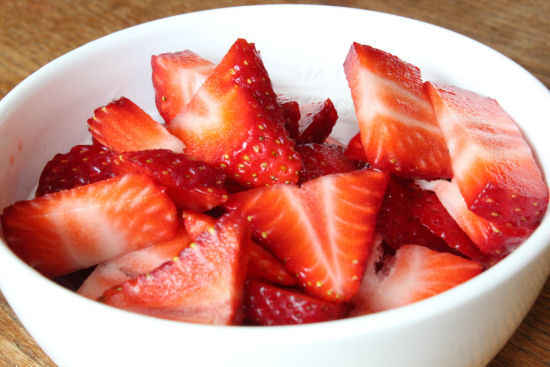 Don't those just make your mouth water? I love me some strawberries, that's for sure! Lay out the wonton wrappers and you can begin wrapping. I laid mine out on wax paper for easier clean up.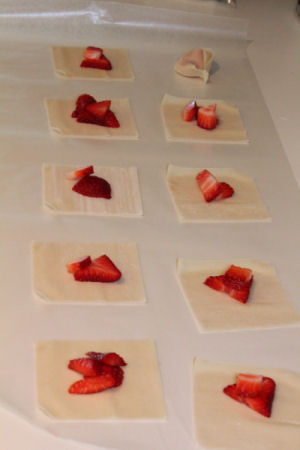 You'll need a small bowl of water to dip your finger into to seal the edges of the wonton. See the top wonton up there — that's what you want them to look like. It's really simple. Just wet the edges of the wonton wrapper after you've put the strawberries on it and fold into a triangle. Make sure to seal the edges really well by pinching them together. Once that part is done, bring the two furthest points together and again, seal with just a dab of water and a little pressure.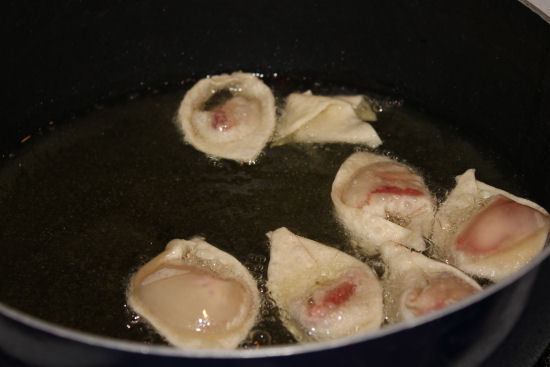 I fried mine in canola oil, but you could use vegetable oil if you'd like. Don't overcrowd the pan either because they like to stick together if they get too close. Use a slotted spoon to keep the wontons moving so that they cook evenly. It only takes a couple of minutes and once you get a nice golden color, they are ready to take out. Sprinkle them with sugar (I used Splenda) and cinnamon and serve with Reddi-wip or something similar and enjoy!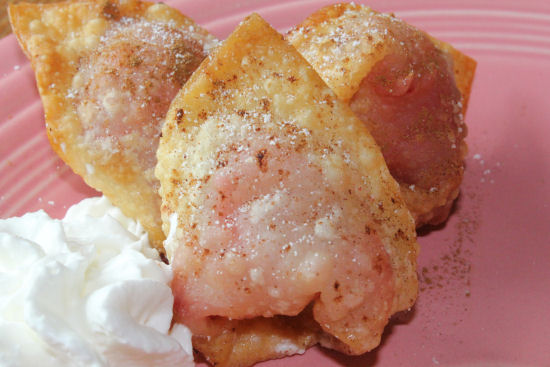 Fried Strawberry Wonton Recipe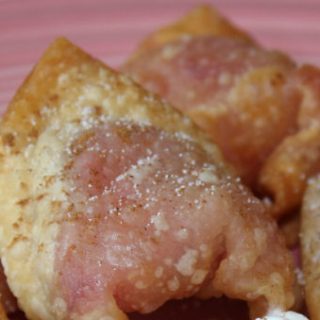 Fried Strawberry Wonton Recipe
Ingredients
16 Wonton wrappers
4 Strawberries, cut into small pieces
Oil (canola or vegetable), amount depending on size of pan
1/2 tsp Sugar or Splenda
1/2 tsp Cinnamon
Dollop of Cool Whip or Reddi-wip
Instructions
Cut up strawberries into small pieces that will easily fit into the wonton. Lay out wonton wrappers on wax paper and place a small amount of strawberries on the center of the wonton wrapper.
Get a small bowl of water and place where you will be working. Dip your finger into the water and line the edge of the wonton wrapper with water. Fold wonton wrapper into a triangle and seal the edges by pinching the edges together. Take the two furthest points and bring together and seal with another dab of water. Pinch tightly to get a good seal.
Heat oil to medium and gently place wontons into the hot oil. If you have a good sizzle, you know the oil is ready. Using a slotted spoon, keep the wontons moving so that they don't stick together and cook evenly. Once they are a nice golden brown (about 2-3 minutes), take them out with the slotted spoon and place on a few sheets of paper towels to help absorb the excess oil.
Sprinkle with sugar and cinnamon and serve with Cool Whip or Reddi-wip!
Nutrition Information:
Yield:

4
Serving Size:

4
Amount Per Serving:
Calories:

144
Total Fat:

5g
Saturated Fat:

1g
Trans Fat:

0g
Unsaturated Fat:

3g
Cholesterol:

4mg
Sodium:

184mg
Carbohydrates:

22g
Fiber:

1g
Sugar:

2g
Protein:

3g