I love cheese crackers. I try to put the blame on my children as the reason I buy them, but the simple truth is, I buy them for me and the kiddos get the benefit from it. Whether it's Cheese Nips, Cheez-It's, Better Cheddars or Goldfish, I like them all.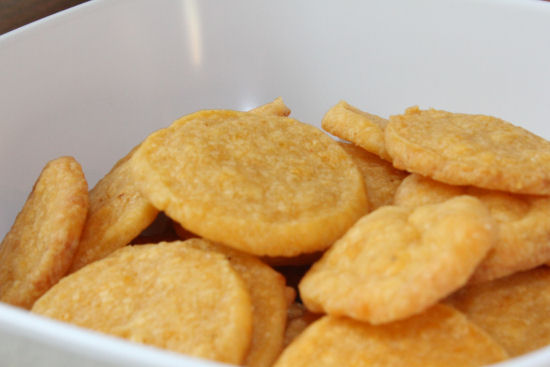 Oh. My. Goodness. These cheese crackers are absolutely delicious and the best part is they were simple to make and they don't require many ingredients. To me, that is success. And since we all thought these were incredibly tasty, I wanted to share the recipe.
Like I mentioned, there are only four ingredients. You'll need butter, grated cheese, flour and chili powder. That's it. Well, I ended up needing about a teaspoon of water but I think that was because my butter wasn't "soft" enough. So, go get your electric mixer and get started!
Once you have your dough (see below for recipe), shape the dough into a cylinder about 1″ in diameter and wrap in wax paper. Refrigerate for about 2 hours so that when you slice it, the dough doesn't stick to the knife. I cut my slices a little thick this time, but next time I'll make them a bit thinner. Place the sliced dough unto a baking sheet lined with parchment paper and place into your preheated oven. Bake for 12 to 15 minutes, or until golden brown and then transfer to a rack to cool.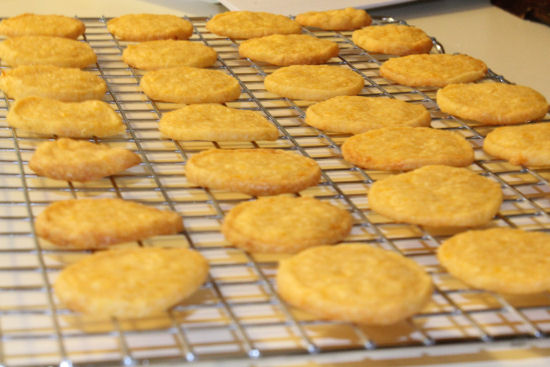 This recipe doesn't make a large quantity but it can easily be doubled or even tripled to make bigger quantities. My children absolutely loved them and to be perfectly honest, I'd prefer they eat these over store-bought varieties.
How to Make Cheese Crackers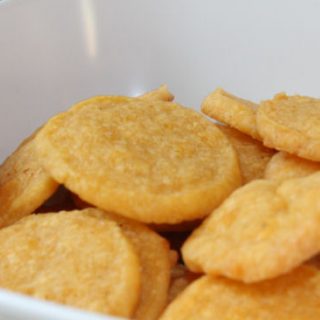 Cheese Crackers
Cheese Crackers so easy you can make them at home.
Ingredients
4 Tablespoons Butter (1/2 stick), softened
1 Cup Grated Cheddar Cheese
1/3 Cup All-Purpose Flour
1/4 Teaspoon Chili Powder
Instructions
With an electric mixer, cream butter until soft. Stir in the remaining ingredients to form a dough.
Transfer to a lightly floured surface and shape into a cylinder about 1" in diameter. Wrap in wax paper and refrigerate for one to two hours.
Preheat oven to 350 degrees. Line a baking sheet with parchment paper.
Slice the dough into 1/4" or thinner rounds and place on the baking sheet lined with parchment paper.
Bake for 12 to 15 minutes, or until golden. Transfer to a wire rack to cool.
Notes
You may need one teaspoon of water if the mixture isn't forming into a dough.
Nutrition Information:
Yield:

4
Serving Size:

1
Amount Per Serving:
Calories:

254
Total Fat:

21g
Saturated Fat:

13g
Trans Fat:

1g
Unsaturated Fat:

7g
Cholesterol:

58mg
Sodium:

281mg
Carbohydrates:

9g
Fiber:

0g
Sugar:

0g
Protein:

8g