I was recently given the opportunity to review a children's book, Floppy Cat
, by Kari Kay. I was very happy to do it, since I have a blossoming kindergarten reader on my hands and we devour books like they are going out of style. Any new book is instantly exciting and this book was no exception. Right away my son was interested by the cute gray Floppy Cat in the red hat that was on the cover of the book and easily read the title to me.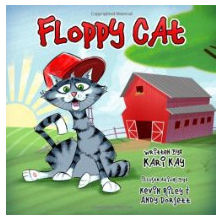 Since I had read through it initially, I knew it was not a book that he would be able to read by himself without help, so the first reading was done while he was sitting on the couch, listening. He noticed the rhyming patterns right away and liked it. It seemed like a typical picture book, similar to the ones we have been reading since he was little. The illustrations were really nicely done, sweet and engaging. The story was cute, about a little cat who has some kind of muscular issues and isn't able to do exactly what the other cats are doing . He is a content cat but only stays in the safety of the barn where he learned how to occupy his time pretty well.  Then one day he notices a red hat peeking out of the barn floor that has a special encouraging message inside of it. That message reminds Floppy Cat that "exciting things will happen" if he just gives it a try. When he puts on the special hat, his life turns around and he leaves the safety of the barn and ventures out into the big world and experiences life.
I thought it was a pretty cute story with only a couple of leaps between ideas that didn't really affect the overall readability. The message was good and seemed to strike a chord with my young son. When I asked him what his favorite part was, he said "when Floppy finds the hat and decides to go outside and live life." Seems like a good enough message to me! I would recommend this cute tale of Floppy Cat, especially if you have a child that has a disability or a need for a little encouragement to explore their world.
Buy:
You can purchase Floppy Cat
for the suggested retail price of $13.22!
The views and opinions expressed on this blog are purely that of the writer. Any product claim, statistic, quote or other representation about a product or service should be verified with the manufacturer or provider. Media samples were received in order to facilitate this post.