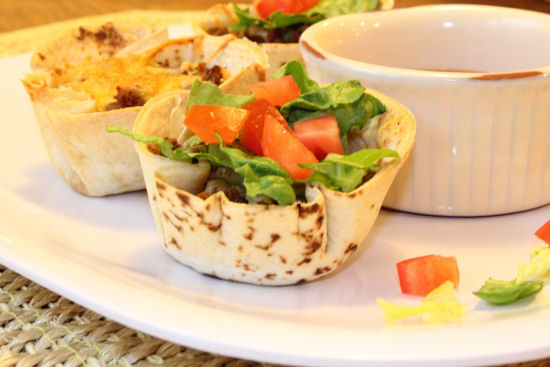 I LOVE Mexican food.  In fact, when we go out to eat as a family, I would much rather head to a Mexican restaurant because I know that we will all be able to find something on the menu we like and we won't leave hungry.
But we all know that sometimes a simple taco can get boring…right?!?  These little Mini Taco Cups are anything but boring!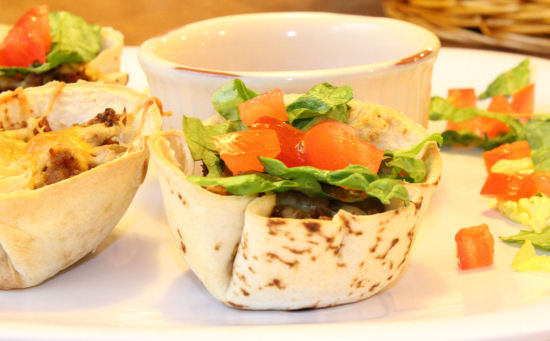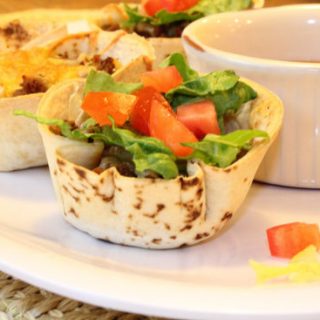 Mini Taco Cups
A twist to your traditional taco.
Ingredients
1 pound ground turkey meat
1/2 onion, diced
1 packet Taco Seasoning
1 cup water
12 flour tortillas
2 cups shredded cheese
1/2 cup shredded lettuce
1/2 cup tomatoes, diced
Non-stick spray
Instructions
Preheat oven to 350 degrees. Brown turkey meat, drain and return to skillet.
In a separate skillet, saute onion and add to meat. Add taco seasoning, 1/2 packet at a time and mix well.
Add water and cook on high until most of the water has reduced down. Simmer on low for 10 minutes, stirring occasionally.
Cut 5 inch circles from the flour tortillas. Wrap in a damp paper towel and microwave for about 30 seconds to soften.
Spray muffin pan with non-stick spray and place tortillas into the muffin pan. Mold the tortilla to look like a cup or bowl in the muffin pan.
Place a layer of shredded cheese to tortilla cups, fill with meat and place another layer of cheese on top.
Bake for 20 minutes or until the tortillas start to brown around the edges.
Top with lettuce and tomato.
Enjoy!
Notes
Don't discard your tortilla pieces. Cut and place on a cookie sheet to make your own tortilla chips.