Do you know an expectant daddy? If so, the Daddy Diaper Changing Toolbox is a great gift. It's sure to bring lots of laughs.
If I had a quarter for each time I heard a dude say he wasn't going to change a dirty diaper, I think I'd be rich. In fact, my brother, who is a new daddy, I'm fairly certain has a fear of diapers. At the slightest aroma of things happening in the diaper, his face turns a little green and he leaves the room. It's quite entertaining actually.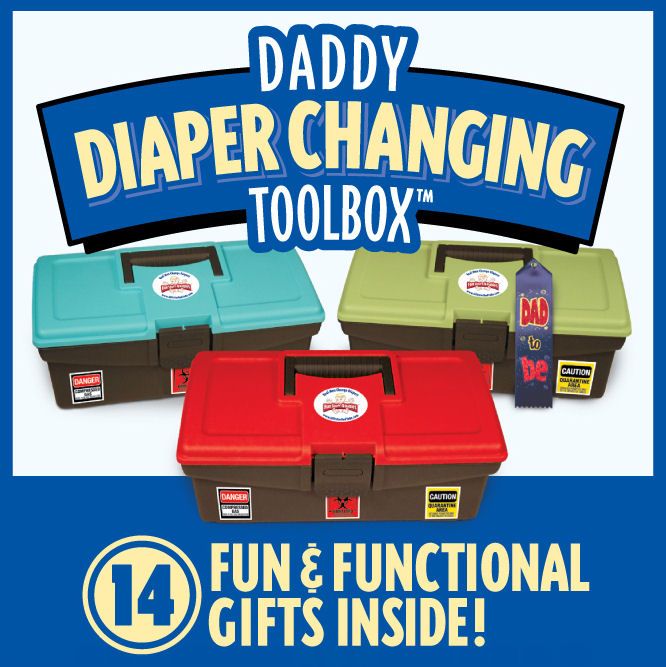 Chris Hartsfield, creator of Fun Stuff 4 Babies in Tampa, FL, went to the couples first baby shower and was blown away with all the gifts for mom and baby, but disappointed there was nothing for dad. This inspired Chris to design the Daddy Diaper Changing Toolbox to acknowledge and celebrate fatherhood. The company was created in 2008 by Chris and his wife Julie, and their debut product was the patent pending Daddy Diaper Changing Toolbox. Fun Stuff 4 Babies is a family owned business, and the entire family was involved in developing the Daddy Diaper Changing Toolbox. The company's biggest accomplishment so far is an appearance on NBC's TODAY Show last Father's Day.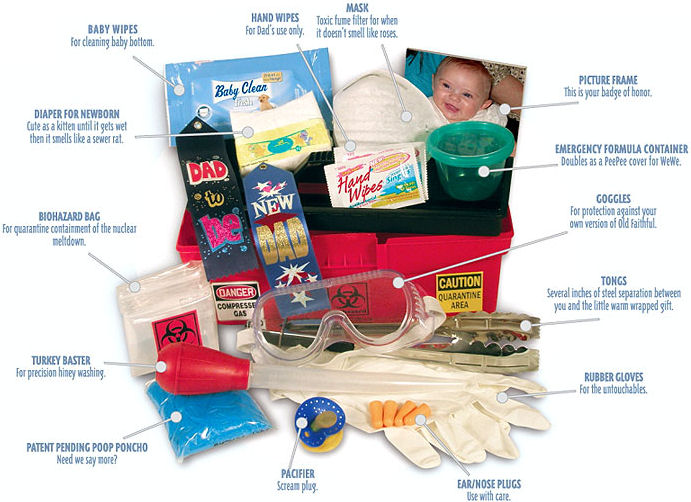 Daddy Diaper Changing Toolbox
The Daddy Diaper Changing Toolbox is a fun, functional and unique gift for daddy and is sure to have everyone tickled including the daddy-to-be when he receives a fun gift just for him! The Daddy Diaper Changing Toolbox comes with a ton of fun gag gifts for the dad-to-be, new dads and even new grandpas too!
Items included in toolbox:
Mask –toxic fume filter for when it doesn't smell like roses.
Goggles –for protection against your own mini version of Old Faithful.
Protective Poop Poncho –need we say more???
Tongs –Several inches of steel separation between you and the little warm wrapped gift.
Turkey Baster –for precision hiney washing.
Ear/Nose Plugs –use with care.
Pacifier — scream plug.
Baby Wipes — for cleaning baby bottom and various parts.
Diaper for Newborn — cute as a kitten until it gets wet then it looks and smells like a sewer rat.
Bio Hazard Bag and Rubber Gloves –for quarantine containment of the nuclear meltdown.
Emergency Formula Container– doubles as a PeePee cover for WeWe.
Hand Wipes– to clean up afterward. (For Dad's use only).
Picture Frame — this is your badge of honor.
You'll definitely be the talk of the baby shower with the gift of the Daddy Diaper Changing Toolbox and I'm pretty sure this gift won't be easily forgotten.
Buy:
You can purchase the Daddy Diaper Changing Toolbox on Amazon.
The views and opinions expressed on this blog are purely that of the blog owners. Any product claim, statistic, quote or other representation about a product or service should be verified with the manufacturer or provider. I received compensation for posting this giveaway.