Want something a little healthier to snack on when the craving strikes? Try these Baked Garbanzo Beans for a fiber-rich, nutritious snack.
My kids love to snack. But, who am I kidding? So do their dad and I. When I was pregnant with my third child, I went through a vegetarian kick and discovered tons of recipes that we loved. Baked Garbanzo Beans (Chick Peas) was one of them. This healthy, nutritious snack is a total hit and I wanted to share the recipe with you.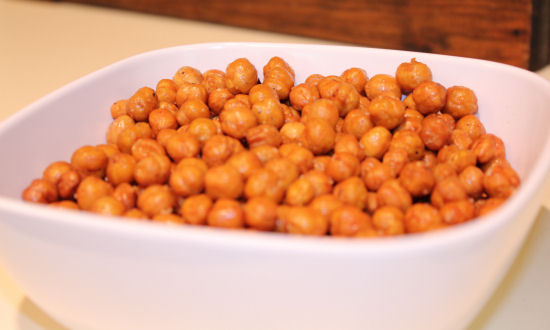 As usual, in keeping true to my easy-to-make recipes theme, this recipe requires very few ingredients and is very simple to make. In fact, you probably have all the ingredients in your pantry right now.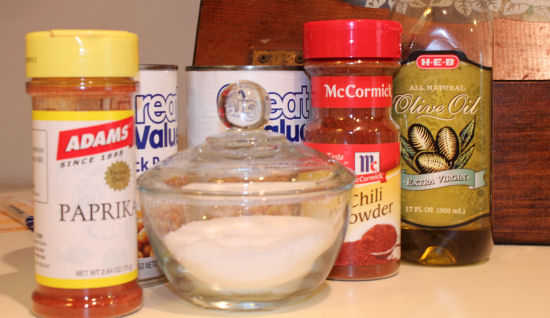 How to Make Baked Garbanzo Beans
While the steps are easy and preparation is quick, you'll need to plan to be in the kitchen for about 45 minutes and be able to check on the garbanzo beans every ten minutes or so. So grab your garbanzo beans, olive oil, kosher salt, paprika and chili powder and lets get to cookin'.
After you've drained and rinsed the garbanzo beans, place them on a couple sheets of paper towel and pat them dry. Place the garbanzo beans in a bowl and add the olive oil. While I'm rinsing the beans, I pull out any of the skin or outer shell that has pulled away from the bean. Toss and coat the garbanzo beans generously and make sure the beans are coated so that the spices will stick to the beans.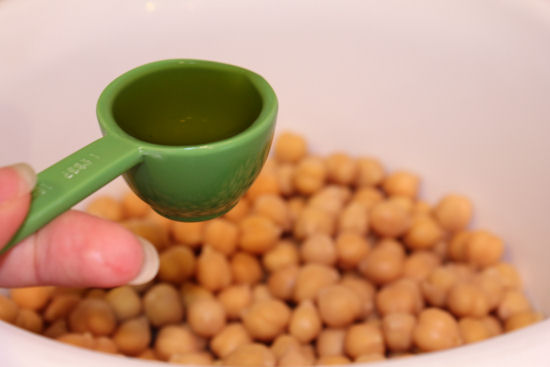 Add the paprika and chili powder to the garbanzo beans. Stir to make sure the spices are mixed throughout. Since the beans are already coated in olive oil, there is no reason to spray your cookie sheet. Place beans in a single layer on a cookie sheet and put into a preheated oven.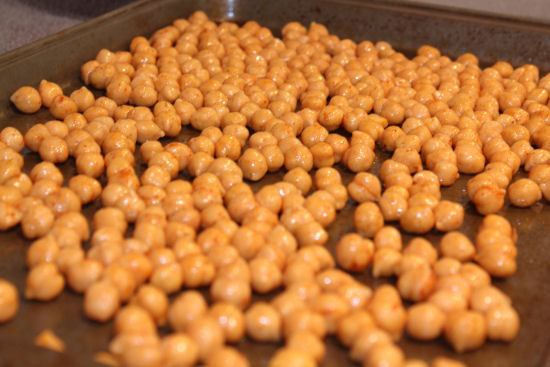 Every ten minutes or so, shake the cookie sheet around so that the garbanzo beans move and don't burn. After about 40 minutes or so, they should be a nice, golden brown color and have a crunchy bite.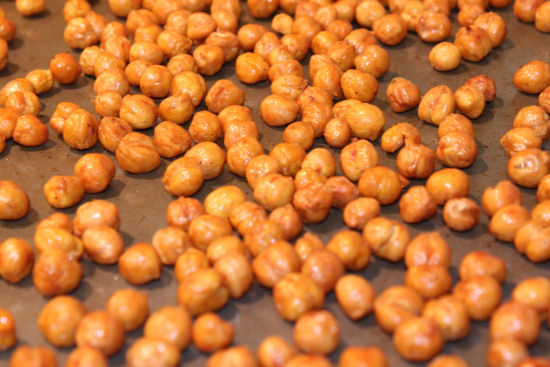 This is a nutritious, healthy snack that I'm sure everyone will love. My husband is a pretty picky eater, but he absolutely loves these.
Baked Garbanzo Bean Recipe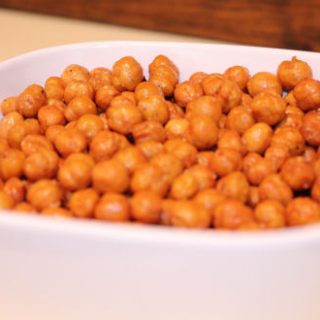 Baked Garbanzo Beans
A healthy, nutritious snack that everyone will love.
Ingredients
1 can of garbanzo beans
1/2 tbsp olive oil
1/2 tbsp paprika (you can add more/less depending on your taste)
1/2 tbsp chili powder (you can add more/less depending on your taste)
kosher salt, to taste
Instructions
Preheat oven to 400. Drain garbanzo beans in colander and rinse under running water. Place beans on paper towels and pat dry.
Place beans in a medium size bowl and add olive oil. Toss and coat garbanzo beans. Add paprika and chili powder and toss again.
Place beans on a cookie sheet in a single layer - No need to oil the cookie sheet. Place in preheated oven.
Bake for about 40 minutes. Every ten minutes or so, shake the cookie sheet to move the beans around. Once the beans are a nice, golden brown with a crunchy bite, they are done.
Notes
These do not store well. Only make what your family will eat in about a 8 hour time period.
Nutrition Information:
Yield:

6
Serving Size:

1
Amount Per Serving:
Calories:

58
Total Fat:

2g
Saturated Fat:

0g
Trans Fat:

0g
Unsaturated Fat:

2g
Cholesterol:

0mg
Sodium:

118mg
Carbohydrates:

8g
Fiber:

3g
Sugar:

1g
Protein:

3g