Finding a movie the whole family loves can be a burden. But it doesn't have to be. Check out these family movie night tips.
My family loves watching movies. I particularly love a good chick flick, the husband loves pretty much all movies, my two boys love anything with action heroes and my daughter loves anything with teen icons. Finding something that we all like can be quite challenging at times — okay, all the time. But we all have one thing in common — we love sitting down as a family with a big bowl (or two) of popcorn.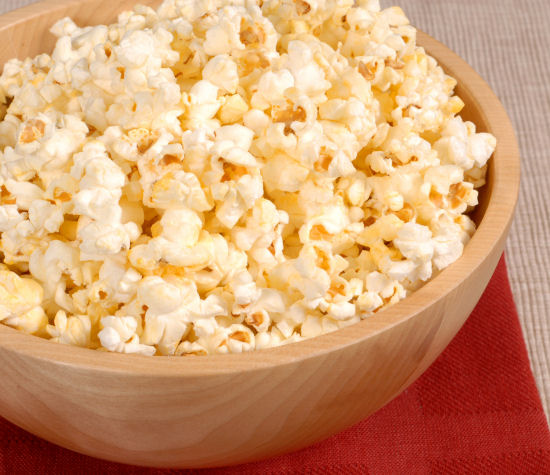 Spending time together as a family is crucial, so I wanted to share some family movie night tips from Jenn Sbranti, Editor-in-Chief and Founder of Hostess with the Mostess.
A Family Affair: Hosting a movie night at home is such a fun way to get creative and entertain the entire family! Take your viewing party to the next level with cool, affordable entertainment and electronics.
Setting the Mood: Get creative with a few fun (and EASY!) decorations inspired by your feature presentation. For a Star Wars viewing party, turn off all the lights, hang white string lights across the room and scatter some glow-in-the-dark stars around the coffee table to help bring the "galaxy" to life in your own living room. Use a little silver craft paint to transform a black paper lantern into the "Death Star", and hang some movie posters and metallic paper stars for the finishing touch.
Who's Thirsty?: Sip creative, themed drinks inspired by the movie of the night, such as "Yoda Soda" (lime sherbet + lemon-lime soda) or "Frozen Jedi Juice" for a screening of Star Wars. To make "Frozen Jedi Juice", partially freeze your favorite flavor of juice or koolaid and serve it "slushy style" from cups embellished with the phrase "May the Freeze be with you."
Turn it Up: Great sound is key when it comes to bringing movie magic home. For those times when the mood is more "dance party" than "movie night", you can utilize a iPod/iPhone and crank up the music instead.
Themed Treats: Think outside the popcorn box and serve up clever treats named after elements of the movie, such as "Darth Cheddars" (grilled cheese sandwiches) or "Storm Trooper Sundaes". Make edible "Light Sabers" by dipping pretzel rods in colored candy melts or tinted white chocolate. After the candy has dried, wrap one end of the "light saber" with tin foil to create the "handle".
Keep it Simple: Don't let confusing settings and "multiple remote syndrome" throw a frustrating glitch in your movie night…try a universal remote to streamline the process so that even the smallest family members can be in the driver's seat sometimes!
Brand New Stars: Use a home video camera to make your own "movie magic" starring the best cast of all – your very own family members! Have little ones do re-enactments of their favorite scenes from the movie you just watched, or capture clips of the kids doing a craft activity or a recipe inspired by the movie. These are the "films" that you'll love to watch over & over again – long after the movie-of-the-night credits roll!
The views and opinions expressed on this blog are purely that of the blog owners. Any product claim, statistic, quote or other representation about a product or service should be verified with the manufacturer or provider. I received media samples in order to facilitate this post.